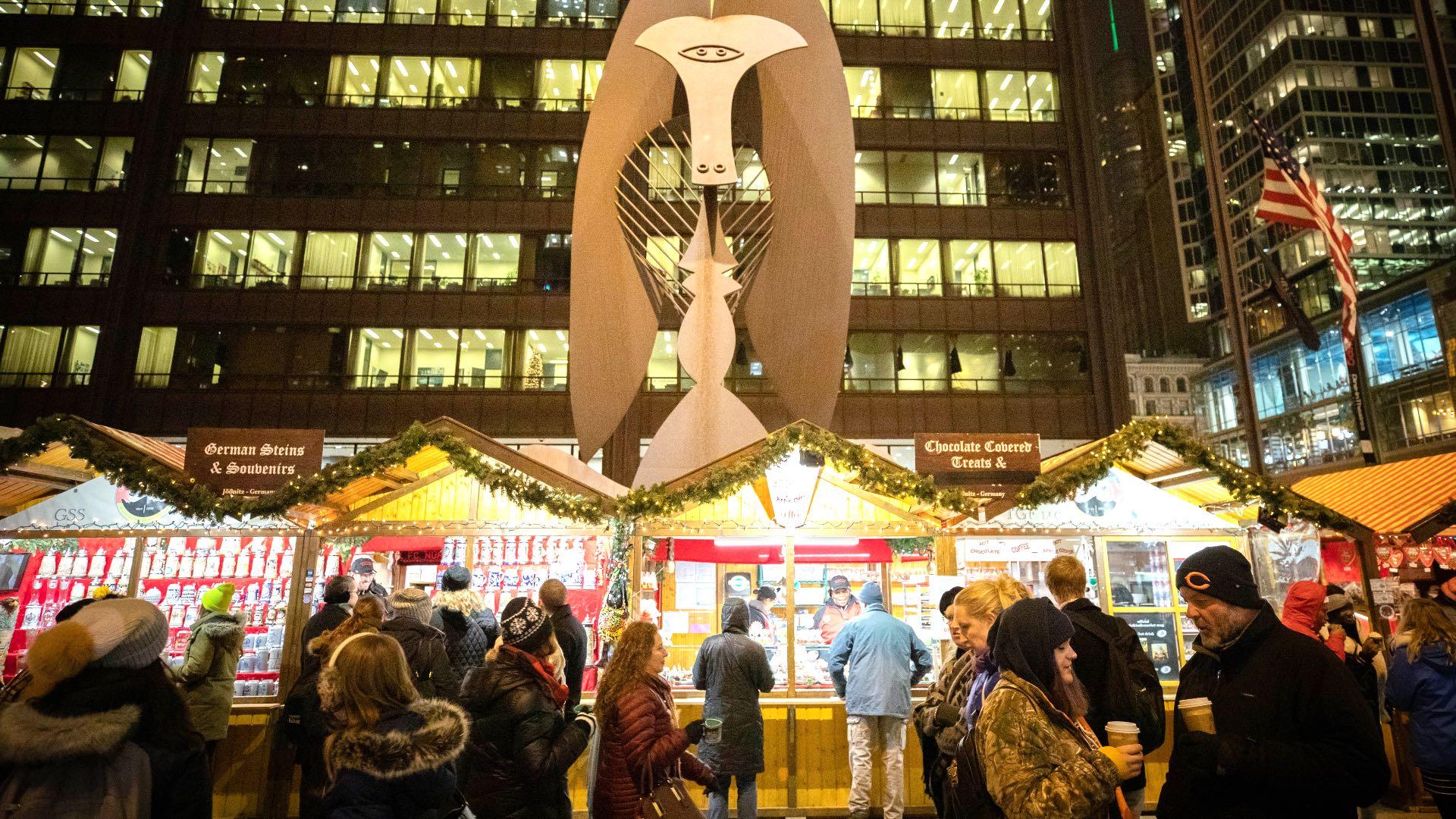 The original Christkindlmarket in Daley Plaza. (Eric James Walsh)
The holiday season kicks off this weekend in Chicago with a jam-packed slate of events the likes of which haven't been seen since 2019.
One of the most beloved traditions — the German-style Christkindlmarket — is back, and bigger than ever, with three locations opening Friday. Read on for all the details.
Where are the markets?
There are three Christkindlmarkets. Choose your vibe or experience them all.
— For traditional, original flavor Christkindlmarket, head to Daley Plaza, 50 W. Washington St. Open through Dec. 24; daily 11 a.m. to 8 p.m.; until 9 p.m. Fridays and Saturdays; 11 a.m. to 4 p.m. on Thanksgiving Day and Christmas Eve.
— For bells-and-whistles Christkindlmarket, check out Wrigleyville at Gallagher Way, 3635 N. Clark St., where ice skating and visits with Santa are among the added attractions. This is the only location open through Dec. 31. Hours: Monday to Thursday, 3-9 p.m.; Friday–Saturday, 11 a.m. - 10 p.m.; Sunday, 11 a.m. - 7 p.m.; 11 a.m. - 4 p.m. on Thanksgiving Day, Christmas Eve and New Year's Eve. Closed Christmas Day.
— For avoid-Chicago-altogether Christkindlmarket, there's a new location in Aurora, at RiverEdge Park, 360 N. Broadway. Open through Dec. 24. Hours: Thursdays, 11 a.m. - 7 p.m.; Fridays and Saturdays, 11 a.m. - 9 p.m.; Sundays, 11 a.m. - 6 p.m. Special hours: 11 a.m. - 4 p.m. Thanksgiving Day and Christmas Eve; Dec. 19-21, 11 a.m. - 7 p.m.
---
What's the cost?
Admission to Christkindlmarket is free, but ....
Winterland at Wrigley Field, adjacent to Gallagher Way, is ticketed. Repeat: Christkindlmarket is free, Winterland is not. 
If you want to beat the chill at Daley Plaza, shop the heated Timber Haus, not to be confused with the Timber Tent, which is only accepting paid reservations for private events. Aurora's heated Timber Tent is free. 
---
Is there parking?
Technically, yes, but public transportation, cab, ride-hailing services, bike, scooter or sleigh is highly advised for Daley Plaza and Wrigleyville. Winterland at Wrigley Field offers parking at a nearby lot for $10-$15, for purchase in advance.
The Aurora location is also accessible via public transportation or car, with multiple parking lots — both free and paid ($5) — surrounding the site (see map). 
---
Let's get to the really important question: What's the mug design this year?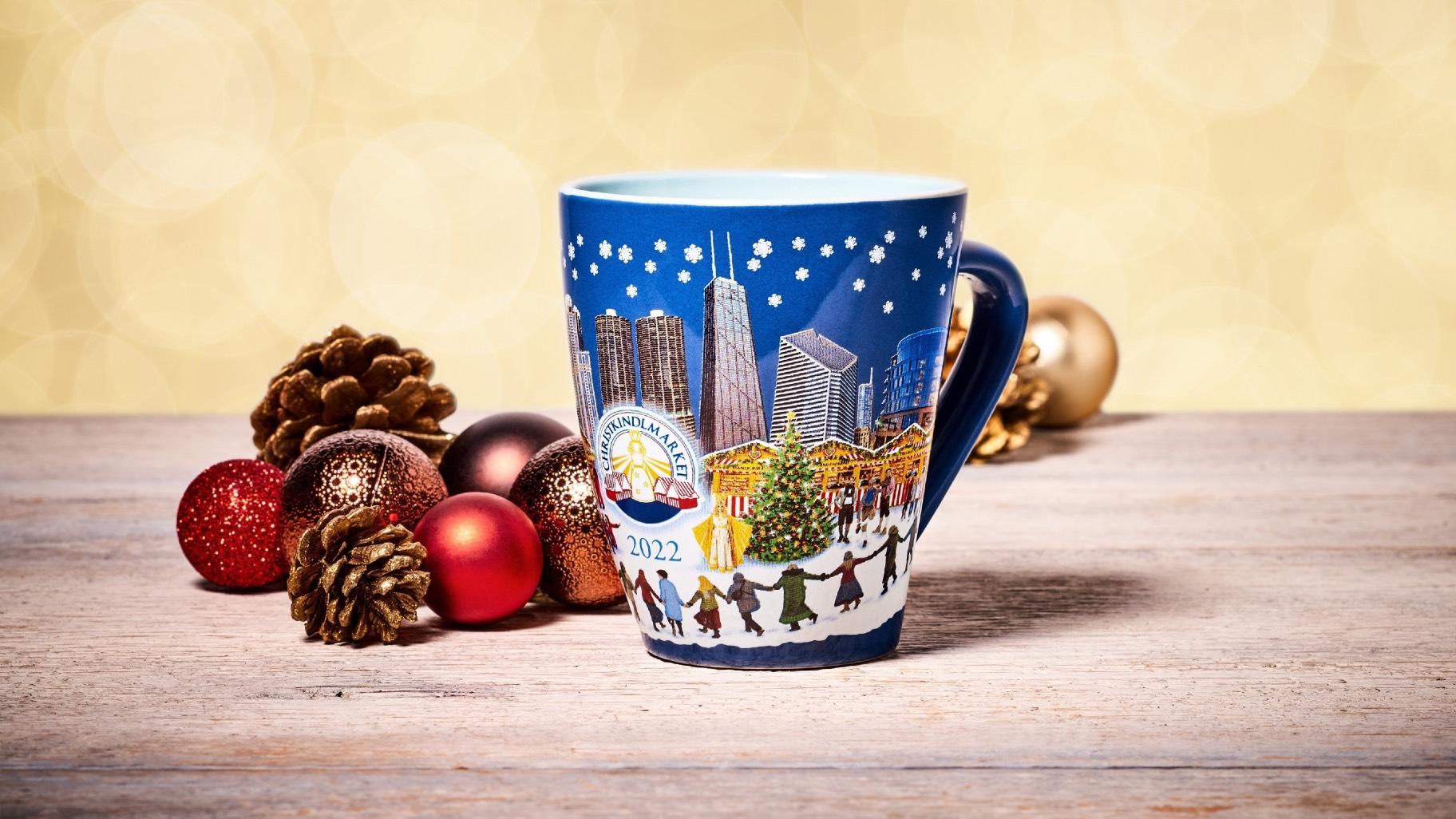 The 2022 souvenir mug design. (Leila Schmidt)
Though there's something about drinking Glühwein out of a wee ceramic boot that feels extra festive, this year's Christkindlmarket souvenir mug is just that, a mug-shaped mug.  
The design incorporates landmarks from each market location: the Chicago skyline, Hotel Zachary in Wrigleyville and Aurora's Paramount Theatre. Cheers!
Contact Patty Wetli: @pattywetli | (773) 509-5623 |  [email protected]
---