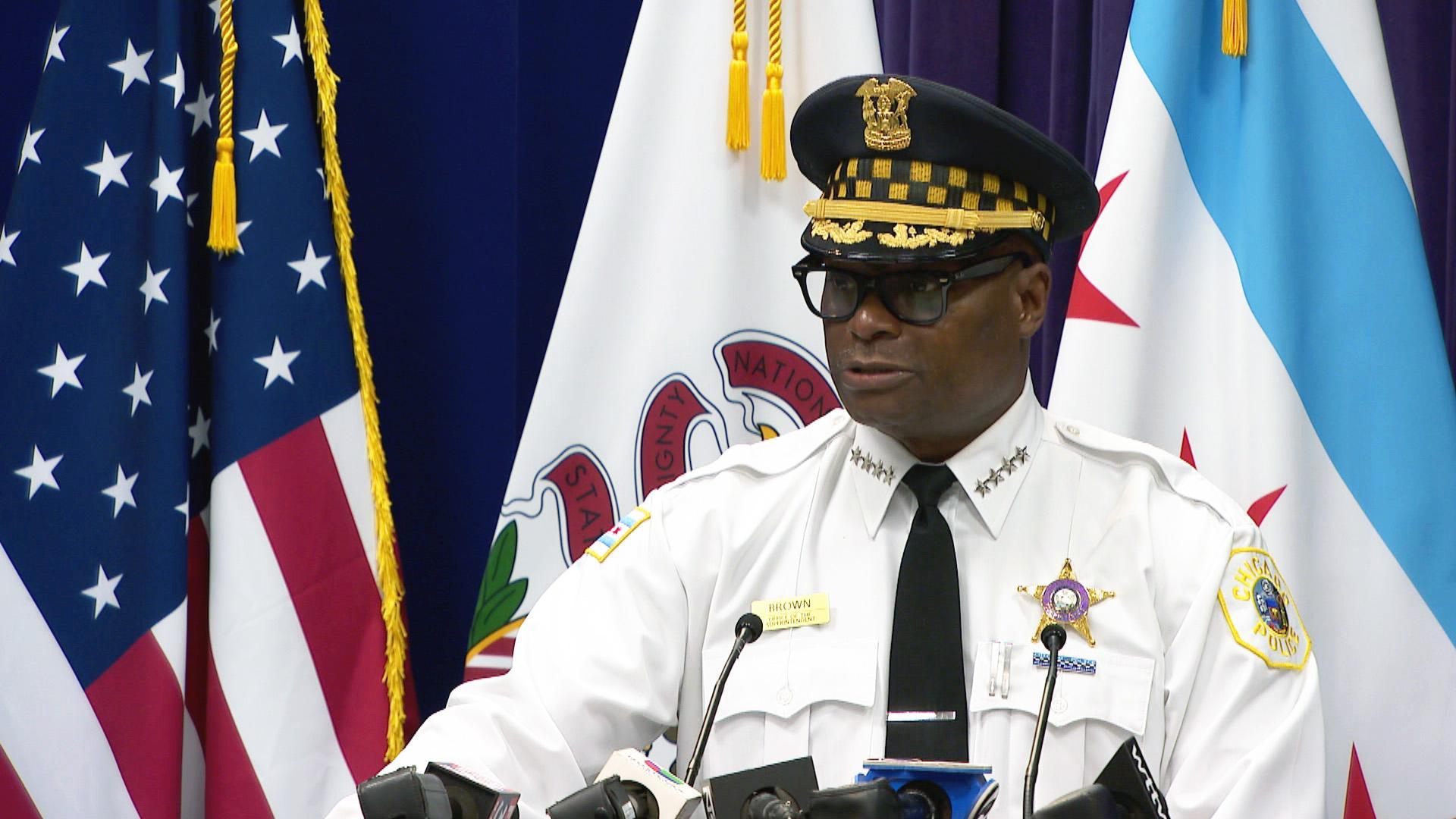 Chicago police Superintendent David Brown talks about city crime rates on Monday, Aug. 23, 2021. (WTTW News)
Leaders in Chicago's Jewish and LGBTQ communities said Tuesday they are alarmed that a Chicago police officer who lied about his ties to the far-right Proud Boys group will not be fired — and added they are concerned that city leaders appear incapable or unwilling to weed out extremists from the department's ranks.
Both Mayor Lori Lightfoot and Chicago Police Supt. David Brown have defended the decision to not terminate the officer, who has not been identified by city officials in keeping with rules governing misconduct investigations, but to suspend him for 120 days.
The Proud Boys have been labeled by the FBI as an antisemitic white supremacy organization, according to the third quarterly report by Inspector General Deborah Witzburg released Oct. 14. That report documented the culmination of two probes into the officer and his ties to the Proud Boys. The group has been designated a hate group by the Southern Poverty Law Center.
David Goldenberg, the Midwest regional director of the Anti-Defamation League, said the Jewish civil rights organization is "deeply concerned about the presence of extremists in law enforcement" and called on agencies to act decisively when they are identified.
"Part of the strategy of these extremist groups is to recruit out of law enforcement agencies and to infiltrate them," Goldenberg said. "That's the larger question. What are leaders doing to root it out?"
Judy Levey, executive director of the Jewish Council on Urban Affairs, which fights antisemitism, racism and poverty, said she was furious that the officer was not immediately terminated.
"It is utterly irresponsible," Levey said. "It is incomprehensible that this officer would not be fired. Where are our leaders?"
Brian C. Johnson, CEO of Equality Illinois, the statewide LGBTQ civil rights organization, said gay, lesbian, bisexual, transgender and queer Chicagoans are right to be concerned that they could be stopped by an officer with ties to the Proud Boys and mistreated.
Members of the Proud Boys have targeted trans people by disrupting drag queen brunches and story hours throughout the Chicago area, including at UpRising Bakery in Lake in the Hills.
"We should never accept an officer willing to even flirt with an anti-queer ideology, as we've seen here," Johnson said. "Officers like that should not be on our police force."
Johnson said queer Chicagoans "feel most unequal" when interacting with the criminal justice system, and the continued presence of this officer in the department's ranks will "double down on that deep distrust."
Goldenberg said the Proud Boys are "equal opportunity haters" that will target many marginalized communities.
The ADL documented 2,717 incidents across the country targeting Jewish people in 2021, the highest number of hate crimes in one year since it began tracking such data in 1979.
In Chicago, hate crimes reported to the Chicago Commission on Human Relations rose 71% as compared with the same period last year.
More than 22% of those complaints detailed a hate crime against a Jewish Chicagoan, more than any other group, according to city data.
"Antisemitism is on the rise among extremist members of law enforcement," Goldenberg said. "That's the real issue."
Brown told members of the Chicago City Council that he had "zero tolerance" for police officers who are members of hate groups or associate with members of hate groups.
But investigators with the department's Bureau of Internal Affairs "were not able to prove by a preponderance of the evidence that this officer was a member of, or was associated with, the Proud Boys, or any other hate group," Brown said.
The officer was found to have committed "minor violations," and a 120-day suspension represented a "high-level of discipline," Brown said.
Lightfoot has also defended the decision not to fire the officer. 
The officer was "thoroughly investigated" and "given a lengthy period of suspension," Lightfoot said Oct. 18.
"It is about accountability," Lightfoot said. "I think the police department took the steps that the evidence that was gathered through the course of the two investigations warranted."
That probe determined the officer made a "a false statement" during the course of the investigation when asked if they attended a Proud Boy sponsored barbecue and made a "a contradicting statement" during a recorded interview about participation in a group chat with members of the Proud Boys, according to the report.
Former Inspector General Joseph Ferguson urged the superintendent to consider terminating the officer because they violated departmental rules prohibiting the making of false reports. Brown did not respond to that recommendation and approved the 120-day suspension.
During the Chicago Police Department's annual budget hearing Brown faced intense questioning from members of the Chicago City Council about how he could achieve his self-proclaimed goal of rebuilding trust among Chicagoans in the department that has faced decades of complaints about excessive force, misconduct and mistreatment.
Neither Lightfoot nor Brown have addressed that question directly.
Lightfoot, Chicago's first lesbian mayor, was endorsed by Equality Illinois' political action committee.
"I expect all mayors of Chicago, no matter who they are, to be forceful defenders of all people in Chicago," Johnson said.
Several current and former members of the Proud Boys have been charged with seditious conspiracy for what federal prosecutors say was a coordinated attack on the U.S. Capitol to stop Congress from certifying President Joe Biden's 2020 electoral victory.
A former leader of the group pleaded guilty Oct. 6 and agreed to cooperate with the government's ongoing investigation.
Andy Campbell, a reporter for the Huffington Post covering the Proud Boys and the author of the book "We Are Proud Boys: How a Right-Wing Street Gang Ushered in a New Era of American Extremism," said Chicago officials apparently do not understand that every member of the Proud Boys is biased against anyone who is not White and male.
"It is patently ridiculous" to suggest that someone with documented ties to the group could fulfill his duty as a Chicago police officer, Campbell said, adding that he was shocked that the department's probes documented so little but lasted for more than two years.
"It seems pretty easy" to make the call that this officer should be fired," Campbell said. "But I guess it is not."
Contact Heather Cherone: @HeatherCherone | (773) 569-1863 | [email protected]
---