It's been two long years since the undead last rose from the bowels of St. Pascal Catholic Church. But reports of the demise of The Catacombs haunted house have been, as they say, greatly exaggerated.
The tunnel of gory scenes snaking through the Northwest Side church basement is one of, if not the, longest-running haunted house experiences in Chicago. What began in 1979 with just a few classic horror characters in the St. Pascal's boiler room has transmogrified into a 15-minute tour of terror run entirely by volunteers in support of the parish school.
Scare master Kevin Marks started haunting the Catacombs as a parent volunteer about 25 years ago. For much of that time, Marks spearheaded the event alongside longtime head haunter Jason Ciszewski, who died suddenly in 2021.
"Jason (played) a character called 'Scary' and people would always ask, 'Hey, where's Scary?'" Marks recalled. "We haven't been open since he passed away. So a lot of people are going to be asking for him."
"He was the heart and soul of this place," Marks continued. "And well, we go on and we want to go on for him. But it's tough."
Now, after a COVID-19 pause, the Catacombs are howling once again, and Marks is passing the leadership torch to a new gruesome twosome — David Gottstein and Alex Owsiany, who both started volunteering at the Catacombs as teenagers.
"What hooked me was just scaring other people. I think that was just the fun of it. Each night we always try to top ourselves," Gottstein said of his start playing his Catacombs character "Shutdown the Clown."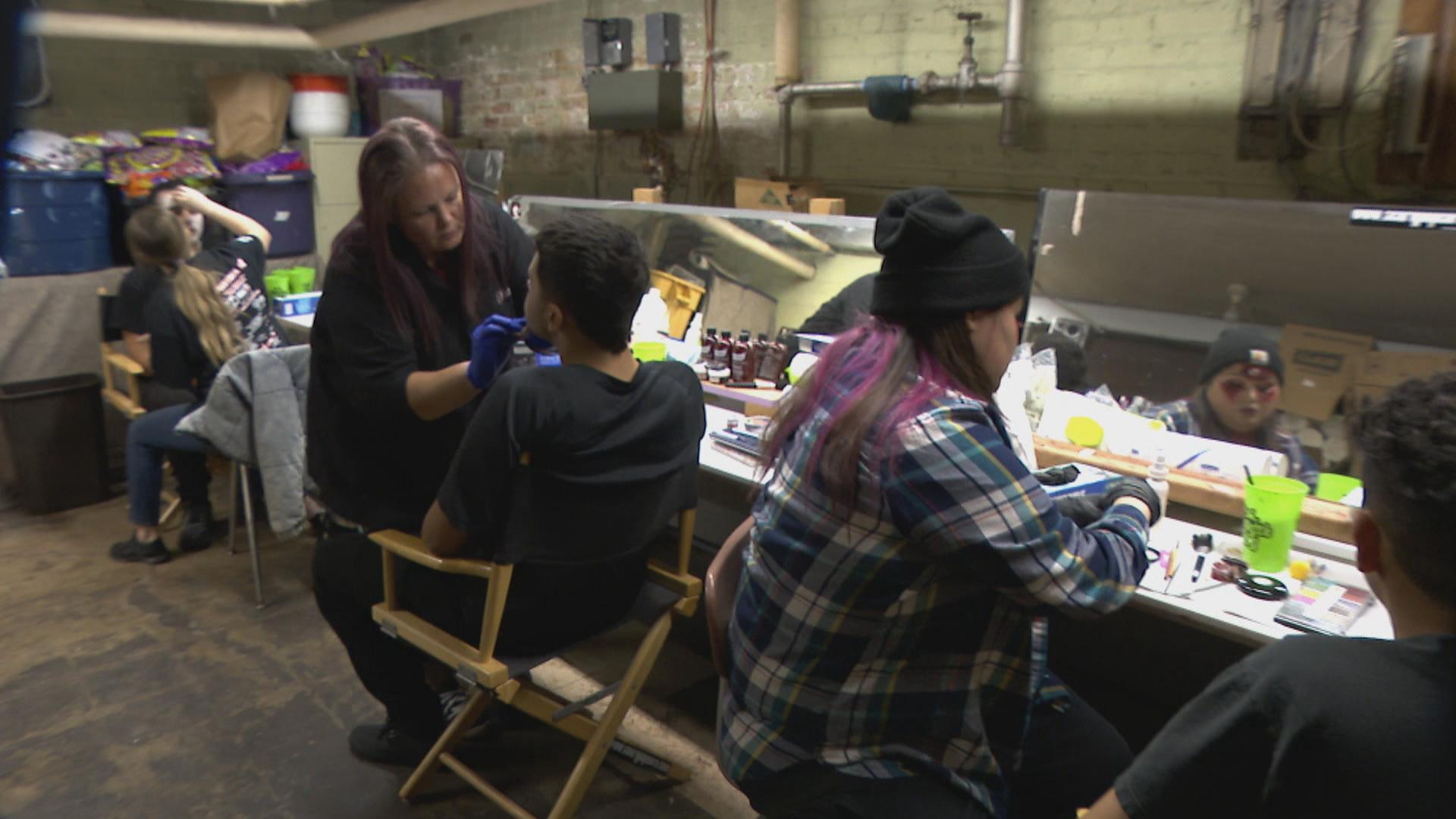 Volunteers and characters prepare at The Catacombs at St. Pascal Catholic Church (WTTW News)
Gottstein says the neighborhood has a lot to do with the Catacombs' ability to keep volunteers and customers looking for a scare coming back year after year.
"I think the biggest thing is just our community — being involved with the church, the school, the neighboring businesses," said Gottstein. "We know it's for a good cause, we know it's for the school, and we enjoy doing this."
"Especially for people that live in Portage Park. I've seen some of the same people every year for the past 10 years," added Owsiany. "It's a good feeling to that they come back and like our product."
Owsiany says the volunteer hours for the core team number into the hundreds – but it's a labor of love.
"This is what I live for every year. Every September to October I tell people do not contact me, I'm not available," Owsiany said. "This is my heart, my passion's into this."
But just because it's in a church basement, don't be lulled into thinking they're going to take it easy on you.
"Who are my favorite people to scare? To be honest, it know it sounds cruel — little kids," said veteran volunteer Thomas Young. "Little kids who get to the front door who realize when they see the smoke and they hear the music, that they don't want to go. That makes my job of scaring them a lot easier."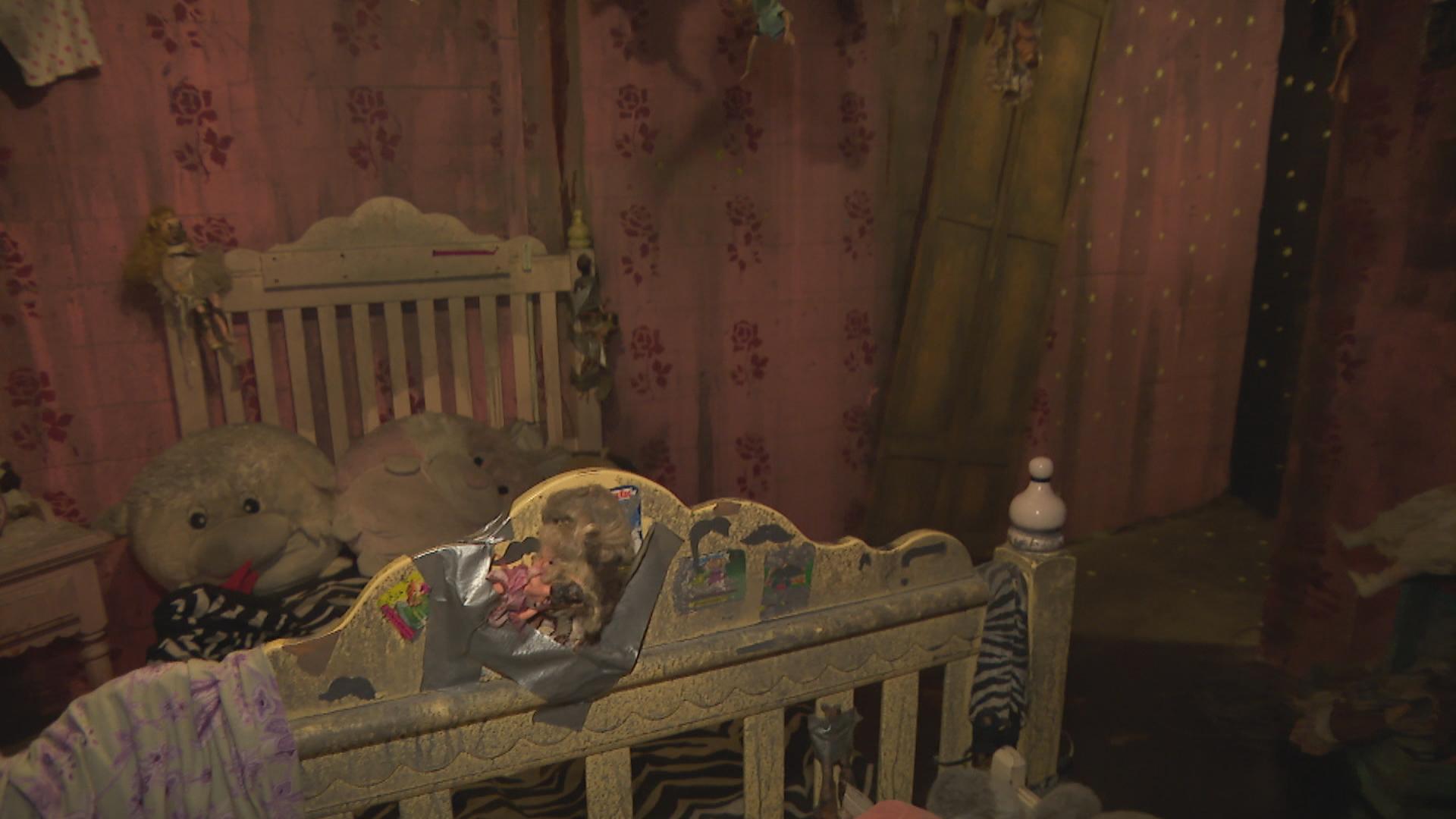 The Catacombs at St. Pascal Catholic Church (WTTW News)
"I've seen it over the years, these kids come down and they're like, oh yeah I'm not going to get scared. But when they're coming out, you can see the fear in their eyes," Marks said.
The Catacombs team says all the blood, sweat and tears they pour into the haunt will be worth it when their ears are once again graced by the sweet shrieks of terrified visitors.
"When those doors finally open to the customers and it's like, finally, we're back. We did it, we got to this finish line," Gottstein said. "That's what I'm looking forward to — crowds seeing the scares, hearing the screams again."
The Catacombs at St. Pascal's runs Oct. 21-23 and Oct. 27-30.
---