Note: The video reports that the governor of Illinois only receives clemency petitions from the Illinois Prisoner Review Board if the agency gives a positive recommendation on the petition. The Illinois Prison Project says "the Governor's office receives every clemency petition, along with a confidential, nonbinding recommendation. The Illinois Constitution delegates sole clemency power to the governor, who can grant commutations or pardons to anyone—even those who haven't applied through the formal process with the PRB."
---
Economic sanctions. Collateral consequences. Permanent punishments. There are 44,000 restrictive federal laws, rules, and policies that continue to penalize people long after they have served their sentence in prison. Permanent Punishment, a four-part series, examines this stark reality faced by nearly 3.3 million men and women in Illinois. Airing on "Chicago Tonight" Oct. 3-7. Read and watch the series.
---
The lyrics in rapper King Moosa's music reflects what he knows.
At age 14, he was charged as an adult with murder after a gun deal gone bad. Though he was sentenced to 25 years, he spent 13 in prison.
He remembers the day he learned he'd be getting out.
"A CO [correctional officer] knocks on my door. He's like, 'You don't want to go home? We've been trying to get an address from you all day.' And I'm like, 'what — are you serious? What do you mean 'go home?'"
Moosa, whose given name is Brian Harrington, had been granted something only a small minority of Illinois prisoners have ever received — clemency.
It commuted his sentence — and released him from prison — but it didn't clear his record. 
"I'm trying to get a home now, and when I see the house, I view the house, and everything seems good — and then, nothing happens. I can only believe that it's because of my record," he says.
Like many people with criminal records, he has struggled to find housing and work. 
"I've definitely applied for certain jobs. And I've had to tell employers — because they ask 'is there anything that's going to pop up?' It's like, 'yeah, there's a felony murder that might pop up.'"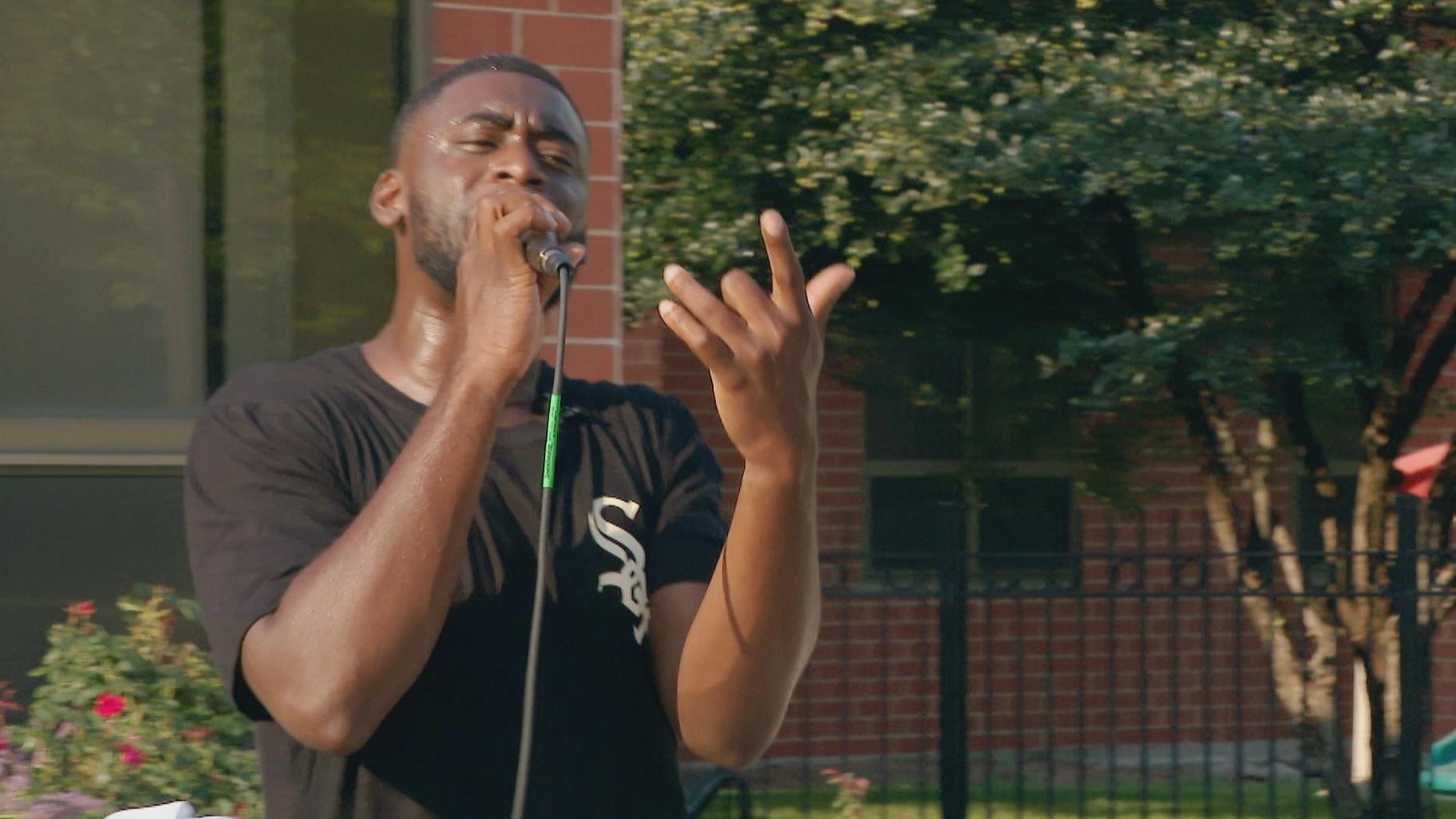 King Moosa performs raps that reflect his lived experience. (WTTW News)
Though there are about 1,300 permanent punishments on the books in Illinois — and countless more that aren't — there are only a handful of ways to get around them. They often involve a complicated mix of paperwork and expenses. 
Among them is executive clemency —  only granted by the governor. Records show Gov. J.B. Pritzker granted clemency 151 times since early 2021.
But the process is murky, lengthy and unpredictable.
"You write a petition that goes to the Illinois Prisoner Review Board, which gets heard by them. You don't get to know what their recommendation is, whether it's up or down," explains Julie Biehl, clinical law professor and director of the Children and Family Justice Center at the Northwestern Pritzker School of Law. "And then it gets sent to the governor's office, only if it's a positive recommendation from the Prisoner Review Board. And then the governor decides on your clemency petition."
Biehl calls the opacity of the process "very frustrating, to not know."
Executive clemency can come in the form of a pardon from the governor — which can restore all or some rights lost due to the conviction.
Or clemency can commute a prison sentence, like King Moosa's.
A separate option is records sealing. 
Celia Colon was convicted of attempted murder and armed robbery 26 years ago. Since then, she's had her records sealed. 
"I got my records sealed because of all of the 'noes' in regards to trying to get employment, being turned down from just about everything. You can't rent an Airbnb with a record," Colon says.
"When a record is sealed that means only law enforcement and certain governmental agencies can see it," Biehl explains. "To have it done is incredibly complicated. You have to get your rap sheet, you have to fill out the right forms. If you don't fill out the right form, they throw you out of court. Then, the state can object."
And for Colon, records sealing wasn't enough.
Colon wants to become the legal guardian of her sister's two children. Her sister was murdered two years ago at 35 years old. 
"She has two beautiful children, but due to my conviction, I'm not allowed to get custody of them," Colon explains.
"I was told that somebody else in my family who doesn't have a record should try to apply for full custody," she said.  
The Illinois Probate Act says "a person who is qualified to act as guardian ... Has not been convicted of a felony unless the court finds appointment of the person convicted of a felony to be in the minor's best interest."
Colon feels clemency from the governor is her best chance.
"The reason I wanted clemency is I want to have custody of my sister's children, I want to have all my civil rights back. I don't have all my civil rights. And it doesn't matter that the case occurred over 26 years ago," she says.
"So, clearing the record allows you access to a world of things. You still have to explain what you did with this black hole of time — you gotta figure out something — but people tend to do better when they don't have a record, than they did when they did," explains Reuben Jonathan Miller, author and professor at the Crown Family School at the University of Chicago. 
Another option to work around the permanent punishments: expungement. 
"You can petition the court to have records expunged. Expungement means it is ripped up, destroyed. That's what's supposed to happen," Biehl says.
But expungement only applies in certain cases.
"If you have a criminal conviction, you cannot have your record expunged. You can, however, have it sealed," Biehl explains.
The records sealing or expungement process involves filing a petition in court, costing around $157 per charge. Advocates argue those fees can add up for people with more than one charge. They can be waived for people at or below 125% of the poverty level.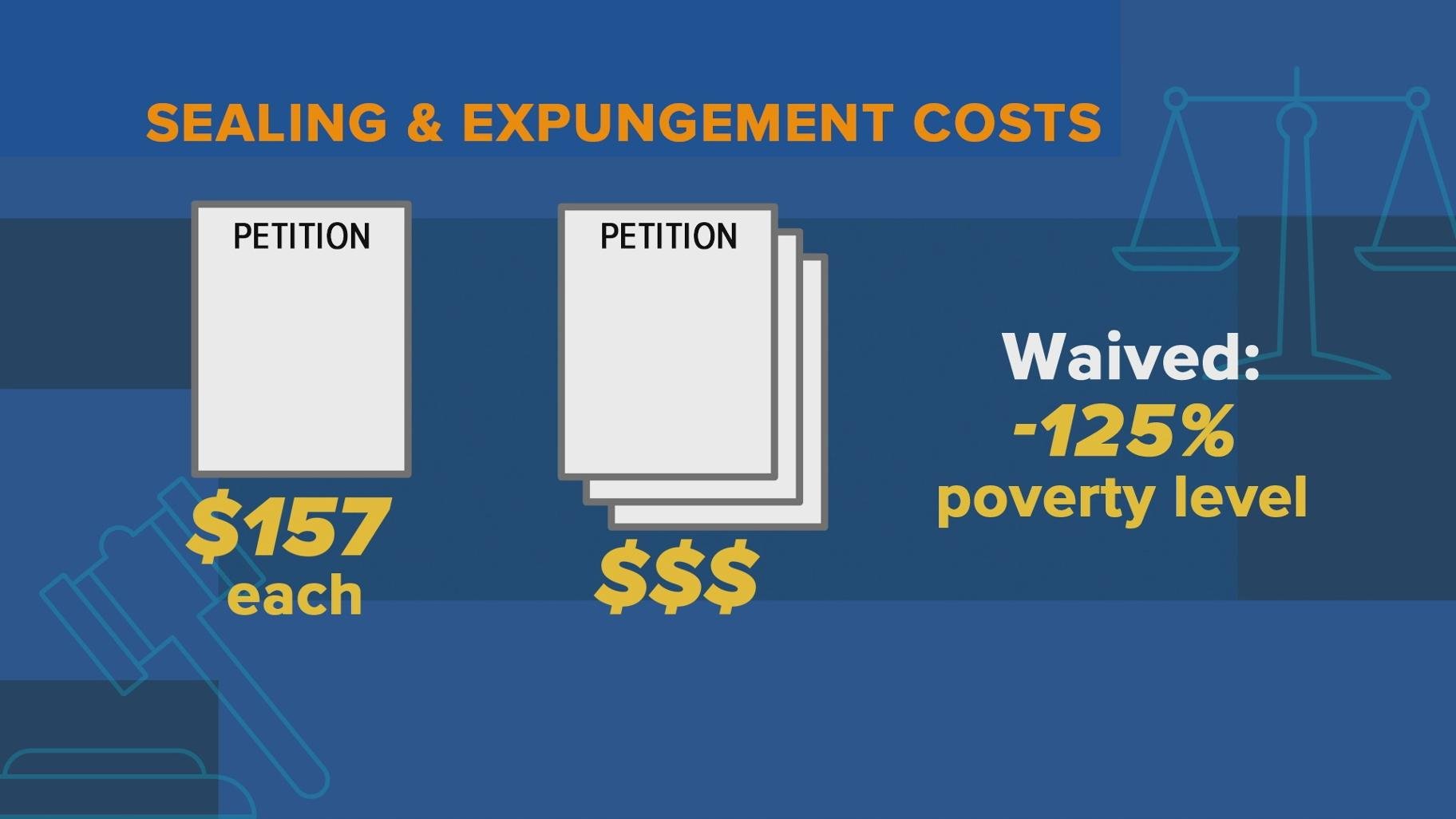 (WTTW News)
Psychologist and former Cook County Jail warden Nneka Jones Tapia says it's still a barrier and argues for some sort of automatic expungement process.
"Where we shift the burden of individual petitioning for sealing of records, or expungement, from individual to the system, that will help us make this expungement process and sealing process more equitable," Tapia says.
Hazel Crest Police Chief Mitchell Davis — the first Black man to serve as president of the Illinois Association of Chiefs of Police —  says he can get behind the idea, with some guardrails.
"Low-level, non-violent crimes should be considered for some kind of auto-expungement, but it needs to be contingent on meeting certain criteria, not just 'PL, you're done.' But, no further arrests, a certain time period," he suggests. 
These days, in addition to his music, King Moosa teams up with Marlon Chamberlain who we met at the beginning of this series.
The two work on the Fully Free Campaign, an effort to unroll some of the state's 1,300 laws that hinder people with records from moving forward.
Today, they're making sure people know that they still have the right to vote once they're out of prison -- a right that only 18 states, including Illinois, fully restore upon release from prison.
"So, when it comes to permanent punishment, it's like why? Why do I gotta continue to pay debt to society, the rest of my life? That does the opposite of what we claim we want to see, in America. We claim we want to see second chance, redemption stories--give people a chance," King Moosa says.
They also work on getting old legislation changed -- and new laws introduced -- not just for themselves, but for hundreds of thousands of others. 
"We don't believe that a conviction should follow anyone for life — no matter the conviction," Chamberlain says.
---