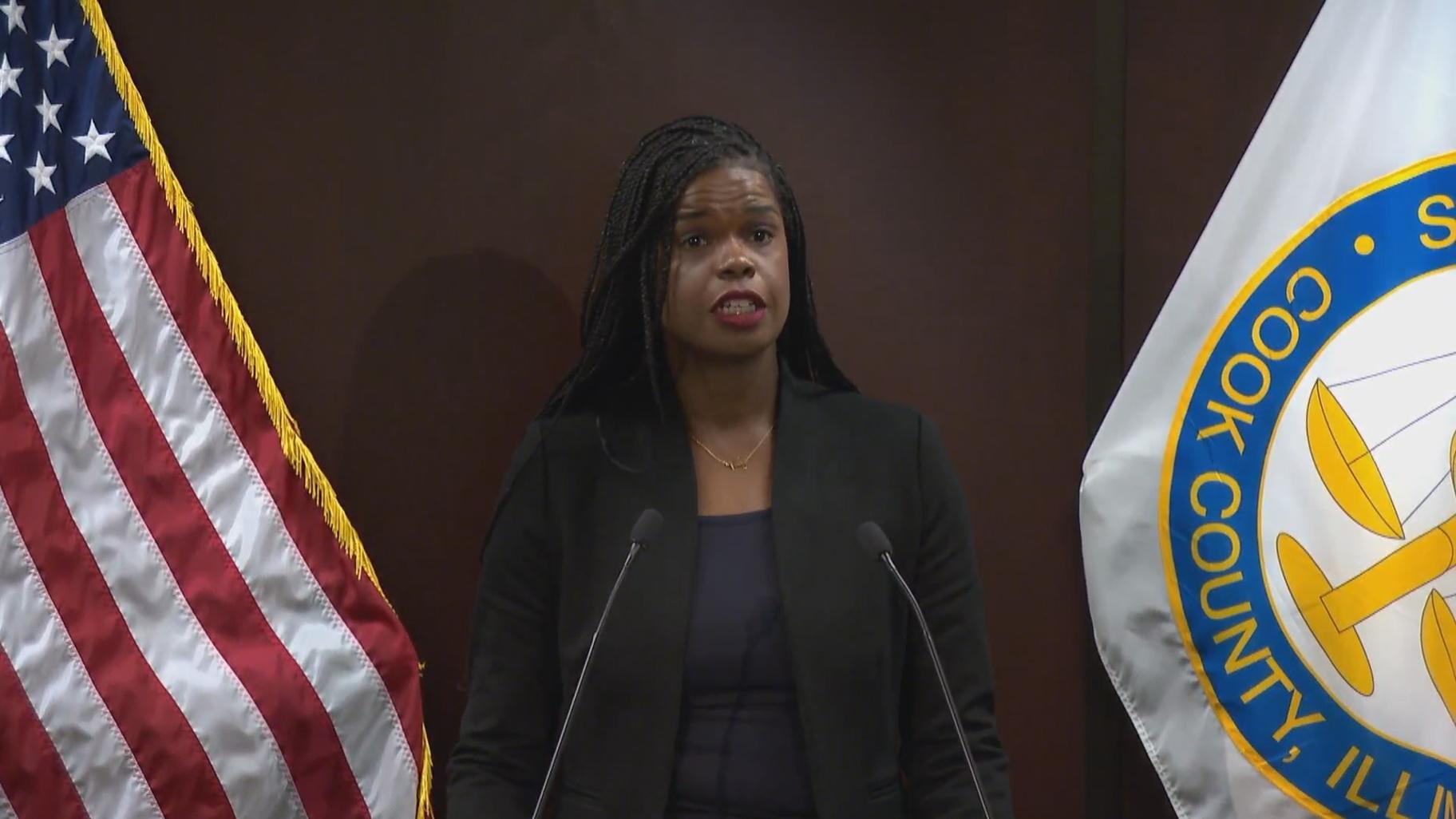 Cook County State's Attorney Kim Foxx speaks during a press conference on Aug. 9, 2022. (WTTW News)
A Chicago Police sergeant and an officer have each been charged with three felonies in connection with a July shooting in Pilsen that seriously injured an unarmed man, Cook County State's Attorney Kim Foxx said Friday morning.
Sgt. Christopher Liakopoulos, 43, and Officer Reuben Reynoso, 42, have not yet been formally arraigned on charges of aggravated battery with a firearm, aggravated discharge of a firearm and official misconduct and have not entered a plea.
Cook County Judge Maryam Ahmad on Friday afternoon ordered each officer held on $25,000 bond, which will require each man to pay $2,500 to be released. Both were ordered to surrender their guns and Illinois Firearms Owner Identification Cards and to have no contact with the victim in the case
Liakopoulos and Reynoso were both assigned to the major accidents unit at the time of the incident. If convicted, they could each face 30 years in prison. 
Both were relieved of their police powers Thursday, and turned themselves into Cook County authorities Thursday evening, Foxx said.
The officers "did not have provocation or justification to shoot the unarmed victim during this incident," Foxx said.
The officers' use of deadly force was not lawful, Foxx said.
"We cannot ignore or stand by acts of unprovoked violence, even at the hands of those who are sworn to serve and protect our communities," Foxx said.
Liakopoulos has been a member of the Chicago Police Department since 2001. Reynoso has been an officer since 2003.
The officers were not wearing body-worn cameras at the time of the incident, said Assistant State's Attorney Alyssa Janicki. However surveillance video captured the incident, officials said.
The shooting occurred after the two officers stopped to investigate a group of people walking near closed businesses at 6:53 a.m. on July 22 near 18th and Morgan streets, Janicki said. While the officers spoke with those people from inside their police car, a 17-year-old boy and a 23-year-old man approached their car, Janicki said.
The 23-year-old man held a wine bottle and cell phone in one hand, while the 17-year-old carried a gun. Before he reached the police car, the 17-year-old ran from the officers' car as the other man approached them and displayed both of his hands, Janicki said.
Both officers fired their weapons at the man, who was struck three times in his back and leg, Janicki said. He is recovering and is cooperating with authorities, Foxx said.
In addition, a 35-year-old man who was walking by the car suffered a graze wound during the incident.
The two officers are charged with official misconduct because they "made representations to legal authorities ... that was directly contradicted by the videotaped evidence," Foxx said.
Video captured by surveillance cameras show the officers fired first, Janicki said. However, the officers said told investigators they did not shoot first, she said.
Attorneys for Reynoso and Liakopoulos told the judge they opened fire after the 17-year-old pointed his gun at them, which they said could not be seen on surveillance footage.
An investigation into the 17-year-old that the surveillance video shows firing his weapon at police as he ran away is ongoing, Foxx said.
After the shooting, Chicago Police Chief David Brown said the officers were headed to the department's training facility when they saw four masked people wearing masks "loitering" outside a closed store.
An officer identified himself and one of the men pulled out a gun and an "exchange of gunfire occurred," Brown said. 
Brown called the incident "a stark reminder of the dangers officers face each and every day at any given moment."
Contact Heather Cherone: @HeatherCherone | (773) 569-1863 | [email protected]
---