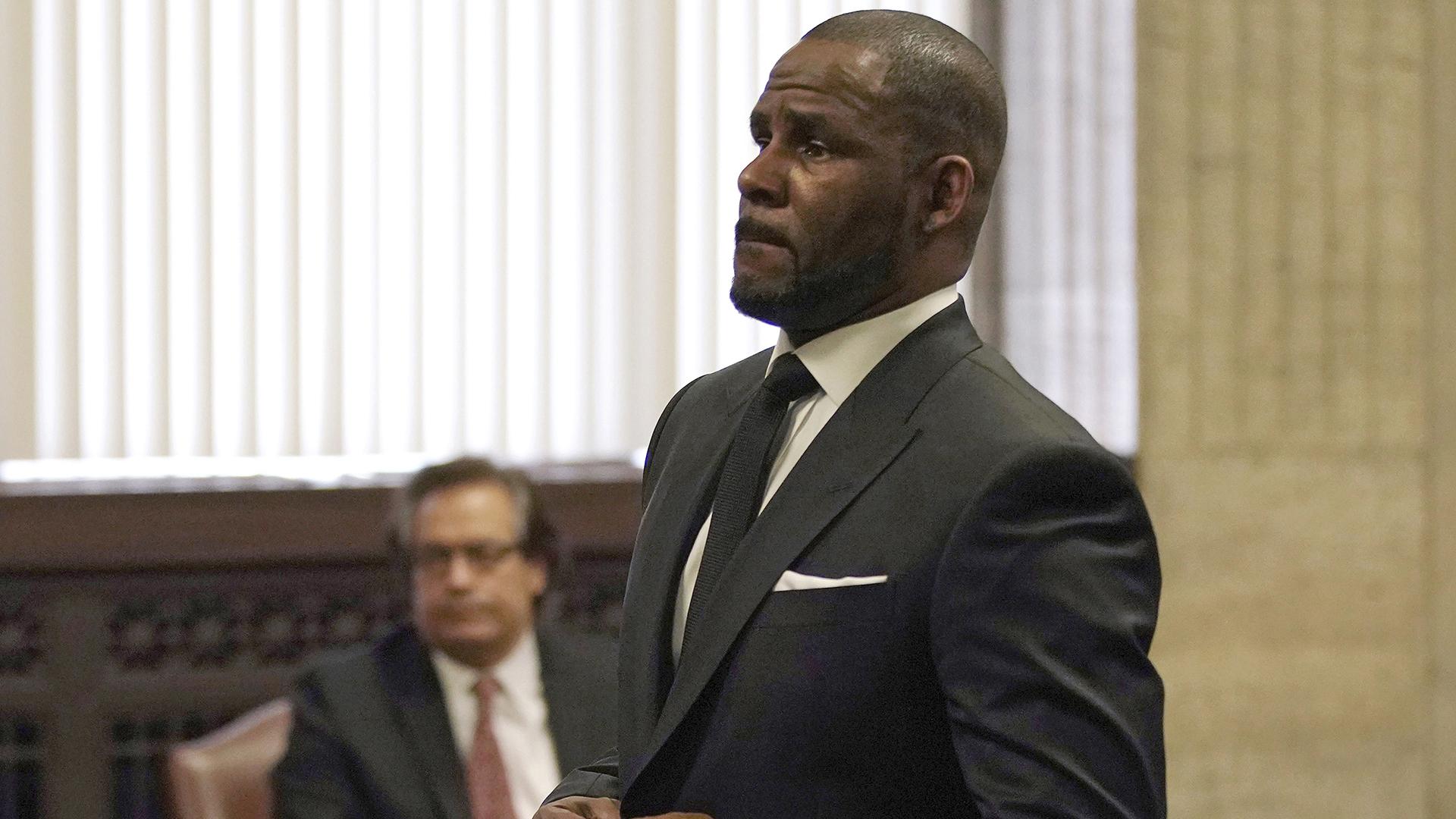 R. Kelly appears for a hearing at the Leighton Criminal Court Building on Friday, March 22, 2019 in Chicago. (E. Jason Wambsgans / Chicago Tribune via AP, Pool)
R. Kelly used his fame and influence to take advantage of and sexually abuse his goddaughter, while his two co-defendants worked to conceal those acts, federal prosecutors claimed during closing arguments Monday.
The trial of Kelly and his former employees, Derrel McDavid and June Brown, entered its fifth week Monday as attorneys on both sides began to deliver their final statements to jurors before they begin deliberations on 13 separate charges against the men. In between the closing arguments, one juror was excused from the case and replaced by an alternate after she apparently began having a panic attack
Assistant U.S. Attorney Elizabeth Pozolo led off by stating Kelly used his position of power to manipulate "Jane," his own goddaughter who testified last month that he sexually abused her "hundreds" of times while she was underage.
"Who does this?" Pozolo said. "And who covers it up? These men. These three men."
Pozolo walked jurors through the three illicit sex tapes Kelly allegedly recorded with "Jane," which were shown during this trial over the last month, saying he repeatedly referred to Jane's "14 year old" body parts, sexually abused her and urinated on the girl.
"Her abuse is forever memorialized," Pozolo said, "because that's what Robert Kelly does."
Kelly was charged in this case in 2019 on allegations he sexually abused multiple minor girls and recorded some of those acts on video. McDavid and Milton "June" Brown are also charged with conspiring to conceal evidence to obstruct law enforcement.
Pozolo also told jurors that both McDavid and Brown knew what was on these tapes and helped the singer keep those away from the public, hiring a former Kelly merchandiser Charles Freeman to recover a copy of one tape from Atlanta.
McDavid testified Freeman already had the tape and was trying to extort Kelly, though Pozolo claimed there was a written agreement Freeman entered into in 2001 to recover a "performance tape" for Kelly.
"They knew he'd do this job for money and do it while keeping his mouth shut," she said, adding that while Freeman's decision not to take that tape to police is "reprehensible," it's also "the truth."
McDavid testified the tape Freeman eventually turned over was simply a fuzzy video showing Kelly with other consenting adults. But Pozolo said if that were true, why did Kelly and his associates agree to pay Freeman more than $600,000 over the course of several years to keep him from making the video public?
"Give me a break, that doesn't make any sense," she said.
Brown is accused of escorting "Jane" and her parents out of the country after Kelly was arrested on state child pornography charges in 2002. "Jane" did not testify when that case went to trial in 2008, and the singer was eventually acquitted.
Pozolo also described how Kelly allegedly enticed, and subsequently sexually abused, other girls, including "Tracy," "Pauline," "Nia" and "Brittany" — all pseudonyms — while they too were underage.
"Robert Kelly abused many girls over many years." she said, claiming McDavid and Brown "enabled" him by making sure illicit tapes weren't made public. "He committed horrible crimes against children, and he didn't do it alone ... The hidden side of Robert Kelly has come to light. The truth has come out."
In his own closing arguments, McDavid's attorney Beau Brindley claimed McDavid was never part of any conspiracy to obstruct justice, and was instead simply acting at the behest of Kelly's past lawyers Gerry Margolis and Ed Genson, and his private investigator Jack Palladino.
"These are the men who handled the lawsuits and did the interviews (with Kelly's accusers) that shaped Derrel McDavid's belief," Brindley said.
Margolis, Genson and Palladino are all deceased.
Brindley said those three men never would have risked their prominent reputations and careers to cover up child pornography for Kelly, and that even if there had been a conspiracy to do so, it would have ended the moment Kelly was acquitted at his 2008 trial. Thus, he argued, the statute of limitations to prosecute this case would have already expired.
Prosecutors, however, claimed payments made from Kelly to "Jane" in 2014 were additional overt acts in furtherance of that conspiracy.
Brindley has also maintained his client didn't know the sex tape recovered from Freeman actually showed Kelly sexually abusing an underage "Jane" because she repeatedly denied that it was her on the tape.
"There's no evidence she ever told him," Brindley said.
After Brindley concluded his arguements, Kelly's attorney Jennifer Bonjean motioned for a mistrial, arguing that Brindley's insinuation that McDavid and others simply didn't know these tapes were legitimate is "highly prejudicial" to Kelly.
She said her client faces an "overwhelming burden" when not only the government, but also Kelly's own codefendants, tell jurors they believe Kelly did sexually abuse these girls.
U.S. District Judge Harry Leinenweber ultimately disagreed and denied that motion.
Brown's attorney Mary Judge told jurors the government "failed miserably" in attempting to prove her client was ever a part of any conspiracy to obtain child pornography.
Judge said Brown's name barely ever even popped up during the weeks of testimony, and that he never did anything more than act in his duties as one of Kelly's numerous assistants and employees. She claimed the government's notion that Kelly, McDavid and Brown were a "team" working together to protect Kelly is false.
"The government presents a good story, but it's not true," Judge said. "There's no evidence to support it."
In between closing arguments, one juror was excluded from the case after she apparently began having a panic attack. Leinenweber said the woman, who was one of the seated jurors, could not go on "one minute longer" and didn't believe suspending the case until Tuesday would help improve her situation. No attorneys objected and she was replaced with one of the available alternates.
Closing arguments will extend into Tuesday. Prosecutors were given three hours to make their final arguments, while Kelly and McDavid's defense teams were allotted 105 minutes each. Brown's attorneys have 45 minutes for their final arguments.
"I just don't see how we're going to get seven hours of arguments without killing the jury and without killing me," Leinenweber said. "We'll go as far as we can today."
Bonjean argued she needed additional time for her closing statement. While McDavid and Brown each face fewer charges, Kelly is named in all 13 counts and could have to contend with antagonistic defense arguments from McDavid and Brown.
"My concern is we'll get to the end of the day and I cannot be rushed with a fatigued jury," Bonjean said.
Contact Matt Masterson: @ByMattMasterson | [email protected] | (773) 509-5431
---