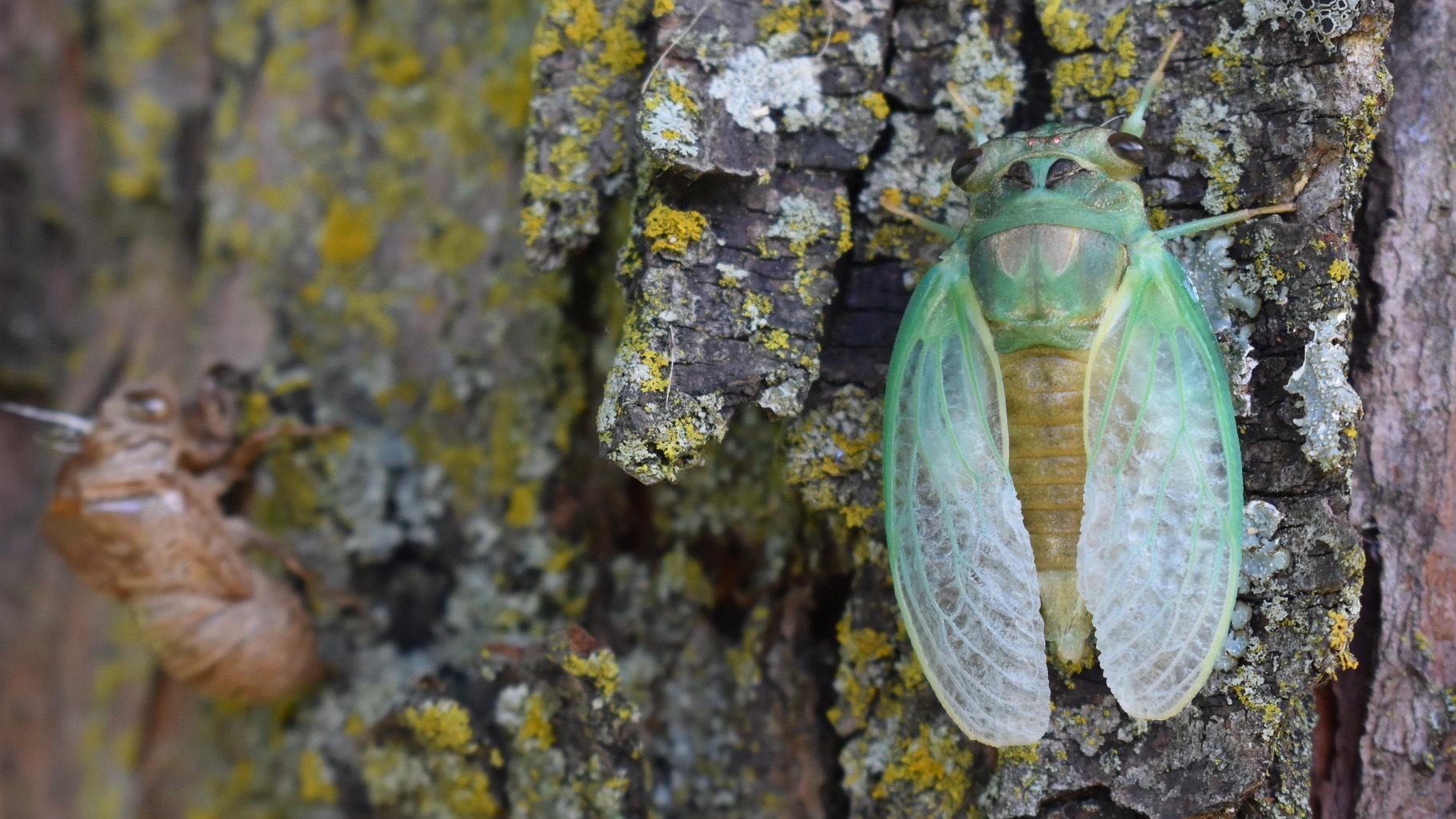 A freshly molted cicada, near an exoskeleton. (U.S. Fish and Wildlife Service Midwest Region / Flickr Creative Commons)
Perhaps you were among the people reaching for a decibel meter earlier in the week.
Keep it handy.
HE SAID THE CICADAS HAVE BEEN PARTICULARLY LOUD TODAY.

— (@akaMisterJayEm) September 7, 2022
As folks noticed, the cicadas were uncommonly, check-to-make-sure-the-windows-are-closed deafening — not just at night, but all day long — and if that seemed odd, it was.
Turns out there's likely a simple explanation for the sustained volume, according to Allen Lawrence, associate curator of entomology at the Peggy Notebaert Nature Museum.
Annual "dog day" cicadas, not to be confused with the 13- and 17-year broods, tend to emerge from the ground over a period of time, beginning in July and hitting peak population between the end of August and early September (though there are reports of a straggling emergence this year). It's the males' mating call that's come to define the soundtrack of late summer.
Each species has its own song, with the aptly named scissor grinder the most common species in the Chicago area.
The fellas typically start their wooing as afternoon passes into evening, taking their cue from the darkening skies, Lawrence said. But on overcast days, like this past Tuesday, they're apt to become a bit confused and keep up the racket non-stop, he said.
The forecast for Sunday, which calls for rain, could be another ear-splitting opportunity.
Folks with larger, mature trees in their yard or parkway are like to have more cicadas in the vicinity — and hence, even more noise — than people who live in newer developments or areas where the soil's been disturbed, Lawrence said.
Because a single cicada is capable of coming across like an entire orchestra, and the fact that females are relatively silent, it can be difficult to estimate how many of the insects are present at a given location, he said.
To get a good sense of their numbers, Lawrence suggested lying down and looking up at a tree. "There's often more than you think," he said.
They'll be gone come October, when temperatures turn chilly, but thanks to the internet, we can enjoy the dulcet tones of "WHEE-oo, WHEE-oo" all year long. 
---
Contact Patty Wetli: @pattywetli | (773) 509-5623 |  [email protected]