(Courtesy Department of Cultural Affairs and Special Events)
1. Deal
Rare coins, paper money, gold and silver are among the array of currency you'll find at the Chicago World's Fair of Money. More than 500 dealers will be buying and exchanging currency, along with experts providing free evaluations of the public's old money. 
Details: 10 a.m.-6 p.m. Thursday-Friday; 10 a.m.-4 p.m. Saturday at the Donald E. Stephens Convention Center, 5555 N. River Road. $10/person, free for children under 12 and ANA members (also free admission on Saturday) / MAP
---
Find more fests: 2022 Summer Festival Guide
---
2. Listen
Take a trip down to the historic Old Joliet Prison and sway your hips as The Blues Brothers are throwing a party at Blue Brothers Con. This two-day event features Dan Aykroyd and James Belushi as the iconic "Elwood" and "Brother Zee" in an hour and a half performance on Friday, along with a collection of local blues music, a re-creation of Chicago's Maxwell Street Market and more.
Details: 2-11 p.m. Friday; 10:30 a.m.-11 p.m. Saturday at Old Joliet Prison, 1125 Collins St. Two-day general admission for adults $60 and $20 for children/students / MAP
---
3. Shop
If you're looking for traditional paintings, sculptures, photographs or one-of-a-kind furniture to purchase for your home or personal collection, check out Evanston Art & Big Fork, featuring over 130 juried artists from around the country selling their unique work.
Details: Noon-5 p.m. Friday; 10 a.m.-5 p.m. Saturday-Sunday at 800 Church St. Free / MAP 
---
4. Chew
Local BBQ masters are firing up 50,000 pounds of pork over the next three days to compete for the titles of "Best Ribs" and "People's Choice" at this year's Ribfest Chicago. While tasting the best ribs in the city, festival go-ers can enjoy live music from local and national indie acts and children can entertain themselves in the Kids Square with activities like bounce houses and mini golfing. 
Details: 5-10 p.m. Friday; Noon-10 p.m. Saturday-Sunday on the streets of Lincoln, Damen and Irving Park Road, 4000 N. Lincoln Ave. Free admission / MAP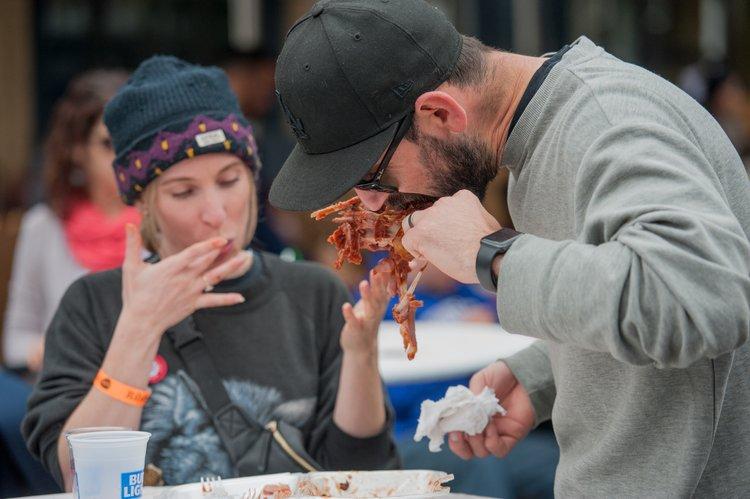 (Courtesy Rib Fest Chicago)
---
5. Crowd
Latin American musicians ranging from punk, reggae, electronic, rock, hip-hop and more takeover Union Park at the annual Ruido Fest. Headliners include Cuco and Babasonicos (Friday), Los Fabulosos Cadillacs and Carla Morrison (Saturday) and Cypress Hill and Maldita Vecindad (Sunday).
Details: Gates open at 3 p.m. Friday; 1 p.m. Saturday-Sunday at Union Park, 1501 W. Randolph St. $99.99 single-day general admission; $199.99 three-day general admission / MAP
---
6. Craft
The annual Glenwood Avenue Arts Fest features more than 120 artists and 30 musicians coming together to provide an art fair, live music on multiple stages, kids' art making activities and live demos of performance art and art making. Musicians include Chicago rapper Psalm One, Chicago's award-winning Indo-Afro-Carribbean music ensemble Funkadesi and more. 
Details: 6-10 p.m. Friday; 11 a.m.-9 p.m. Saturday, 11 a.m.-7 p.m. Sunday at Rogers Park, 6900 N Glenwood Ave. / 1400 W Morse Ave. Free / MAP 
---
7. Snack
Take the day off and explore vegetarian options from restaurants across the Chicago area at Highland Park's VegFest, featuring music, meditation/yoga sessions and cooking demos. 
Details: 11 a.m.-7 p.m. Saturday at The Lot, 523 Central Ave. Free admission / MAP
---
8. Chug
Join some of Illinois'best craft breweries, local musicians and food vendors as they celebrate Oak Park Microbrew Review's 15th birthday and raise funds for Seven Generations Ahead, an organization focused on fighting climate change and promoting healthy, sustainable communities. 
Details:  2-6 p.m. Saturday at Madison St., between Lake and Pleasant. $60 general admission tickets / MAP
---
9. Soar
Hundreds of airplanes, including the iconic U.S. Navy Blue Angels will showcase various acrobatic stunts at this year's Chicago Air and Water Show, returning after two years. 
Details: 10 a.m.-2 p.m. Saturday-Sunday at North Ave. Beach and along the Lakefront, Free / MAP 
---
10. Memorialize
Crafters and scrapbookers of all skill levels will have plenty to browse and learn at the Stamp and Scrapbook Expo in Schaumburg. The exo will is featuring hands-on workshops and door prizes. 
Details: 9 a.m.-6 p.m. Friday, 9 a.m.-5 p.m. Saturday at Renaissance Schaumburg Convention Center, 1551 N. Thoreau Drive, Schaumburg. $10 admission / MAP 
---
Events listed are subject to change. We recommend double-checking times and locations before you head out the door. Want to share your upcoming events with us for consideration in a future roundup? Send us an email.
---