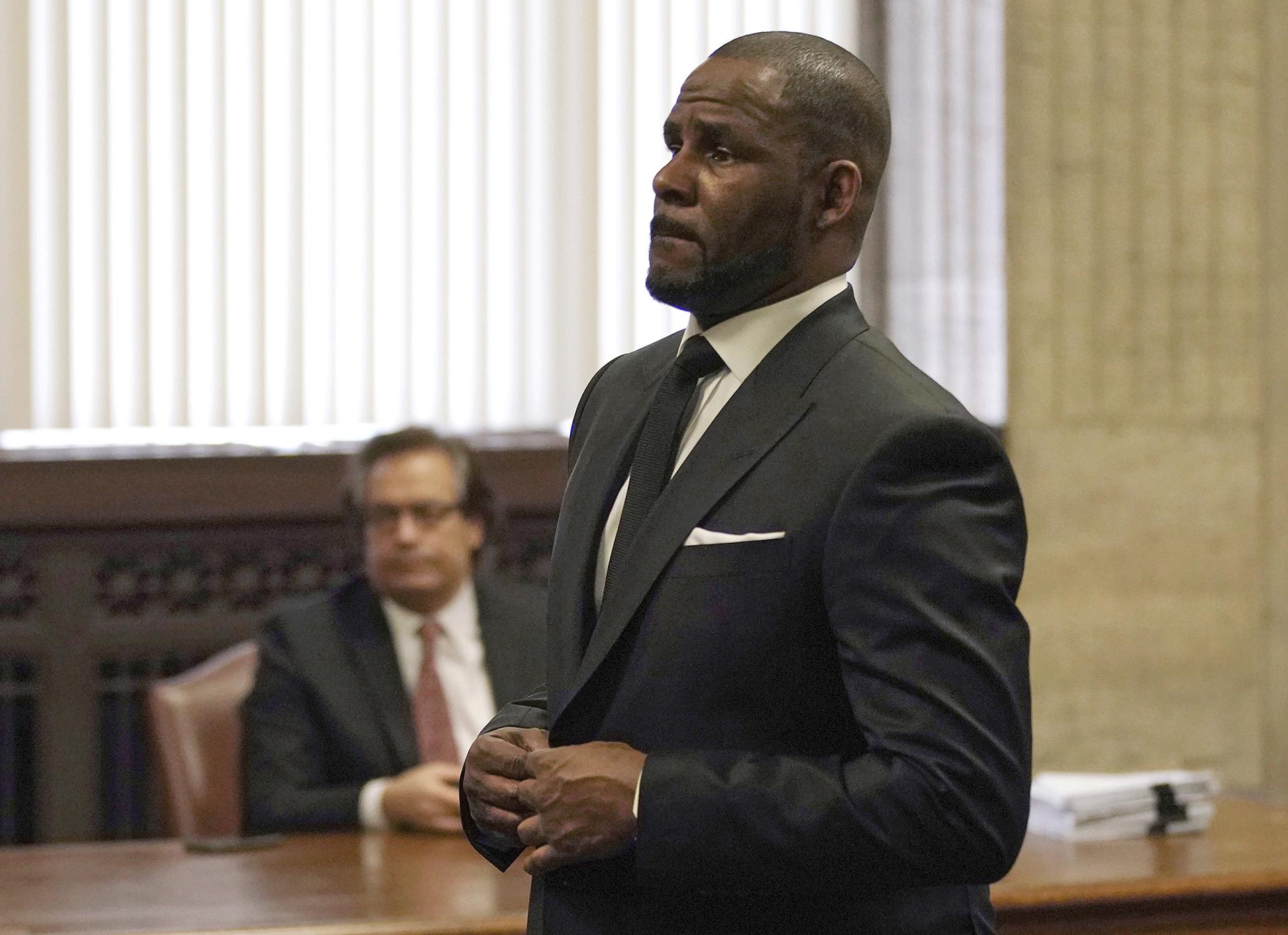 R. Kelly appears for a hearing at the Leighton Criminal Court Building on Friday, March 22, 2019 in Chicago. (E. Jason Wambsgans / Chicago Tribune via AP, Pool)
The first day of what's expected to be a weekslong trial for R&B superstar R. Kelly and two co-defendants got underway in downtown Chicago Monday, with potential jurors being questioned about their knowledge of the singer and a prominent docuseries that detailed years of allegations against him.
Jury selection in Kelly's trial began Monday inside a 25th-floor courtroom at the Dirksen Federal Building, where the 55-year-old Chicago native stands accused of multiple child pornography-related charges, as well as conspiracy to obstruct justice and enticing a minor to engage in criminal sexual activity.
Jury selection is expected to take at least two days, with half of the pool being questioned Monday and the other half Tuesday. The trial itself is expected to take around a month.
Those who are selected as jurors in the high-profile case will only be referred to by their juror number, as their actual identities will remain confidential, U.S. District Court Judge Harry Leinenweber previously ruled. He did so in order to prevent any outside interference from people looking to speak with them about the case.
"There is some interest in this case," he told potential jurors Monday, "and we do not want to be bothered by having anybody trying to contact you because that would be inappropriate."
Many of those questioned Monday had at least a passing knowledge of the case or previous charges filed against Kelly.
One potential juror said that after thinking about the charges over the weekend, she no longer believed she could remain unbiased on the case. Leinenweber quickly excused her from the proceedings. Others who similarly stated that they didn't know if they could remain impartial were also immediately excused.
One woman was excused because she'd previously taken Tae Kwon Do lessons with Kelly's children, and did not believe she would be able to remain unbiased.
Before jury selection began, Leinenweber denied a late motion from Kelly's defense team, which sought to bar potential jurors who had seen any portion of Lifetime's "Surviving R. Kelly" docuseries.
Episodes of that show aired in 2019 and 2020 and included interviews with Kelly's alleged victims and other witnesses expected to testify at this trial.
The series, defense attorney Jennifer Bonjean argued, also dealt with the exact topics that will be at issue in this trial — namely Kelly's 2008 case — and would be akin to handing jurors "a heap of discovery" evidence from the very case they're supposed to hear.
"It is not possible, it is a fiction," that anyone could view portions of the series and remain unbiased against Kelly, Bonjean argued.
Leinenweber disagreed, stating that the jury selection process could sort out whether anyone had been prejudiced against Kelly by watching the series.
Of the 125 potential jurors, nine indicated on pretrial questionnaires that they had seen "Surviving R. Kelly." Seventy others had not, while the remaining potential jurors gave ambiguous answers.
One potential juror on Monday recalled watching a single episode of the show with his wife, but he couldn't remember any specifics from it.
"I think I may have even fallen asleep before the end of it," he told Leinenweber.
Another candidate said she watched several episodes when they first aired, but maintained that she could still be a fair and impartial juror.
Kelly was charged in 2019 on allegations that he sexually abused five separate minors and recorded some of those acts on video. A superseding indictment filed the following year added a sixth alleged victim.
Two former employees of the singer's music business, Derrel McDavid and Milton "June" Brown, are also charged with conspiring to conceal evidence to obstruct law enforcement during the investigation that preceded Kelly's 2008 child porn trial in Cook County. He was acquitted in that case.
According to prosecutors, Kelly and McDavid paid an acquaintance hundreds of thousands of dollars beginning in 2001 to collect those videos and cover up their existence. When that acquaintance later planned to hold a news conference to announce he had the videos, Kelly, McDavid and others allegedly paid him approximately $170,000 to cancel the event.
Prosecutors further allege Kelly and McDavid paid one of the minors and another individual to help recover and return the videos.
A federal jury in New York previously convicted Kelly of sex trafficking and other charges. He has since been sentenced to serve 30 years in prison.
Kelly, who has pleaded not guilty, has been held at the Metropolitan Correctional Center in downtown Chicago pending trial.
Contact Matt Masterson: @ByMattMasterson | [email protected] | (773) 509-5431
---