A local Emmy-winning jazz vocalist is committed to ensuring students have the opportunity to pursue paths in the performing arts, no matter the medium.
Now 11 years after it began, an annual summer program is still offering musical exposure for all ages, with an opportunity for students to put what they've learned to the test in two public concerts.
Arts Correspondent Angel Idowu takes us to the West Loop for "Timeless Gifts: A Musical Revue."
"It's a remembrance, a reimaging, a tribute to some of the great iconic pieces in musical theater, film and TV that featured African Americans," said Joan Collaso, Timeless Gifts founder. "You'll see snippets from "Sarafina!," "Porgy and Bess," "The Wiz," "Dream Girls," "What's Love Got To Do With It," a Motown medley …"
Comprised of students from ages 3 to 24, Timeless Gifts is a nonprofit created by Collaso.
"It's just that outlet," Collaso says. "Being able to express yourself in another way. Being able to be who you really are sometime in your life is very important."
While the seven-week summer program offers vocal and performance lessons, it also emphasizes the importance of working behind the scenes, honing in on the idea that performing arts can be pursued both passionately and practically.
"As you get older it's less about the fame, but more about making a living and being realistic about what life is leading us into," Collaso says. "And yes, some people will be stars, but many will earn great livings."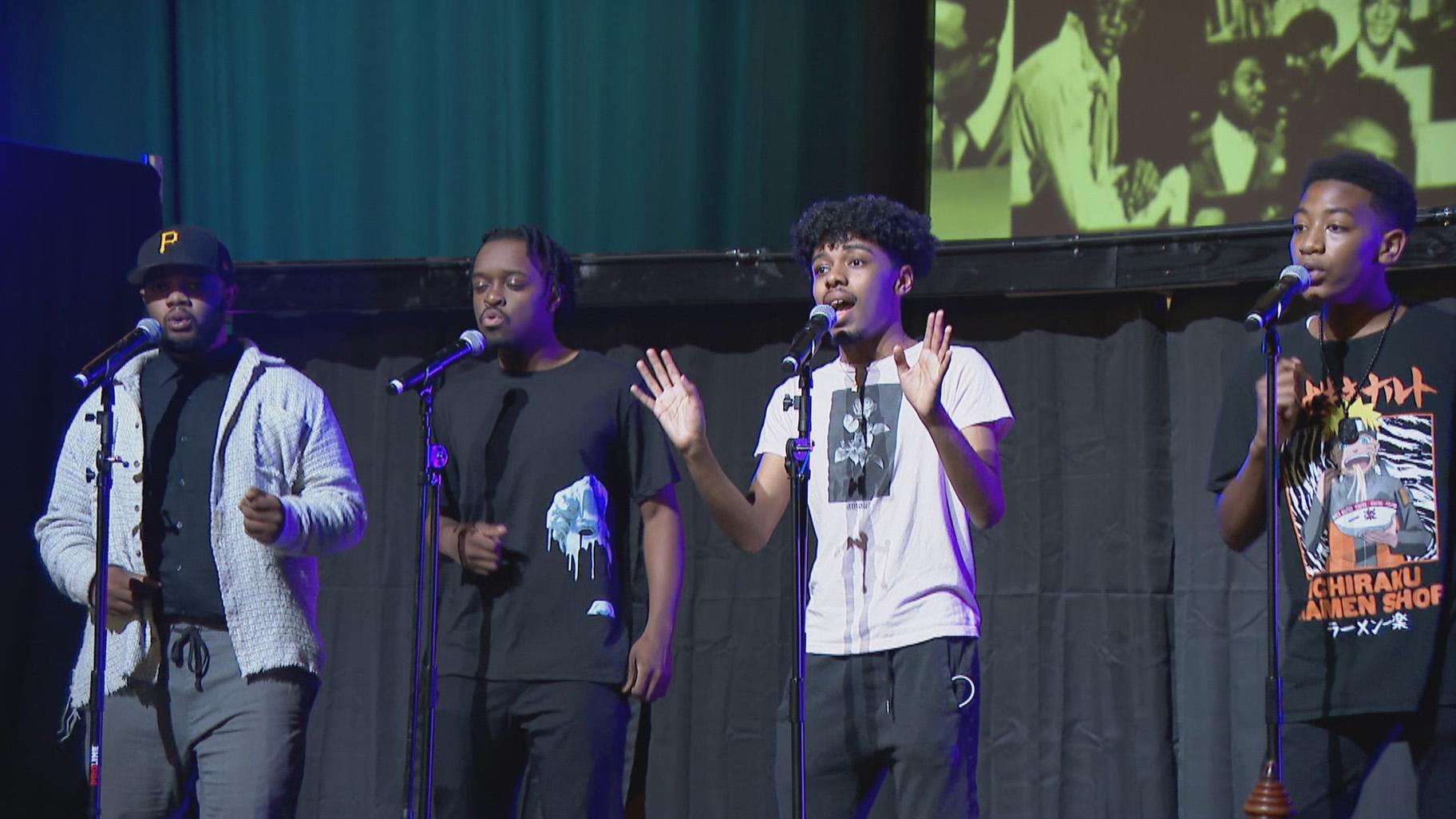 Timeless Gifts participants rehearse musical numbers for upcoming performances. (WTTW News)
This commitment to practicality in performing arts extends to the relationships created as well. Eight-year-old Christian Williams has been a part of the program for the last five years and has found a mentor in his percussion instructor, Tony Carpenter.
"He might be the best percussion teacher I could ever have," Christian says.
"As kids learn the different parts of the instruments correctly, they put them together to make a rhythm," percussion instructor Tony Carpenter said. "I lean on Christian because he'll demonstrate parts for the other students."
It's through this understanding of rhythm through learning percussion, that Christian was able to apply it in his first solo for the musical experience. It wasn't until Christian joined the program that he realized he even wanted to sing. Collaso says this is just one of the many success stories Timeless Gifts has offered.
"Our young people, all they want to do is play music, dance, play piano and that is important and they can be successful," Collaso said. "But the ones on the fence, it's important for them to know there is a place for them here as well."
You can see "Timeless Gifts: A Musical Revue" Tuesday night at 7:30 p.m. at the Epiphany Center for the Arts, 201 S. Ashland Ave.
If you can't make that show, they'll be having their end of summer showcase Aug. 7 at the DuSable Museum, 740 E. 56th Place.
Follow Angel Idowu on Twitter: @angelidowu3
---
Angel Idowu is the JCS Fund of the DuPage Foundation Arts Correspondent.
---