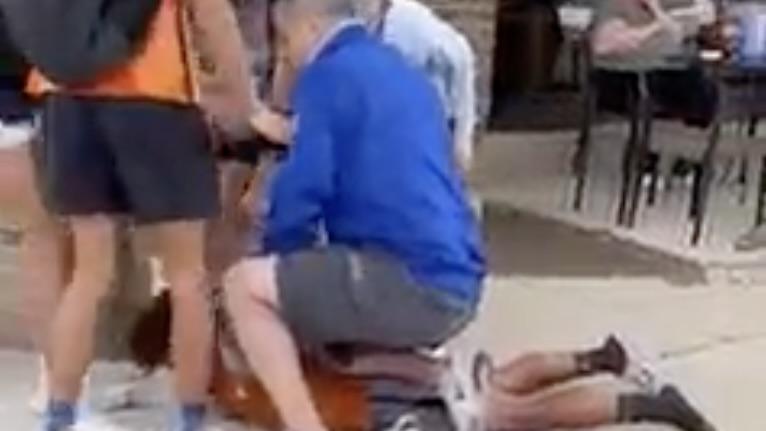 A still from the video posted on Facebook by Nicole Nieves, the teen's mother. (Provided)
The agency charged with investigating misconduct by Chicago Police officers is probing the actions of an off-duty police sergeant who was captured on video pinning a 14-year-old boy to a Park Ridge sidewalk with his knee Friday evening.
Nicole Nieves posted a video of the incident involving her son outside the Starbucks on Northwest Highway on Facebook, where it quickly went viral with the help of celebrity news organization TMZ.
The officer, who was not in uniform but identified himself as a member of the Chicago Police Department when Park Ridge officers responded to a call of a fight, told onlookers that Nieves' son stole his son's bicycle. Nieves wrote that she believed her son was singled out by the off-duty sergeant because he is Puerto Rican.
Nieves wrote that the video, captured by an onlooker shows "my 14-year-old child — face down, wide eyed, no shoes, knee in his back, gasping for breath, arms locked — being pinned down by a white, unidentified, off-duty Chicago police officer."
As Nieves' son's friends yell at the off-duty sergeant, who has not been identified by officials, the teen's friends yell at him to get off their friend and say he has not done anything wrong. His friends eventually push the man off the teen, and the video of the confrontation ends.
"Our son's hands were on the bike as he was moving it out the way … while he was in possession his own bike, right next to him," Nieves wrote. "This adult did not use words — he used force; he used his hands. Grabbed our son's wrists, body slammed him, then held him down with his knee to forcibly restrain him."
The Civilian Office of Police Accountability announced Tuesday afternoon they are in the "early stages" of the investigation.
At the same time, the Park Ridge Police Department is also conducting a "full and thorough" investigation of the incident and expect to meet with officials from the Cook County State's Attorney's Office later this week to "review the status of the investigation," officials said in a statement. Park Ridge officers have collected video from nearby businesses and are waiting for video from Starbucks.
A spokesperson for the Chicago Police Department declined to comment on the incident, citing the ongoing investigation, but said the sergeant involved in the incident remains on-duty.
A 2017 investigation by the Department of Justice found Chicago Police officers routinely violated the constitutional rights of Black and Latino Chicagoans.
A 2021 audit by Chicago's inspector general found Chicago officers were more likely to use more force against Latino people than White Chicagoans, according to the report.
The Chicago Police Department's use of force policy requires officers to "avoid sitting, kneeling, or standing on a subject's chest, which may reduce the subject's ability to breathe" and directs officers to "whenever feasible" not to force the subject "to lie on his or her stomach."
Contact Heather Cherone: @HeatherCherone | (773) 569-1863 | [email protected]
---