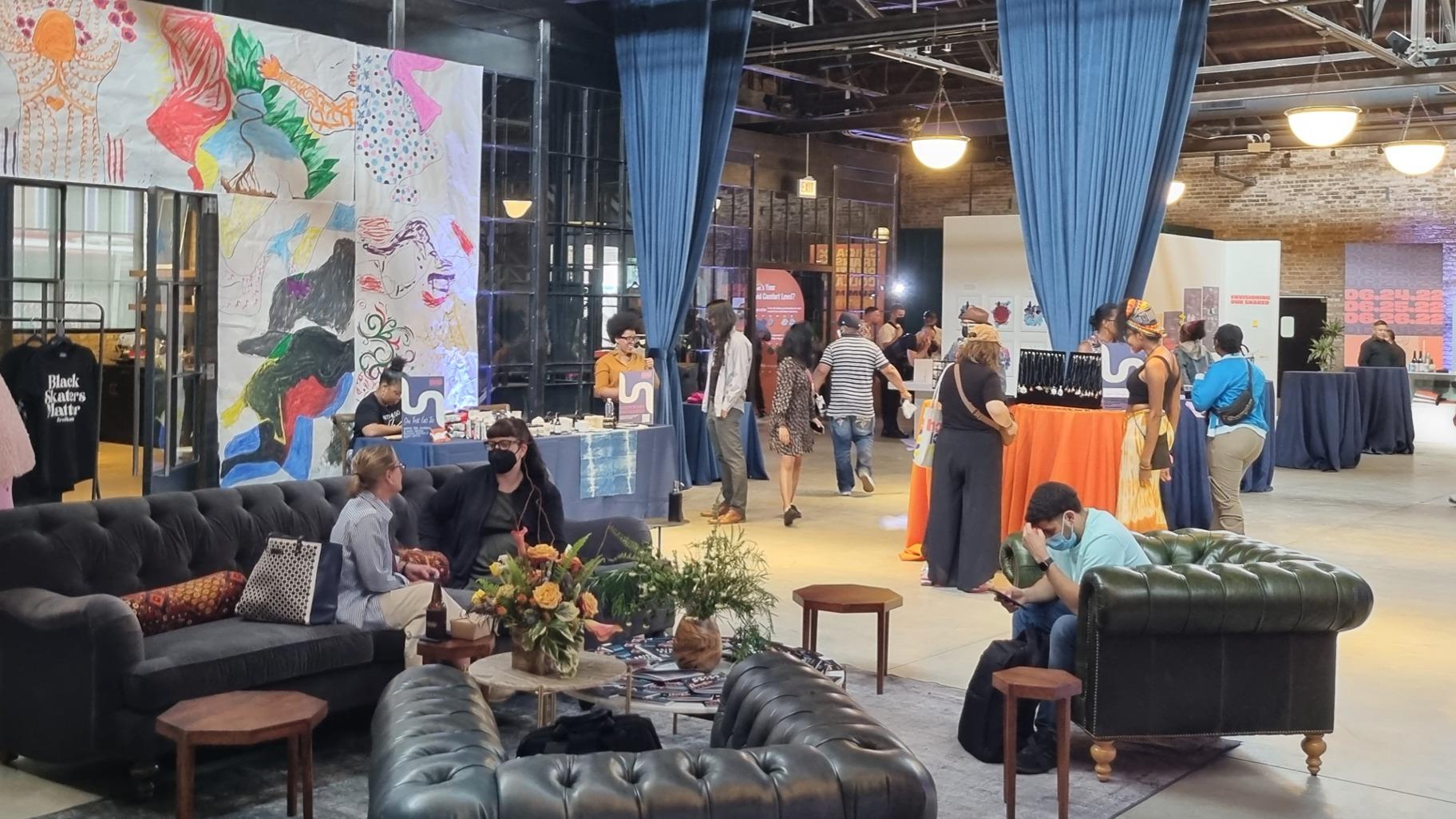 Attendees browse the Chicago Transformation Collab festival on June 25, 2022, which featured an array of local businesses, live art and panel discussions with community leaders. (Yahya Salem / WTTW News)
Local Chicago art and a collection of Black-authored books adorned the brick walls and shelves of the revitalized Wildman Boiler and Tank building on the West Side as part of a weekend event aimed at discussing safety and justice in the city.
The decorations provided a vibrant backdrop to the event that included a summit and public festival organized by the Chicago Transformation Collab, a coalition of social justice advocacy groups and media partners ranging from the Illinois Prison Project to Teen Vogue. It was led by Zealous, a national nonprofit civic organization with the goal of ending mass incarceration in the U.S.
A 2021 report by the Prison Policy Initiative revealed that Illinois has an incarceration rate of nearly 500 per 100,000 people, a count that includes prisons, jails, immigration detention and juvenile justice facilities. Additionally, at least 173,000 people are booked Illinois' county and local jails each year.
According to Zealous' founder, Scott Hechinger, who is a former Brooklyn public defender, police and prosecutors have been telling misleading but compelling stories for decades about what it takes to maintain the health and safety of society, which  in his view ultimately skewed the public's perceptions about solutions for crimes and delinquencies. Hechinger suggests that the way to combat this is by creating content that counters the criminal justice system's narratives.
"I want folks to be telling stories that capture people's hearts," said Hechinger. "That make them understand as well as I do that the current system is deeply flawed, and another alternative is so obvious."
The overarching themes of the Collab's three-day event revolved around the role of storytelling and art in criminal justice organizing. The summit, which was strictly by invitation, included training sessions and workshops led by local activists, defense attorneys and media professionals with the aim of educating the invited participants on topics such as campaign strategies, effective storytelling, and enhancing alignment across communities and areas of expertise.
The festival portion, which took place Saturday, was open to the public and featured an array of local businesses, live art and panel discussions with community leaders. The festival's main event was the Art In Action: Storytelling + Imagination panel featuring cast members from Showtime's coming-of-age drama set in Chicago's South Side, "The Chi." The panelists were Hannaha Hall, Tai Davis, and Behzad Dabu, who also acted as the moderator.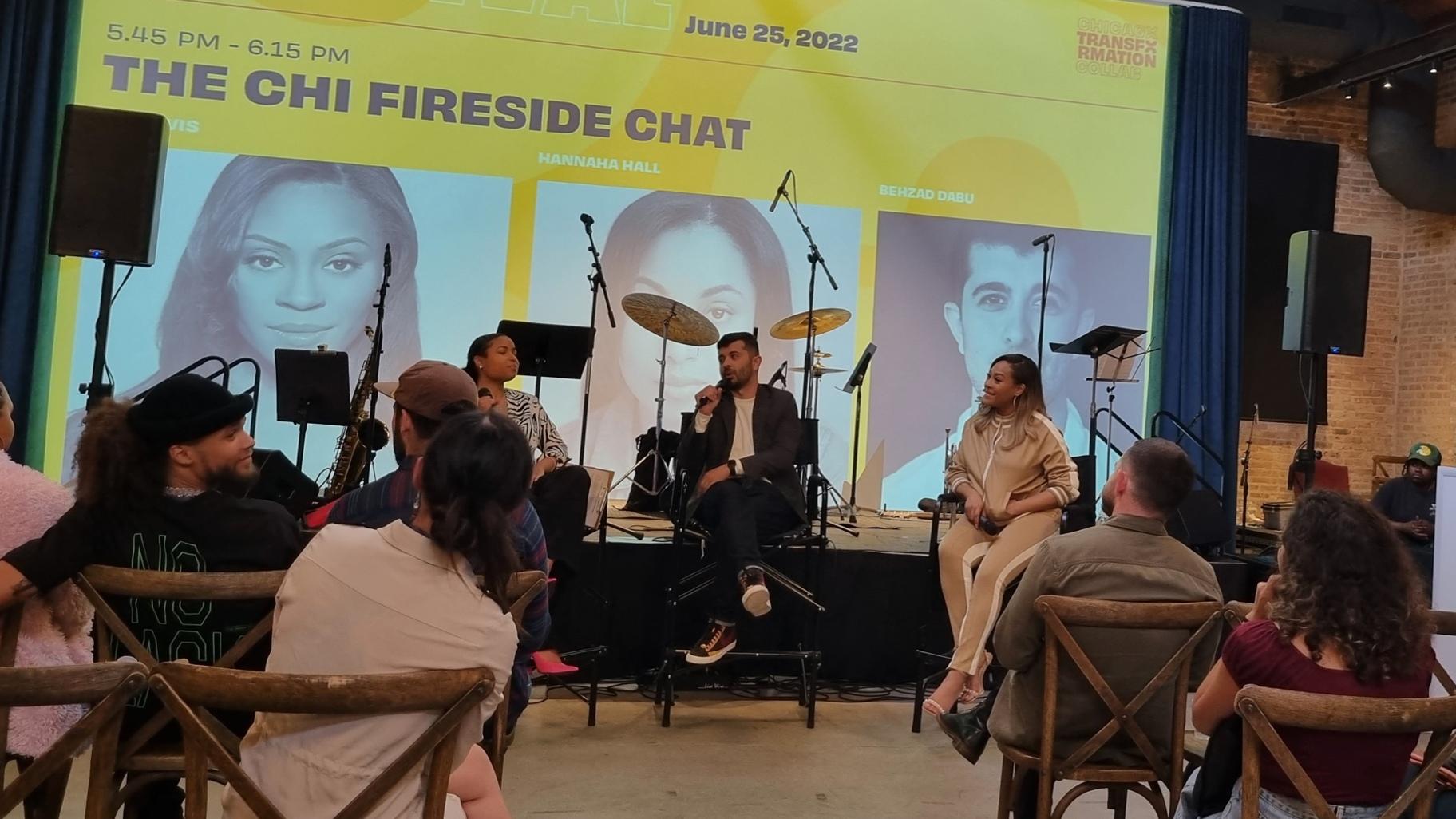 Cast members of the Showtive series "The Chi" speak about representation and the portrayal of Chicago at the Chicago Transformation Collab festival on June 25, 2022. (Yahya Salem / WTTW News)
The panelists discussed how actors can transcend roles beyond the screen and act as catalysts for change within the film and television industry and their respective communities, specifically through authentic representation and pushing back against the outdated and inaccurate stereotypes that exist in scripts.
Dabu, who played a Palestinian named Amir on the show, received enthusiastic applause from the audience when he referred to police-washing in films and televisions shows as "copaganda," a term used by critics of celebratory portrayals of law enforcement in the media. Dabu went on to criticize the conglomerate nature of show business, which trickles most decision making into the hands of a handful executives who, according to Dabu, lack significant diversity.
Davis, a Chicago native, and Dabu also expressed their personal convictions about holding up a mirror to the criminal justice system and those celebrating it in the arts.
"We have to address the brutality and injustice done to us by the people here to serve and protect," said Davis. "The way you put us on blast, put them on blast, too."
Davis was also critical of the negative representations of Chicago in the media. According to her, the exhausted portrayals of gang violence and misrepresentations of local urban communities continues to hinder real change. Her former costar concurred by referring to a 2021 New York Times quiz which asked readers to rank Chicago nationally in terms of murder rate. The options were first, third, fifth or seventh. Most readers ranked Chicago "first," whereas only 8% chose the right answer, which was seventh.
Following the panel, the audience continued to browse and shop from the partnering local businesses and organizations.
"A lot of the youth that we work with, especially here in Chicago, they're constantly being fed only negative," said Olivia Tousius, program coordinator and lead teaching artist at the Simple Good, a nonprofit focused on empowering youth through social emotional learning based on arts programming.
"The future that others see for you does not have to be your destiny," Tousius said.
---