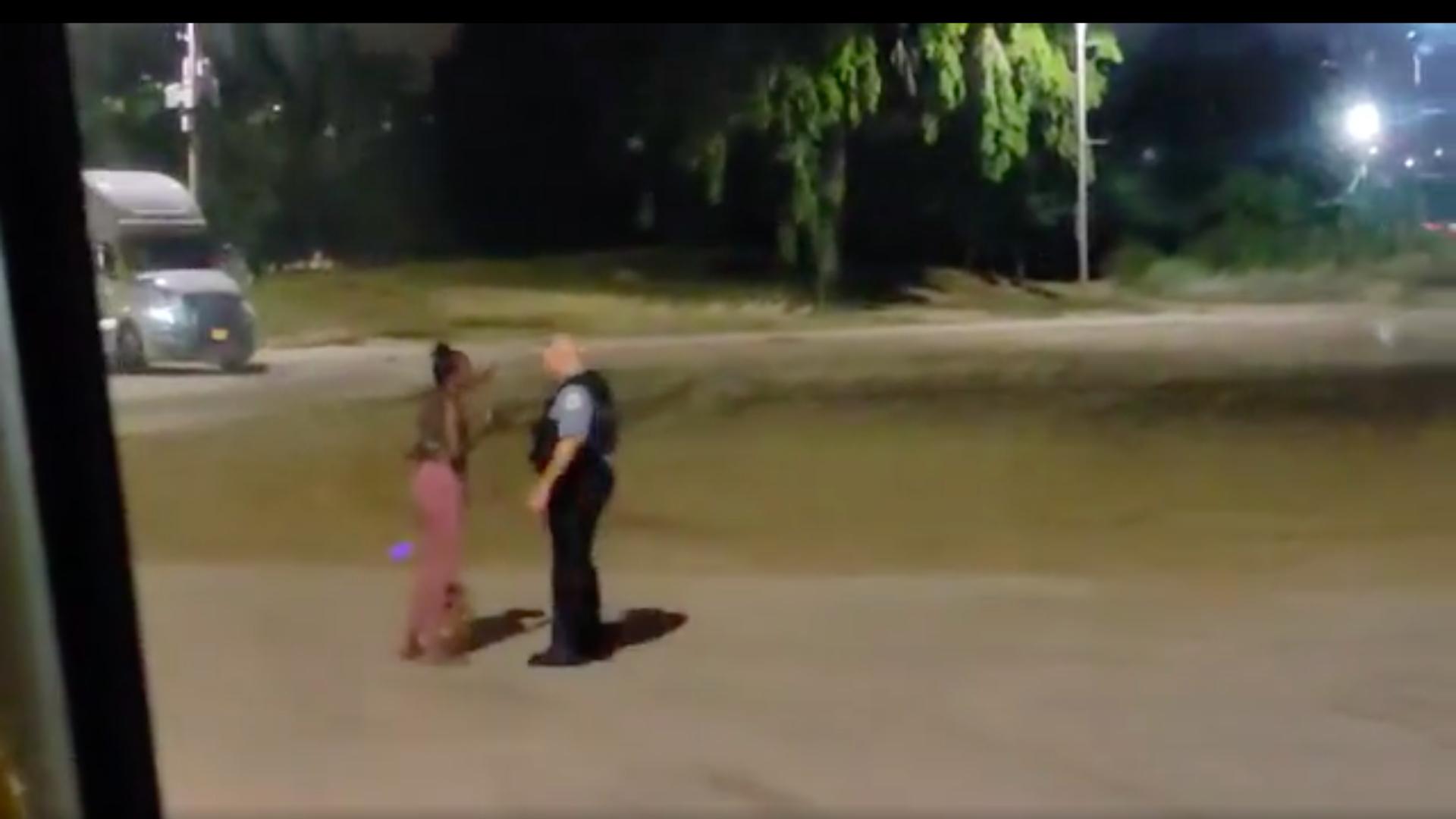 A still image taken from video provided to WTTW News shows Nikkita Brown and a Chicago police officer at North Avenue Beach around 12:12 a.m. Saturday, Aug. 28, 2021. (Courtesy of Saulter Law P.C.)
The ex-Chicago police officer charged with grabbing a Black woman during a highly-publicized incident last year at North Avenue Beach brought "significant discredit" to the department, according to a new report from the agency tasked with probing police misconduct.
The Civilian Office of Police Accountability on Thursday published its findings following an investigation into the Aug. 28, 2021 incident, in which former Officer Bruce Dyker was allegedly seen grabbing and harassing Nikkita Brown at the beach.
"Officer Dyker's entire interaction with Ms. (Brown) was an abject failure," COPA wrote in the report. "The encounter did nothing to ensure public safety and only served to highlight the longstanding fracture between police and the communities they serve."
While an allegation that Dyker engaged in "racial profiling or bias-based policing" was not sustained, COPA did find that Dyker grabbed Brown without justification, engaged in an unjustified verbal altercation and failed both to activate his body-worn camera and to properly document the incident in a tactical response report.
COPA recommended discipline ranging from a 180-day suspension to terminating Dyker from the department. However, Dyker already left the CPD weeks ago, and has since been charged with aggravated battery and official misconduct stemming from this incident.
"Officer Dyker escalated the interaction with Ms. (Brown) by making verbally abusive statements against her," COPA wrote in the report. "Furthermore, Officer Dyker's failure to document the encounter is also deeply troubling. Video footage of this incident has been widely circulated and brought significant discredit to the Department."
Video: A video provided by Saulter Law P.C. shows the Aug. 28, 2021 encounter. 
---
The incident occurred just after midnight on Aug. 28 as Brown waked her dog near the beach. In a video shared widely on social media, Brown can be seen walking away from the officer, who appears to be attempting to make her leave the area.
The video shows she and the officer exchange words, and after Brown stops walking and looks down at her phone, the officer grabs her arm and attempts to restrain her. Brown can be heard screaming as the officer twists her around.
After more than a minute, the officer lets go of Brown, and they walk away in opposite directions. Brown has since filed a civil lawsuit against both Dyker and the city of Chicago.
"Dyker lunged at (Brown) before forcibly grabbing her and repeatedly attempting to violently throw her down to the pavement," Brown and her attorneys alleged in the complaint for that suit. "Over the next 70 seconds, Plaintiff repeatedly screamed for Officer Dyker to 'let me go' and called for 'help', only to have the Defendant continue to violently batter the Plaintiff."
The lawsuit claims Dyker has "a shocking history of misconduct against minorities," including 24 civilian complaints lodged against him.
In its report, COPA also sustained allegations that Dyker failed to wear a mask during the altercation in violation of a city order at the time, failed to complete an Investigatory Stop Report and failed to properly attach his body-worn camera.
Dyker's next hearing in his criminal case is scheduled for Aug. 9.
Contact Matt Masterson: @ByMattMasterson | [email protected] | (773) 509-5431
---