Suitcases have been waiting by the front door for two months at the Highland Park home of Jeff Sterling and Lilac Epstein.
"That phone call in the middle of the night — that's why the suitcases are out, because it could happen at any moment," Sterling said.
And in late April, the couple did get their surprise phone call. But it came much earlier than expected.
Their Ukrainian surrogate — who had been moved to the Czech Republic — delivered their twin babies by emergency C-section at just 27 weeks. The early news was just the latest nerve-wracking development in what has been months of tense waiting for the suburban couple.
WTTW News previously reported on the family as they shared their story of Ukrainian surrogacy shortly after Russia invaded the country.
While the early days after their births were scary, the twins have been moved out of the neonatal intensive care unit of a Czech hospital and are weighing in at just over three pounds each.
"They're doing much better and it's one day at a time," Sterling said from his living room, with Epstein by his side and their 1-year old, David, on her lap.
"It's a process, they're gonna be there another four to five weeks, but its progress," he said. "It's certainly better than it was the first couple of days [after] they were born."
And if being 4,500 miles away from their newborns isn't hard enough, now the couple is navigating the bureaucracy of getting the right documents to bring the girls home. That's further complicated by the fact that the Czech Republic doesn't recognize surrogacy.
"Things are pretty messy right now," says Sam Everingham of Growing Families, an Australia-based international nonprofit that has been helping other intended parents bring their babies home safely from war-torn Ukraine.
"The issue is some of these babies are being born stateless, because the country where they're born doesn't recognize them," Everingham said. "And until intended parents' country steps in and gives the kids identity documents, the children don't have a true identity as to who they are, and that's the confusion."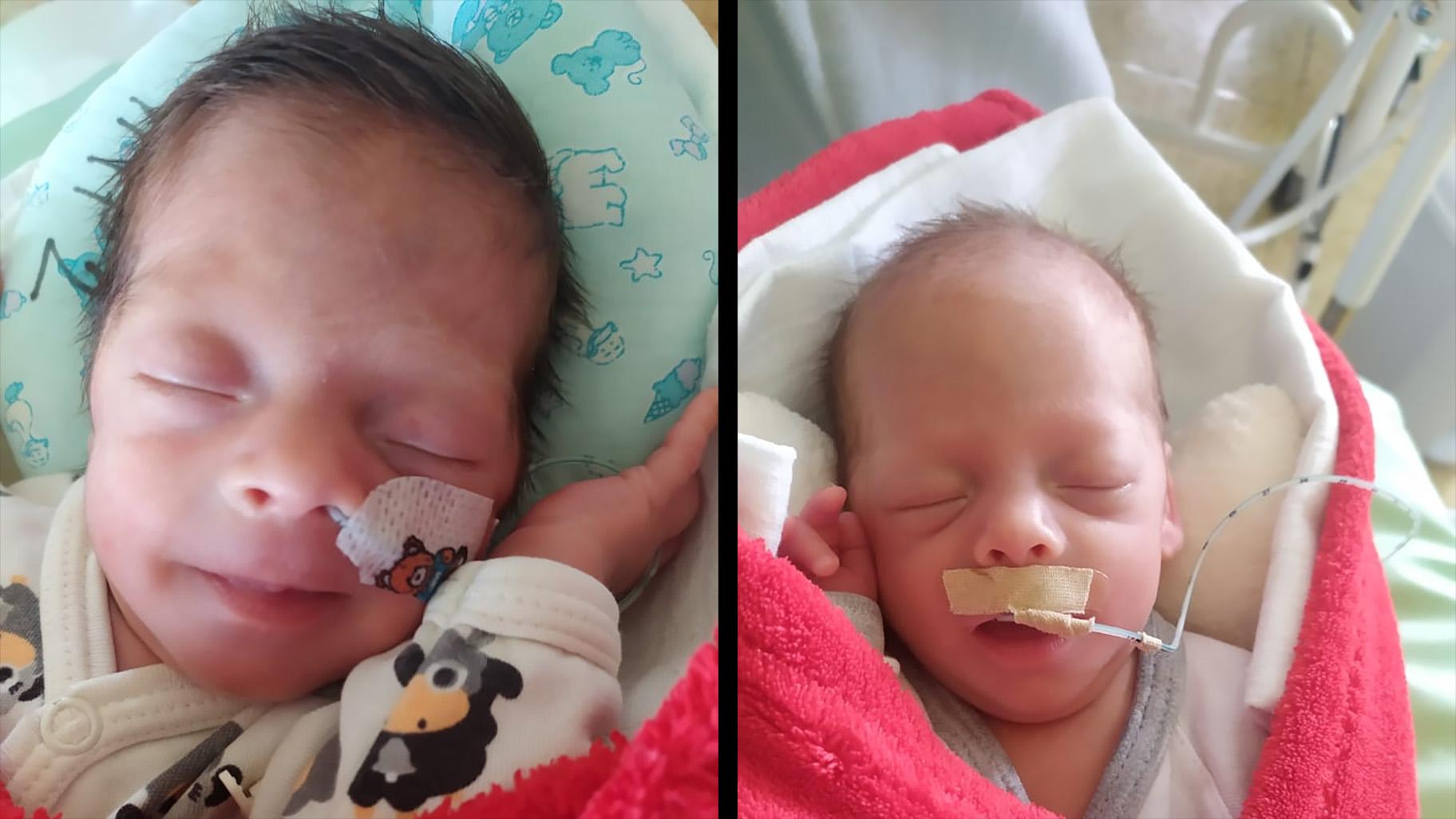 Jeff Sterling and Lilac Epstein's twin daughters were born at just 27 weeks to a Ukrainian surrogate in the Czech Republic. (Courtesy of Lilac Epstein)
In the case of Sterling and Epstein, Sterling is the babies' biological father and would need to take a blood test to prove it.
But for health reasons, he can't travel to the Czech Republic.
The pair have been working with the U.S. State Department to ensure he can take the test here and Epstein can bring documentation herself.
Next problem: both the surrogate, Viktoriia, and her husband need to sign away their parental rights.
"Viktoriia's husband cannot leave Ukraine, there isn't a U.S. Embassy presence in Ukraine. He can't formally or legally sign this document in front of a member of the U.S. Embassy. And he did relinquish his rights prior to the embryo transfer," Epstein explains. "So, with all of these different components, we're hoping there'll be some amount of a waiver."
As the couple waits to hear from the legal department at the U.S. Embassy in the Czech Republic, there's only so much they can be anxious about.
"It can be overwhelming, but this situation is what it is and at some point will get resolved," Epstein says.
"The stress relief is the progress that the girls are making: that's our main concern," Sterling adds.
They've been working with an agent in the Czech Republic who keeps them posted and they are in regular conversation via text with their surrogate.
When it is all figured out, Epstein is ready to make the daunting trip to fly her newborn twins home from Europe, alone.
"I want that to be my biggest problem," she laughs. "With everything else we've addressed, let that be my biggest problem!"
Follow Brandis Friedman on Twitter @BrandisFriedman
---