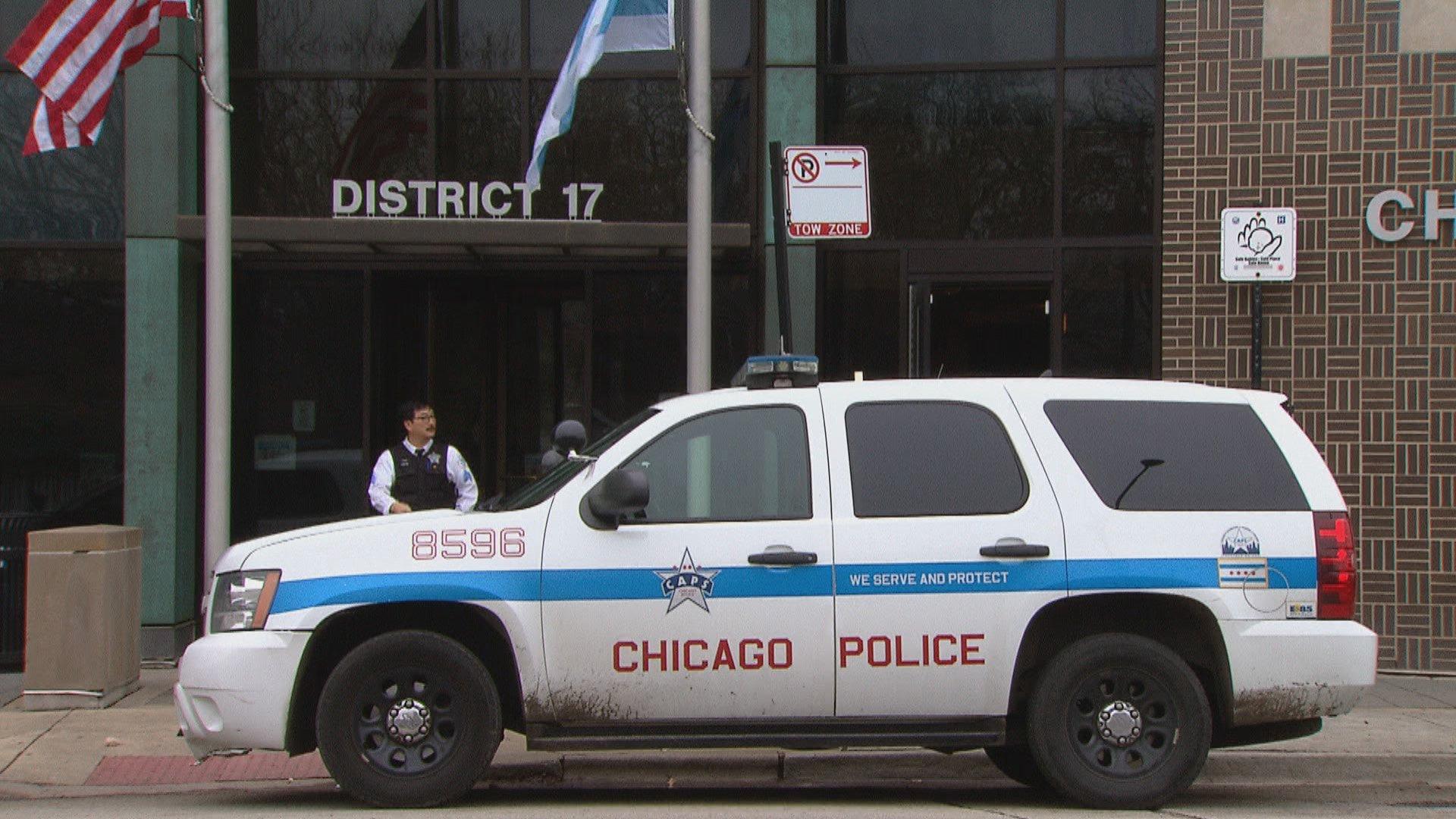 A Chicago Police Department vehicle is pictured in a file photo. (WTTW News)
Chicago police shot a 13-year-old boy during a foot pursuit on the Northwest Side of the city Wednesday night.
The Civilian Office of Police Accountability in a statement Thursday said the boy was hospitalized in serious condition. According to Chicago police, the boy ran out of a stolen vehicle that had been sought in connection with a vehicular hijacking from a neighboring suburb.
Officers were attempting to stop that vehicle near the 800 block of North Cicero Avenue at around 10:15 p.m. Wednesday night, according to the Chicago Police Department. As officers approached the vehicle, the boy took off on foot, police said, before an officer fired his weapon, striking the boy.
"Officers engaged in a foot pursuit of one of the occupants of the vehicle," COPA spokesperson Ephraim Eaddy said in a statement. "The officer's body camera was activated, and COPA is in possession of 3rd party and POD video that captures the incident."
"COPA is in charge of the officer-involved shooting investigation and they will have our full cooperation in the Chicago Police Department," Police Superintendent David Brown said during a press conference Thursday evening.
According to Brown, officers began tracking a stolen Honda Accord Wednesday night after it was located through CPD license plate readers. Brown said that vehicle had been stolen Monday after it was left running with the keys inside it in the 100 block of West Randolph Street.
A CPD helicopter began following the stolen Accord and when officers on the ground attempted to pull over the vehicle, the 13-year-old allegedly got out and attempted to flee on foot.
According to Brown, he ran through a gas station parking lot when he turned toward a pursuing officer, who then fired a single shot that struck the teen.
He was taken to Stroger Hospital for treatment and was subsequently placed under arrest for his alleged involvement with the stolen vehicle.
Brown declined to say where on his body the child was shot, nor provide information about the officer who fired their weapon.
No weapon was recovered at the scene, Eaddy said, and Brown confirmed no shots were fired at police.
At least one other suspect fled in the vehicle, which was later found abandoned in the 3800 block of West Monroe.
According to Brown, the stolen Accord was also involved Tuesday in a separate carjacking in Oak Park in which an SUV was stolen with a 3-year-old child inside. The child's mother grabbed that vehicle as it was being taken and was dragged until she fell and broke her clavicle.
That vehicle was found a short time later with the child inside unharmed. According to Brown, preliminary evidence suggests the 13-year-old was involved in the previous carjackings, though he noted that investigation is ongoing.
COPA said it is committed to a "full and thorough investigation" of the shooting, but said it is currently prohibited from releasing any video or other materials related to the incident by the Juvenile Court Act.
The shooting occurred nearly 14 months after another CPD officer shot and killed 13-year-old Adam Toledo during a foot pursuit down a Little Village alleyway. That shooting sparked calls for the police department to reform its foot pursuit policy — a process that remains ongoing.
In a statement, Mayor Lori Lightfoot said she is "aware of the officer involved shooting that resulted in a thirteen-year-old being shot by a Chicago police officer" and has been in contact with Brown and COPA Chief Administrator Andrea Kersten.
"I have full confidence that COPA will investigate this incident expeditiously with the full cooperation of the Chicago Police Department," she said.
During an unrelated listening session Thursday evening, the team tracking the CPD's consent decree progress said it will be monitoring the investigation, as it has done with other police shootings.
"We await all the additional information from both COPA and CPD," Deputy Independent Monitor Rodeny Monroe said during the meeting. "We'd like to offer our prayers and concerns for the teeenager and his family and are hoping for a full recovery."
This is a developing story. Check back for additional updates.
Contact Matt Masterson: @ByMattMasterson | [email protected] | (773) 509-5431
---