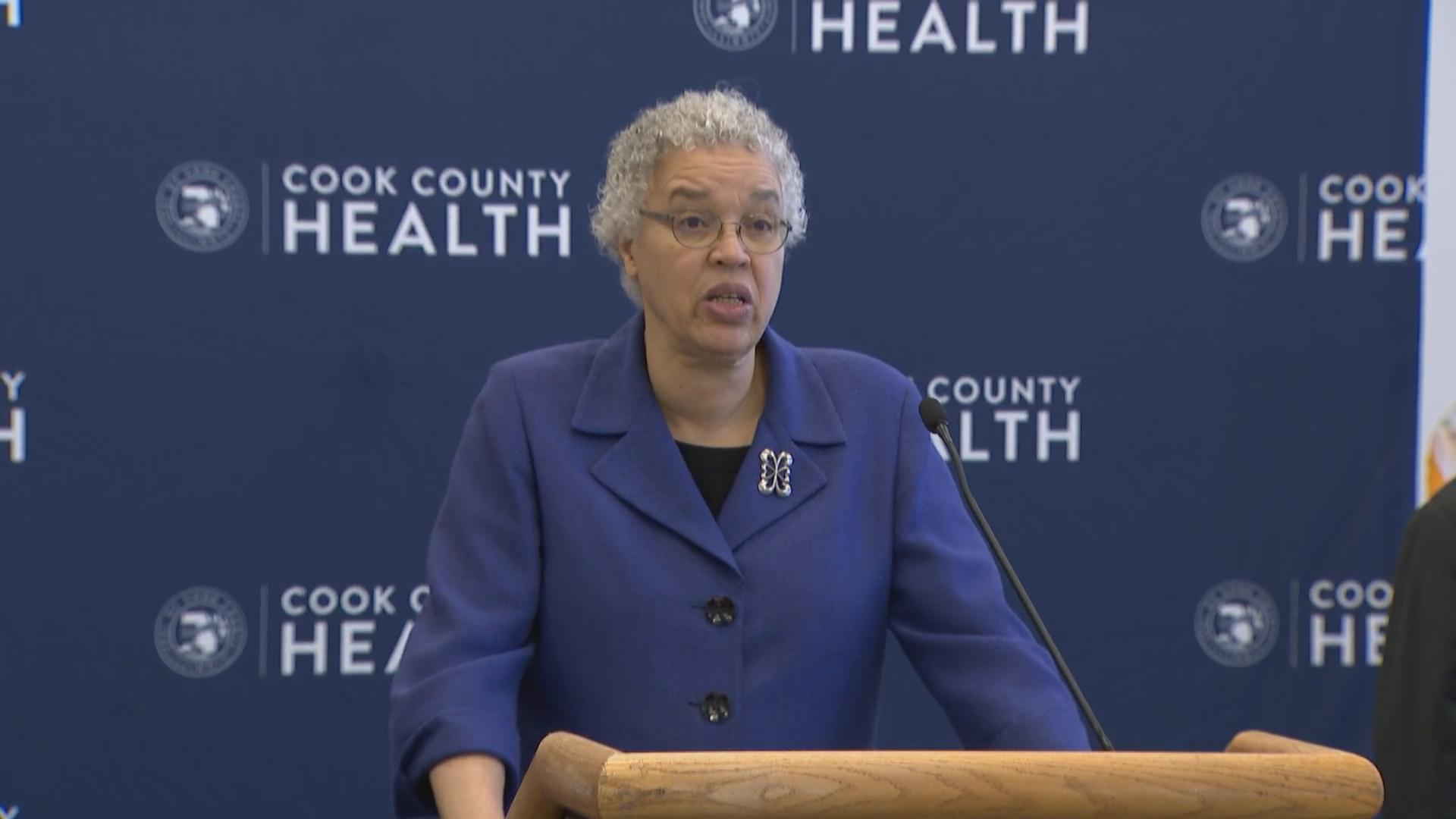 Cook County President Toni Preckwinkle announces the launch of the Building Healthy Communities initiative Tuesday, April 12, 2022. (WTTW News)
Cook County officials on Tuesday announced the launch of Building Healthy Communities, a $12 million initiative aimed at supporting programs addressing COVID-19 education, prevention and treatment, as well as mental health, food insecurity and the healthy development of youth.
"Building Healthy Communities will lessen the impact of COVID-19, stimulate the economy and build healthier, more resilient communities throughout our region," Cook County Board President Toni Preckwinkle said at a morning press conference. "Working with grassroots organizations is critical in reaching our most vulnerable populations."
Community-based organizations, health centers, local municipalities and schools in suburban Cook County can apply for funding starting Tuesday. Applications will be accepted until 5 p.m. May 16.
"For all the small businesses who are listening to the sound of my voice today this is an opportunity for you," said Cook County Commissioner Dennis Deere. "We know that you're doing the work on the ground. We know that you are the ones doing the 'for us, by us.' Please apply for these dollars. Come and collaborate and let's get the work done."
Of the $12 million in funding available, $1 million will be awarded by Cook County Health to organizations serving the city of Chicago, while $11 million will be awarded by the Cook County Department of Public Health to organizations serving suburban Cook County, excluding Evanston, Oak Park, Skokie and Stickney Township which have their own public health departments, according to officials.
"We know community-based organizations have a unique perspective in serving our communities," said Cook County Health CEO Israel Rocha. "They have built trust in the communities they serve and they are best positioned to make changes in the communities … where our patients reside."
Organizations can receive between $50,000 to $300,000 and will be notified of funding status the week of June 30, according to a request for proposals. Officials plan to begin distributing funds in the fall.
"It is our expectation that these grants will result in the development of a meaningful program that will have everlasting change in our community to hopefully move forward the infrastructure needed in these communities to right these inequities that have been prevalent for so long," Rocha said.
Cook County Health and the county department of public health will host virtual information sessions 10-11:30 a.m. April 19 and 3-4:30 p.m. April 20.
The Building Healthy Communities initiative is supported by funds from the American Rescue Plan Act, Centers for Disease Control and Prevention and the Illinois Department of Public Health, according to officials.
For more information about the initiative, visit the Cook County Health or Cook County Department of Public Health's websites.
Contact Kristen Thometz: @kristenthometz | (773) 509-5452 |  [email protected]
---