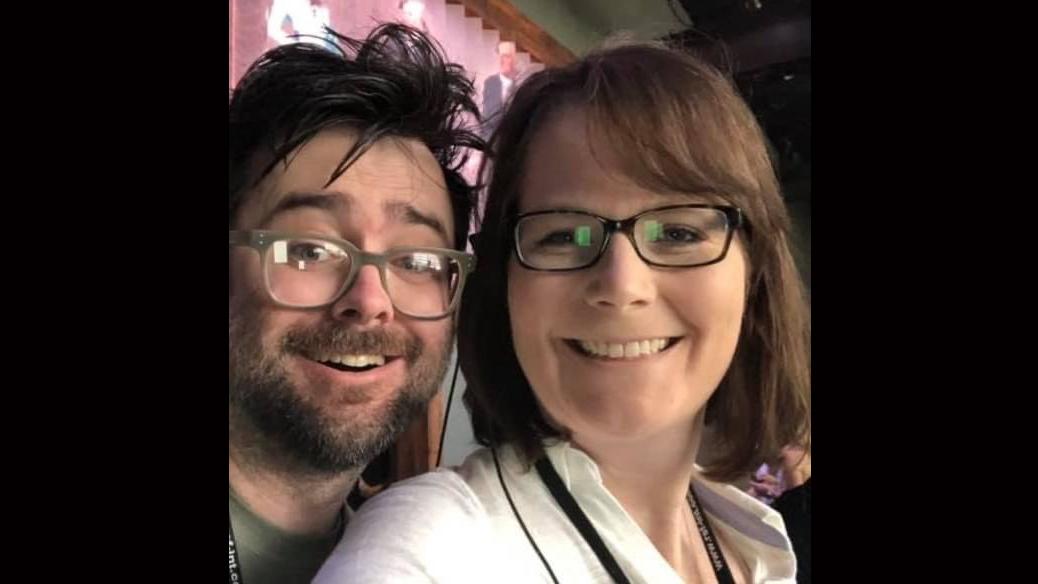 Naperville residents Scott and Sarah Potter. (Courtesy of Sarah Potter)
Since she was young, Naperville resident Sarah Potter has been passionate about storytelling.
It's a passion she shared with her husband, Scott. The duo met in 2004 through mutual friends as members of a sci-fi rock 'n' roll band. He was the lead singer and she played piano, and three years later they were married.
She was hooked on genealogy and unearthing family stories, while he was drawn to spotlighting underrepresented stories and voices, including refugees and people with disabilities, through his filmmaking career. 
"He really believed in the power of storytelling instead of sharing facts and statistics about something … to help really connect people," Potter said. "Every position or project he took on, he had to believe in it to be on board. He didn't take everything that came his way. It was important to him that it was something meaningful."
After his unexpected death in July 2020, Potter made it her mission to complete his documentary about families affected by acute flaccid myelitis (AFM), a rare but serious neurologic condition that primarily afflicts children and can cause paralysis.
"When the Lotus Blooms: A Story of Acute Survival" picks up where Scott left off with his work on AFM to raise awareness of the condition while also delving into Potter's journey with grief, loss and moving forward.
"The lotus grows in swamps and mud with not a lot of sun. For all intents and purposes, it should not be able to grow and bloom, but somehow it does," said Potter, who got a tattoo of the flower on her arm following Scott's death. "It's a metaphor that even out of the most tragic and awful circumstances something beautiful can still grow out of it. When he died, it aligned with how I knew I needed to move forward."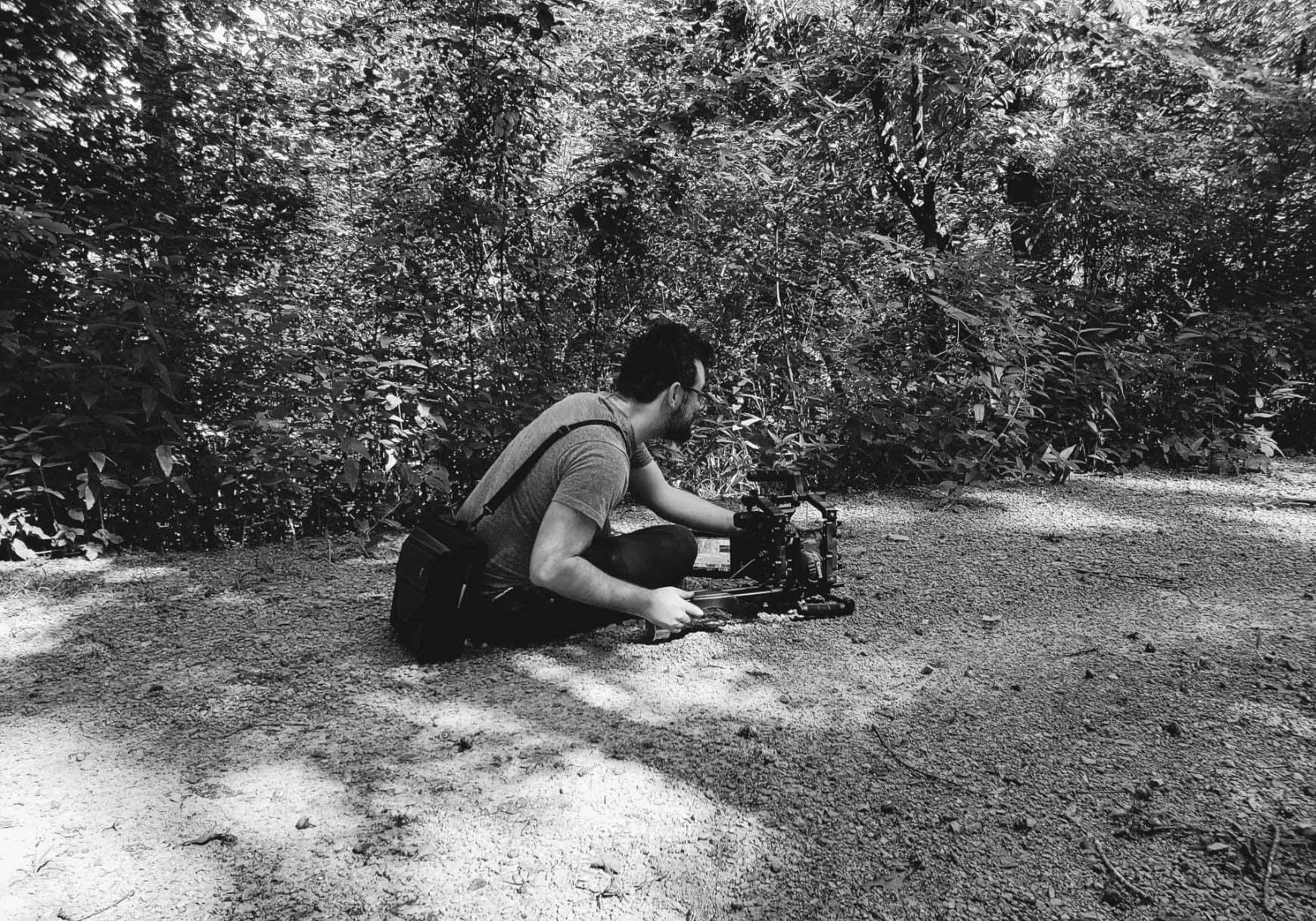 Naperville resident Scott Potter was a filmmaker who dedicated his craft to highlighting underrepresented stories. (Courtesy of Sarah Potter)
In November 2019, life changed for Potter. Shortly after Scott returned from California, where he was filming his documentary, he had a routine endoscopy that triggered a severe case of pancreatitis.
"It was very bad with complication after complication. It was a snowball," Potter said. "He was rather quickly moved into the ICU, and we weren't sure he'd make it from the get-go. That's how bad it was."
His condition was so severe that he was hospitalized for weeks at a time over the course of several months, which took a toll on his mental health. "It's a lot of trauma and hardship," Potter said.
After a brief hospitalization in March 2020, Scott returned home. "He started the slow road to improvement to where by May he was very much mentally himself again," Potter said. "He gained enough strength to be out of bed, moving around, sitting at his desk to do some video editing, which meant the world to him. … It really felt like things were on the upswing."
Six weeks later, Scott was hospitalized again and underwent surgery.
"There must've been an underlying infection because it was just described as a forest fire reaction," Potter said. "He hung on for about 24 hours. He never woke up from the surgery."
Scott Potter died July 8, 2020, leaving Sarah to raise their two children Logan, now 7, and Ellie, 3.
"Scott was the quintessential involved father and husband. He always put his family first," Potter said. "Scott and I were very much integrated and functioned as a true team. Everything we did was in support of one another. We did everything together. … There's no handbook or self-help book for this."
Naperville resident Sarah Potter (center) and her children Logan and Ellie. (Courtesy of Sarah Potter)
After his death, she hoped Scott's documentary would be completed by his filmmaking colleagues, but they had other ideas.
"They said it would be great if you could be part of the creative input. I was like I know about the documentary, but I'm a speech pathologist, I don't have the skills to help," said Potter.
But they persisted, offering to train Potter and the opportunity to intern on a production filming in Hawaii. Family and friends convinced her to seize the opportunity.
While there was new lingo to learn, she quickly realized many of the skills she used in her 15-year career as a speech pathologist and mother of two children like coordinating schedules, optimizing communication and connecting with others were vital production skills.
"I didn't feel as out of my element as I thought I would," Potter said. "That was validating and motivated me to keep going."
Now Potter is raising funds to complete the documentary Scott started and hopes to raise $100,000 via Kickstarter by March 19. A group of donors will contribute $10,000 to the campaign after reaching a goal of 200 new backers this week. As of Wednesday morning, $24,995 had been raised.
Potter hopes the documentary will raise awareness about AFM, which can be caused by viruses, including enteroviruses such as the common cold, according to the Centers for Disease Control and Prevention.
"What it ends up doing is it somehow gets into the spinal cord and rapidly destroys the gray matter within the spinal cord, and depending on how fast and where it spreads it impacts the paralysis that occurs in these kids," Potter said of AFM.
The documentary features interviews Scott conducted in 2019 before his death with a California family impacted by the disease.
"Cami is one of the worst-case scenarios because it impacted her where she appeared to be recovering but less than 12 hours later she was paralyzed," Potter said.
In addition to turning the lens on families affected by AFM, Potter is aiming the camera at herself with the goal of helping others.
"People feel very alone in their grief. And I think if they're a caregiver or going through some kind of loss or a death, or a loss of a dream, or a chronic health condition that changed their life, I think there are a lot of parallels that I've gone through and AFM families have gone through that can apply to anyone and help them deal with a loss," Potter said. "The message I hope people takeaway is your life is going to seem like it's over, and it is in essence because it's not the life you imagined and had worked for so long and hoped for, but it's not.
"It's just going to look different and be really hard, and you can't change what happened. Your life isn't over and there's a way to move forward."
For more information about "When the Lotus Blooms," visit the film's website.
Contact Kristen Thometz: @kristenthometz | (773) 509-5452 |  [email protected]
---