After decades of disinvestment, two new grocery stores are being built on Chicago's West Side — something residents have long awaited as other grocery store chains have closed up shop.
Four years ago, Liz Abunaw started hosting pop up markets in Austin, a West Side community area with few fresh food options. The store, Forty Acres Fresh Market, also delivers fresh produce across the Chicago-area. But the dream was to open a brick-and-mortar store.
When the old Salvation Army building at 5713 W. Chicago Ave. went on the market, Abunaw approached West Side Health Authority, a local organization she has worked with, about developing the building with her.
"I said, 'It needs some work, but it has a parking lot. It's a corner property. It's pretty close to Oak Park, so that will be in an area [where] we'll have a diverse customer base. I think this could be the site of Forty Acres Fresh Market. Want to develop it with me?'"
Tracy Smith has been with Forty Acres since the beginning.
"It's very exciting," Smith said. "I've never been a part of anything like this … I've seen Liz do everything, from the first events to finding a location where they wanted the store … Every time we go over there to get something, someone asks when it is going to open."
With a similar vision in mind, Albert Person is working to make fresh food more accessible in neighboring North Lawndale at 628 South Pulaski Road.
"I've seen the early effects of the disadvantages of the West Side versus other communities," Person said. "Growing up I've always had an aspiration to do more … It was always a struggle.
He plans to source the majority of food and produce from Black farmers and Black-owned businesses — including farmers in Kankakee. Person says his store will be the first Black-owned and -operated market offering a full line of fresh groceries and meat in the North Lawndale area.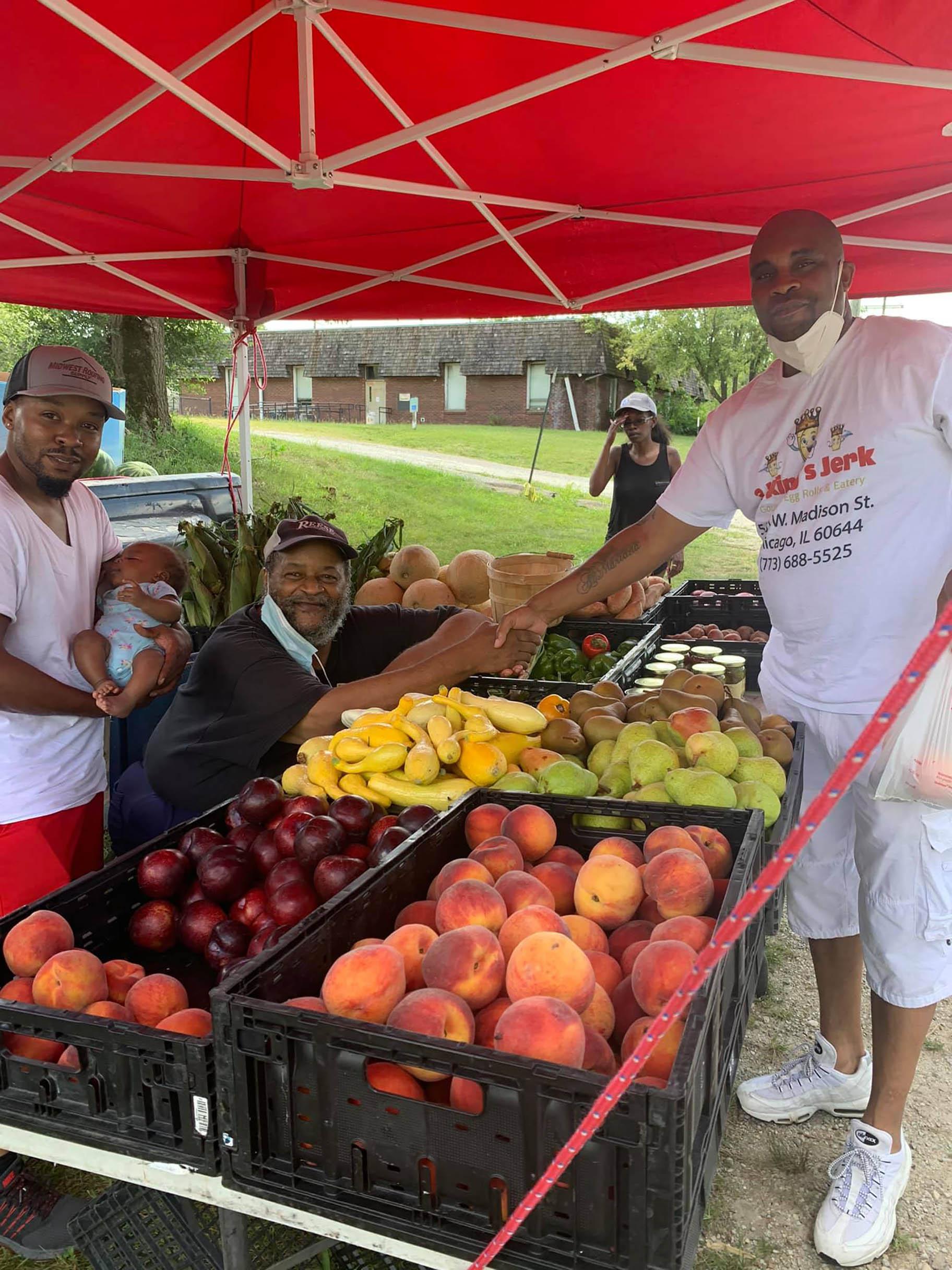 Albert Person meets with a farming family to pick up fresh produce in Kankakee, IL. (Courtesy: Albert Person)
"Here I am now, being able to fulfill my dream to help my people," Person said. "I call it the 'healing the hood through healthy eating' initiative."
Abunaw and Person say residents are excited for what's to come and the store owners are supportive of each other's endeavors.
"I'm so excited for Lawndale, they need another grocery store. Al cares about this community. He's very intentional about what he's trying to create," Abunaw said.
Third generation Lawndale resident Princess Shaw says she knows the need for greater food access in the area firsthand.
"There's like at least 6 to 7 blocks to the East of us, 6 to 7 blocks to the West of us, North and South. There's no real grocery stores," Shaw said.
Shaw does community outreach for the market to help make sure residents know they can access food and produce. She leverages her existing relationships with residents to do this.
"I know Ms. Johnson stays over there, and she's probably about 80 years old … We want to try to have a system in place for seniors … doing that weekly check-in like, 'Hey, Ms. Johnson, do you got enough bread? Do you have enough mayonnaise?" Shaw said.
Community relationships and trust are key in both Person and Abunaw's plans. It's something community leaders on the West Side say is essential to opening a business that will be able to sustain itself long term.
"I think that is critical —  if you do see that type of homegrown operation —  that community supports it. Because ultimately, that's what's going to sustain it over time," said Ayesha Jaco, executive director of West Side United, an organization working to address inequality on the West Side.
Abunaw hopes to rebuild trust with residents who have experienced decades of disinvestment — and she sees the grocery store as much more than just somewhere to access food.
"It's a place where people can meet and be together and be human beings, and I think that's so important for a community. When a community doesn't have the social infrastructure and people don't have a place to go, you see that it's harder to keep that cohesion within a neighborhood," Abunaw said.
Abunaw also plans to bring in an experience similar to grocery stores like Whole Foods, Trader Joes or Mariano's to Austin — from the music on the speakers, to the smell of the hot bar and the friendly employees.
"I feel like often in Austin, it is seen as a transactional relationship ... is there a grocery store where they can buy groceries? But how do you feel?" Abunaw said.
North Lawndale Meat & Fresh Produce Market is set to open this Spring. And Forty Acres is hoping to start construction this year.
---