(WTTW News)
1. Soar
Olympic-caliber athletes fly through the air as they compete at the Norge Ski Jump's 117th Winter Ski Jump Tournament. International ski jumping teams will go head to head with American jumpers. Organizers advise bringing your own blankets and lawn chairs.
Details: Noon-4 p.m. Saturday and Sunday at the Norge Ski Club, 100 Ski Hill Road, Fox River Grove. $15-$20; Free for kids 12 and under / MAP
---
2. Meander
At the Morton Arboretum's Dog Admission Days, you can explore the grounds with your fur baby. A Siberian husky rescue organization will be on site (10 a.m.-4 p.m.) with adoptable foster dogs.
Details: 7 a.m.-sunset Sunday at the Morton Arboretum, 4100 IL-Route 53, Lisle. $14-$16; $11 for kids 2-7; $5 per dog / MAP
---
3. Stitch
Got a snag in your sweater? Or missing button on your coat? Learn how to repair your clothes at the Visible Mending Workshop. Bring an item of clothing you'd like to repair and don't mind practicing on.
Details: 1-3 p.m. Saturday at the Plant Chicago, 4459 S. Marshfield Ave. $10 / MAP
---
4. Flow
Doom Movement Yoga pairs a 45-minute hatha and vinyasa flow with a heavy metal soundtrack, featuring bands like King Buffalo, Elder and Sleep. Enjoy a half-liter draft of your choice before, during or after the workout.
Details: 10-11 a.m. Sunday at Metropolitan Brewing Rockwell Tap Room, 3057 N. Rockwell St. $15 / MAP
---
5. Move
Basketball, volleyball, soccer, field hockey, yoga and dance are among the many activities on tap for the Chicago Park District's Girls Day of Play. Launched in 2018, the initiative aims to provide more opportunities for girls in sports and to create lifelong healthy, physical activity habits.
Details: Times vary at 18 Chicago Park District facilities across the city, including 9 a.m.-3 p.m. Friday at Mann Park, 3035 E. 130th St. Free / MAP
(Courtesy Chicago Park District)
6. Chisel
Bundle up for Live Ice Sculpture Demonstrations, where a professional will be asking audience members for suggestions of what to create.
Details: 4-6 p.m. Saturday; noon-2 p.m. Sunday at St. Alphonsus Church, 1429 W. Wellington Ave. Free / MAP
---
7. Glide
BYO sledding device of choice (Sorry, but no sleds with metal rails.) to one of the Cook County Forest Preserves' sledding hills for some seasonal fun. Hills are open when the ground is frozen and covered with at least three inches of snow. Kids 12 and under should wear a helmet and be supervised by an adult.
Details: Various times and locations, including 10 a.m.-7:30 p.m. Sunday-Thursday; 10 a.m.-8:30 p.m. Friday and Saturday at Caldwell Woods, Devon and Nagle avenues; call 847-647-2240 for sledding status. Free. / MAP
---
8. Exchange
Get a jumpstart on the gardening season at Seed Swap, where – you guessed it – you can swap seeds with other local gardeners. Organizers will supply envelopes.
Details: 1-2 p.m. Sunday at Kilbourn Park, 3501 N. Kilbourn Ave. Free / MAP
---
9. Clap
Presented by Pegasus Theatre, the Young Playwrights Festival showcases a trio of one-act plays written by high school students, with topics addressing love, loss, religion and grief.
Details: Livestream available 7 p.m. Thursdays and on-demand through Feb. 3. $15-$25
---
10. Party
For nearly 30 years, the city of Woodstock has commemorated Groundhog Days – a five-day celebration of the namesake holiday and the 1992 filming of the movie starring Bill Murray and Andie MacDowell in town. Festivities include trivia, walking tours, a puzzle competition and a screening of "Groundhog Day." Woodstock Willie will make his prognostication (7 a.m. Feb. 2) on whether we'll see an early spring or six more weeks of winter.
Details: Friday through Feb. 2 at various locations in Woodstock, including Woodstock Square, 121 W. Van Buren St. Free / MAP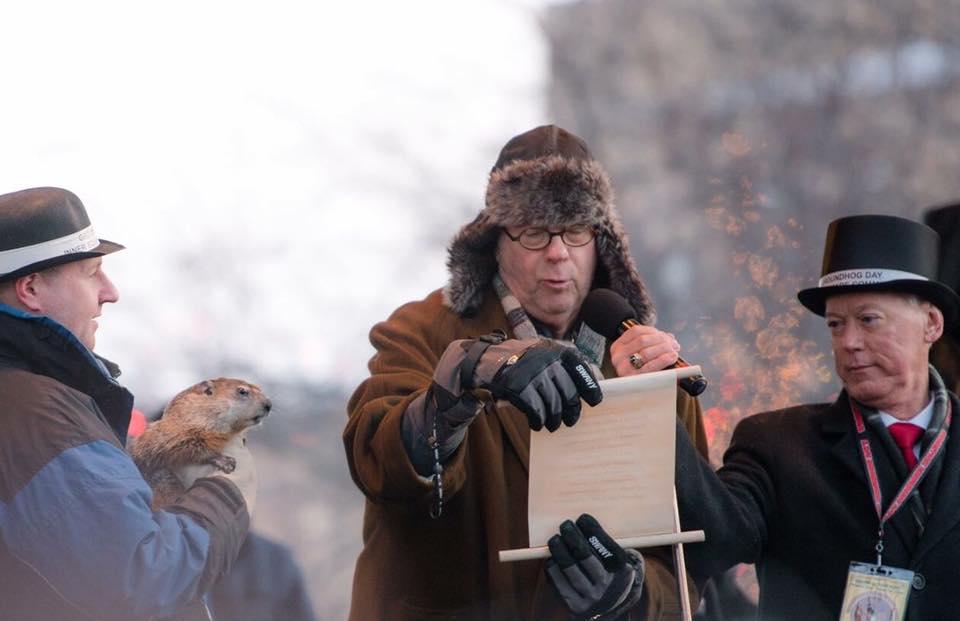 (Woodstock Groundhog Days / Facebook)
Events listed are subject to change. We recommend double-checking times and locations before you head out the door. Want to share your upcoming events with us for consideration in a future roundup? Send us an email.
---