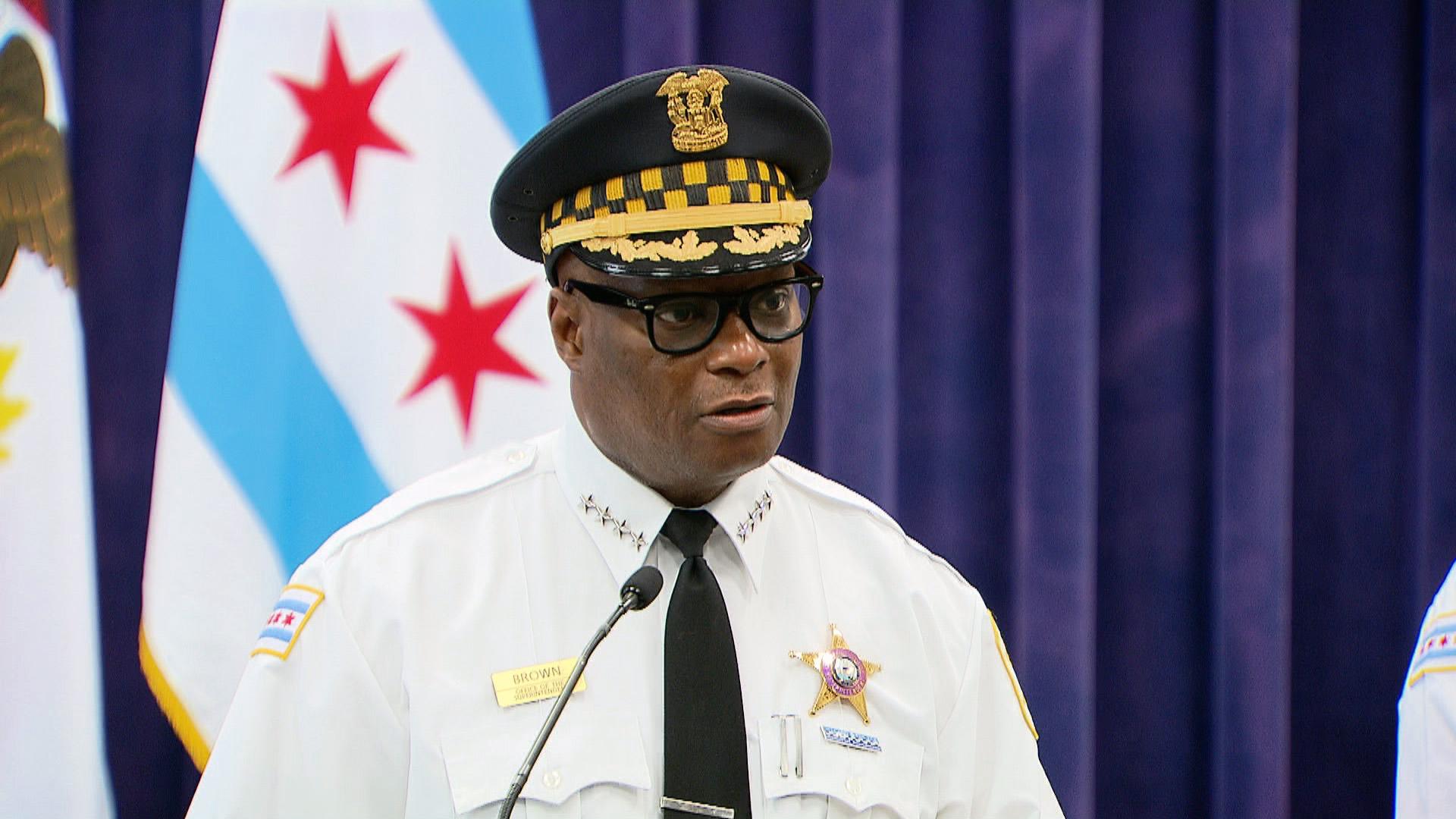 Chicago police Superintendent David Brown addresses the city's violent holiday weekend on July 6, 2021. (WTTW News)
Chicago police Superintendent David Brown on Friday dismissed criticism of his leadership from some of the department's top brass, claiming those who are upset are lashing out over Brown's work to implement consent decree reforms.
Speaking for the first time since the Chicago Sun-Times reported that multiple police supervisors had lost confidence in his leadership, Brown acknowledged that while there may be "disgruntled people" in his department, those people are likely upset because of his work to "change the culture" of the CPD.
"There are likely people here who liked it the way things were and who will push back and use media, become sources to create a lot of dysfunction," Brown said. "We're gonna push back, we're gonna be the adults in the room."
The Sun-Times earlier this week quoted four police supervisors who had lost faith in Brown's leadership, with one going so far as saying Brown has "no strategy and doesn't know what he's doing."
"His strategies and his efforts (and) the threatening of command staff shows a lack of leadership," one supervisor told the Sun-Times. "I can't think of one member of the command staff that is willing to back him."
The supervisors said they felt Brown — who has served as superintendent since April 2020 — is unfit to lead the department following a year in which Chicago saw its highest murder count since the 1990s. They also cited concerns after Brown threatened to demote CPD leaders if they failed to increase arrest numbers and has repeatedly reorganized officers and teams under his watch, according to the Sun-Times.
One supervisor told the Sun-Times that Brown is "driving CPD into the ground."
Though they didn't mention the consent decree — the court-ordered set of reforms the CPD is in the process of implementing — Brown chalked up the supervisors' criticism as sour grapes from officers who are unwilling to change.
"You didn't ask them if they were for the consent decree," Brown told a reporter who questioned him about the Sun-Times report Friday. "If you asked them that question, these sources likely are not fans of the consent decree or the changes."
The supervisors spoke to the Sun-Times on the condition of anonymity, and their criticisms irked Mayor Lori Lightfoot, who called them "cowards" that "want to go back to the old ways that served them, but didn't serve the people."
"If you're not willing to do your job, if you're not willing to get out of your car and engage with members of the public, if you're not willing to make sure that you are accountable for the work that you do every single day, every shift, then you don't need to be in the Chicago Police Department," Lightfoot told reporters on a Thursday Zoom call during her trip to Washington D.C. "We need an army of the willing. We need men and women who understand the moment that we're in — that are (going to) stand tall and lead by example and hold themselves and other people accountable."
Brown said he takes the criticism "with a grain of salt" and said he was encouraged that Lightfoot — who appointed him to his current position — "sees it the same way."
"We got a job to do," he said. "We're going to reform this department; change the culture and we're going to protect the people of Chicago while we do it."
Heather Cherone contributed to this report.
Contact Matt Masterson: @ByMattMasterson | [email protected] | (773) 509-5431
---