A proof of vaccination mandate for Chicago businesses and venues issued Tuesday was driven in part by a surge in patients at the area's hospitals, mirroring the situation nationwide.
According to the Illinois Department of Public Health, on Monday there were more than 4,000 COVID-19 patients hospitalized in Illinois. 
That's almost double the amount of COVID-19 hospitalizations at the beginning of December, when about 2,500 were reported on Dec. 1, according to state data.
About 18% of ICU beds were available across the city as of Monday, according to health officials.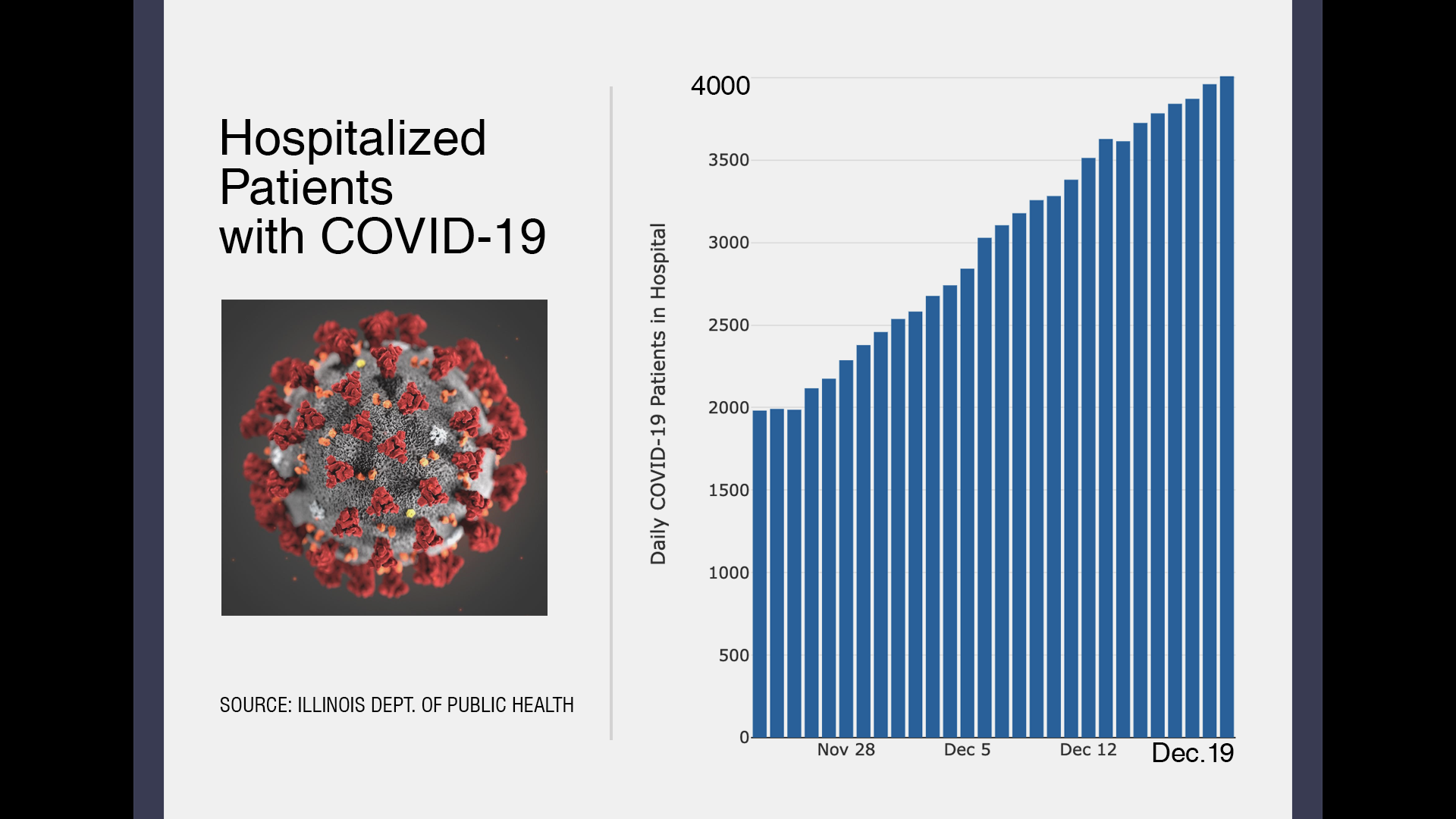 (WTTW News graphic)
Dr. Clifton Clarke, vice president and chief medical officer at Advocate Illinois Masonic Medical Center, says the hospital has seen widely fluctuating volumes in their intensive care units, with them sometimes reaching full capacity.
"It makes it very difficult for folks with other diagnoses to get in," Clarke said. "There's a backlog in our emergency departments because we can't get patients admitted to ICU or our general medical floors which is impacting all health care we can deliver."
Dr. Susan Bleasdale, chief quality officer at the University of Illinois at Chicago Health System or UI Health, says the same is true for UI Health, which evaluates bed availability on an hour-by-hour basis.
UI Health currently has 45 confirmed patients with COVID-19, according to Bleasdale. As of Tuesday morning,15 of those patients were in the ICU, five were on ventilators, and six additional patients were suspected of having COVID-19. That's in comparison to 30 confirmed COVID-19 patients last week.
"Because of the ongoing community transmission, we're seeing our health care workers affected by this within their families, within themselves," Bleasdale said. "We're worried about the increase in need for staffing because people are acquiring infection even when they are vaccinated and boosted – mild – but that still takes them out of work."
Clarke said this latest COVID-19 surge continues to take a toll on the health care workforce.
"We do see nurses and others leaving the workforce, but we have a very dedicated workforce as well," Clarke said. "Despite some of these challenges, as an integrated health system, we have some flexibility to move around resources like staff and supplies where it's needed and when it's needed, but it's getting more and more difficult as the caseloads continue to increase everywhere."
The majority of hospitalizations in Chicago continue to be among those unvaccinated, but health officials advised everyone take precautions.
"Really the vaccination and the boosting helps prevent that hospitalization, the risk of dying from infection," Bleasdale said.  "Even for those of us that are vaccinated and boosted, we need to use caution because of the high transmissibility of this.
---