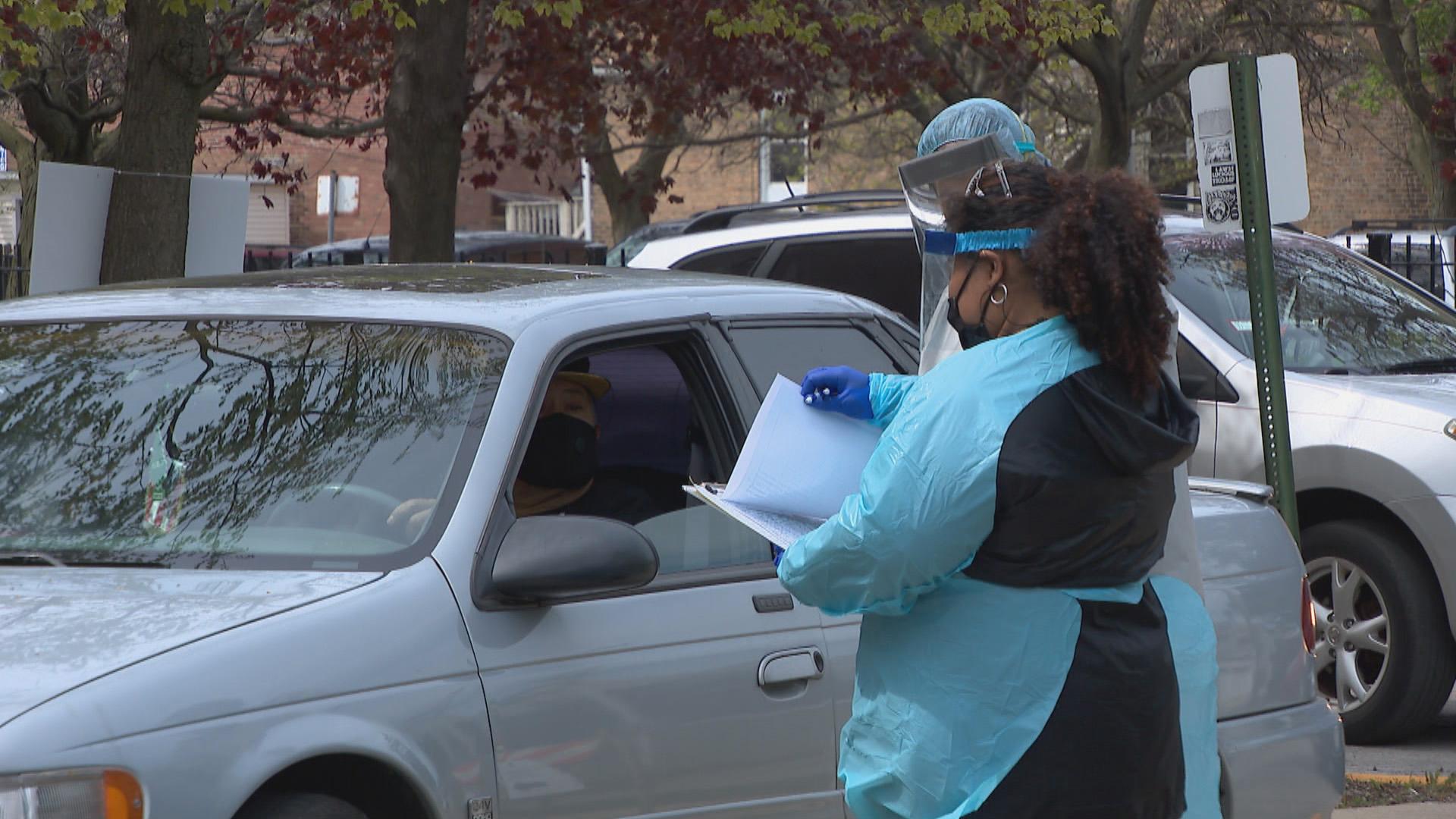 (WTTW News)
Days after the first case of the omicron variant was reported in suburban Cook County, officials are reporting additional cases.
"Omicron is spreading in our communities – in the city, in the suburbs," said Dr. Rachel Rubin, co-lead and senior medical officer of the Cook County Department of Public Health, in an interview with WTTW News.
Fewer than 10 omicron cases have been detected in suburban Cook County, according to Rubin, who declined to provide any demographic or geographic information about the cases. Additional omicron cases are under investigation.
"Every day we are getting more and more suspected cases," Rubin said of the omicron variant.
The first suburban Cook County omicron variant case was reported Tuesday.
Statewide, 16 omicron variant cases have been reported, according to data from the Illinois Department of Public Health. The first case in the state was detected earlier this month in Chicago.
Not all COVID-19 specimens are analyzed for variants like omicron – only a small percentage of tests are. The tests that are genotyped are only "the tip of the iceberg," said Rubin. "We know there are more (omicron) cases that are out there that will never come to our attention."
Even with omicron's arrival, the delta variant remains the predominant strain circulating in suburban Cook County, according to officials.
But it's just a matter of time until omicron becomes the predominant strain, according to Rubin, who said the doubling time for the omicron variant is two to three days.
"That's extremely fast. If you see two cases today, you'll see four cases in two days, and then eight and then 16," she said, adding the omicron doubling time is faster than delta's.
On Friday, state health officials reported 10,765 new confirmed and probable cases and 52 deaths in the past 24 hours. The seven-day statewide test positivity rate is now 6.2%, according to IDPH data.
In Cook County, the average seven-day case rate per 100,000 people is 341.98, according to state data.
To slow the spread of COVID-19, officials urged all eligible residents to get vaccinated if they haven't done so already and for fully vaccinated individuals to get a booster shot once they're eligible. Adults 18 and up who got the Johnson & Johnson vaccine can get a booster shot two months after their shot. Individuals 16 and older who received the Pfizer or Moderna vaccine are eligible to get a booster six months after their second dose.
While early research indicates the vaccines may not be as effective against the variant, officials say they can help prevent severe illness.
"The way to avoid getting serious illness or disease is by far getting vaccinated and a booster if you're eligible for a booster," Rubin said.
Unvaccinated individuals should not gather over the holidays, according to Rubin. "If you're vaccinated, I think it's OK – safe to celebrate with family and friends. Wear a mask indoors except when you're eating and drinking," she said. "Don't go to an event that's super crowded, and test yourself three days before the event and the morning of or the night before the event."
Holiday office parties should also remain virtual, according to Rubin.
"I really hope by next year we can have much freer and open holiday season," she said. "People can celebrate safely this year if we get vaccinated, wash our hands, maintain our distance and test ourselves."
Officials also urged businesses to require patrons be fully vaccinated or provide proof of a negative COVID-19 test within 24 hours of entry, especially for large gatherings such as conferences, weddings, festivals, concerts and sporting events.
An indoor mask mandate remains in effect for all indoor spaces and activities.
Contact Kristen Thometz: @kristenthometz | (773) 509-5452 |  [email protected]
---