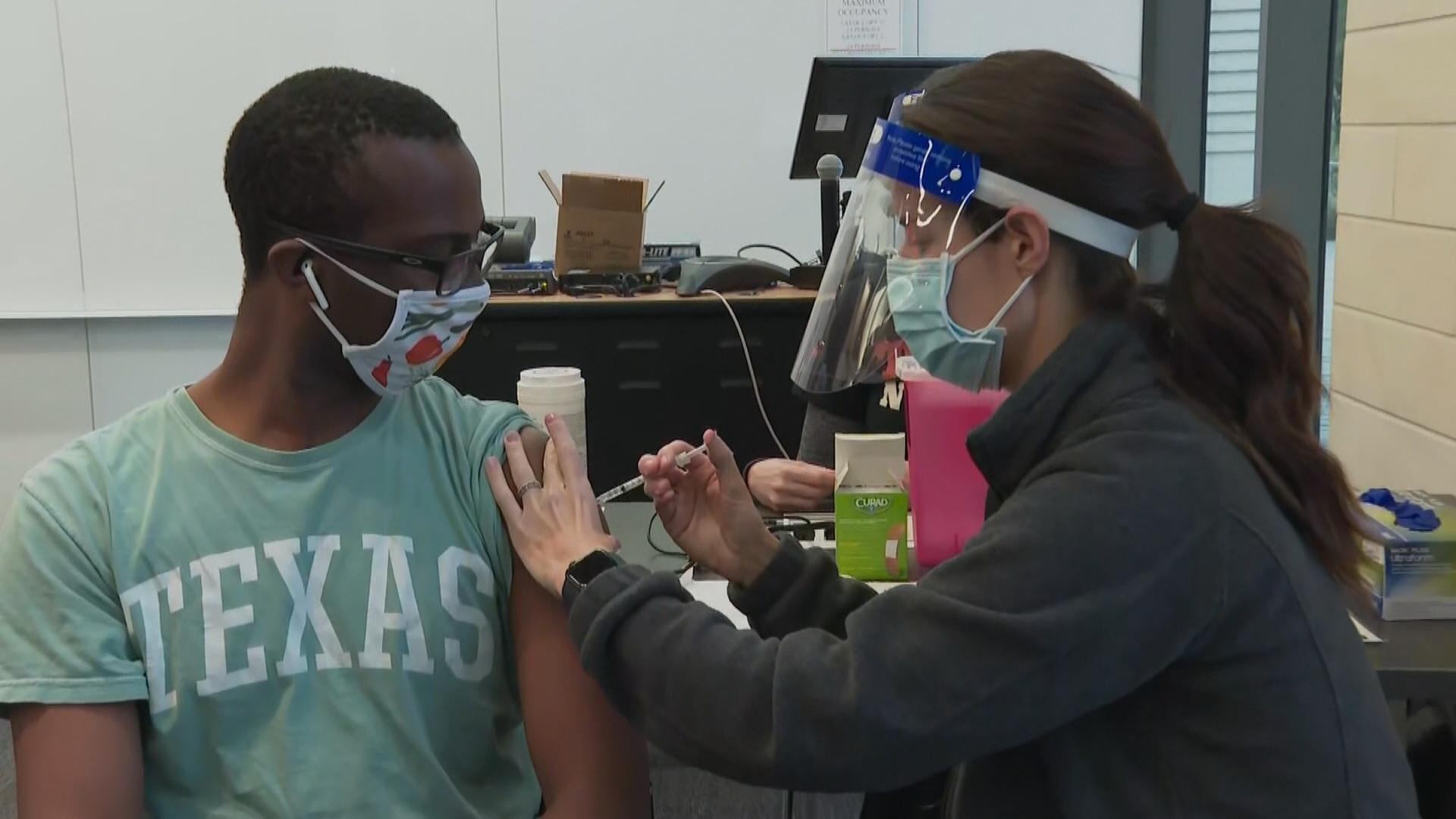 (WTTW News)
With COVID-19 cases rising, the holidays approaching and the omicron variant recently detected in Chicago, state and Cook County officials are hosting a one-day mass vaccination clinic Sunday for all eligible residents to receive a COVID-19 booster.
"Getting vaccinated against COVID-19 is the single best thing a person can to do protect their health and the health of those around them," Cook County Board President Toni Preckwinkle said in a statement.
Clinics will be open 10 a.m.-4 p.m. Sunday in Arlington Heights, located at 3250 N. Arlington Heights Road, North Riverside, located at 1800 S. Harlem Ave. Suite A, and Blue Island, located at 12757 S. Western Ave, to all Illinois residents. No appointment, identification or health insurance required.
"It's completely free, no matter your ZIP code, immigration status, or insurance status," Gov. J.B. Pritzker said in a statement.
All three approved vaccines – Pfizer, Moderna and Johnson & Johnson – will be available for adults who have the ability to mix-and-match their booster. Only the Pfizer vaccine has been authorized for 16- and 17-year-olds.
Individuals in need of a first or second dose can get them at the mass vaccination clinics, according to officials.
The mass vaccination effort comes amid an increase in COVID-19 cases, with state health officials reporting 49,668 new confirmed and probable cases and 266 deaths since Dec. 3.
On Friday, state health officials reported 7,531 cases and 35 deaths in the past 24 hours.
Earlier this week, state and city officials reported Illinois' first known case of the omicron variant, which is believed to be highly transmissible. Officials say initial data suggests that COVID-19 boosters strengthen a person's protection against COVID-19 and the omicron variant.
More than 7.5 million Illinois residents, or 59% of the state's population, are fully vaccinated, according to state vaccine data. Of those eligible to be vaccinated (residents ages 5 and up), 66% are fully vaccinated, according to IDPH data.
More than 1.8 million people have been infected with COVID-19 and 26,801 have died in Illinois since the pandemic began, according to state health officials.
All of Illinois' 102 counties are experiencing high transmission of COVID-19, defined by the Illinois Department of Public Health as areas with more than 100 cases per 100,000 people over a seven-day period.
The seven-day statewide test positivity rate is now 5.8%, according to IDPH data.
In Cook County, the average seven-day case rate per 100,000 people is 299.83, according to state data. 
Chicago is now recording 564 cases per day based on a seven-day average, according to Chicago Department of Public Health data. In the past week, the number of cases has decreased 72%, according to city data.
Contact Kristen Thometz: @kristenthometz | (773) 509-5452 |  [email protected]
---