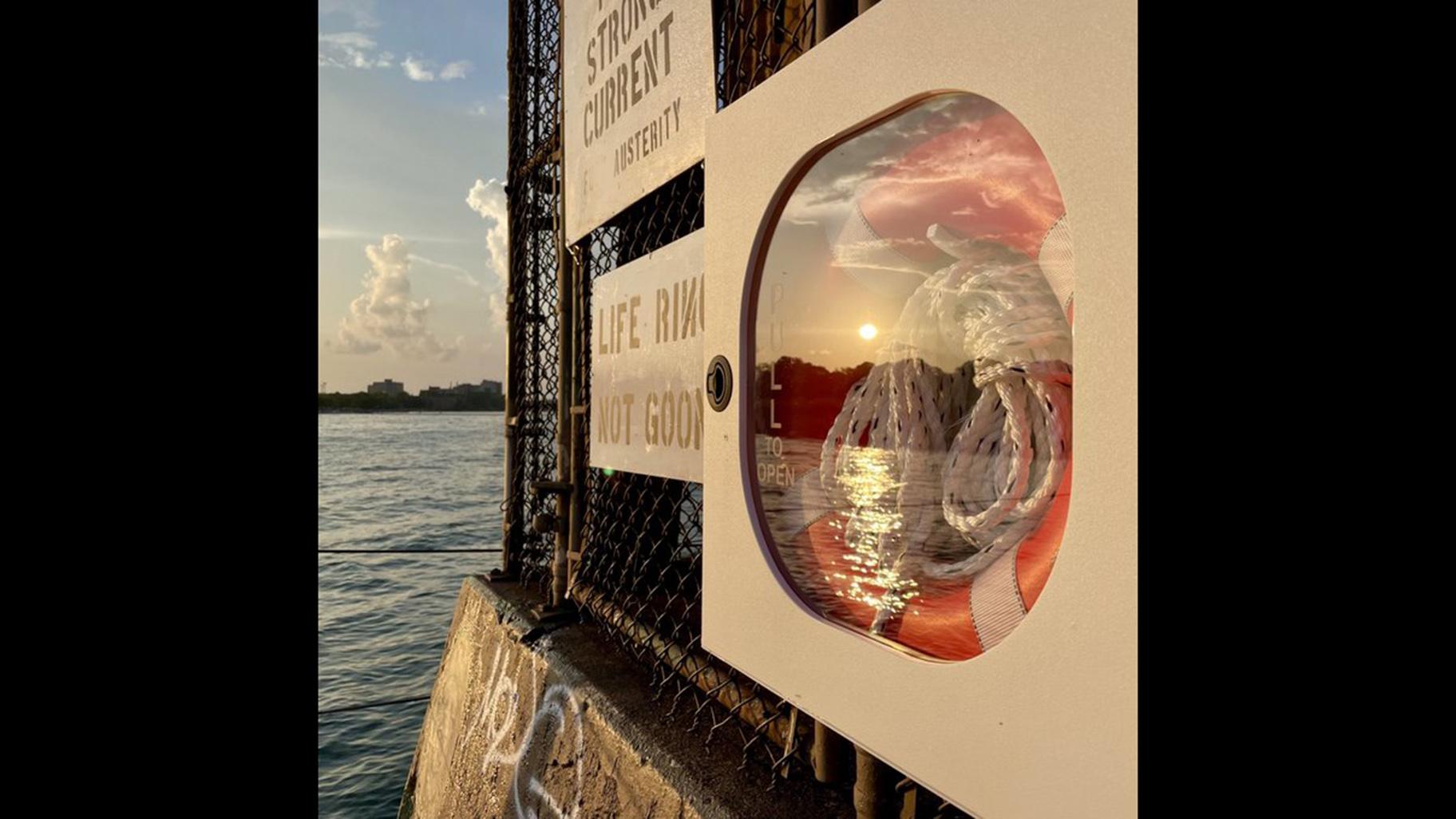 A life ring installed on the lakefront late Friday by Rogers Park activist Jim Ginderske. The photo has been edited by WTTW News to blur out a curse word that appears on an adjacent sign. (Credit Halle Quezada / Twitter)
After 19-year-old Miguel Cisneros drowned in Lake Michigan near a Rogers Park beach earlier this month, longtime community activist Jim Ginderske decided to take action in the name of public safety. He bought and installed a life preserver ring at Tobey Prinz Beach, the kind of rescue flotation device some lakefront safety advocates have spent years calling for.
"This is really about making the shoreline safe for everybody," Ginderske said. "It's a basic responsibility."
Other residents added anti-Park District signs nearby. One reads: "Do not swim near pier. Strong current. F*** austerity." The other: "Life rings not goons."
On Monday, neighbors realized the Chicago Park District had removed the ring, just days after it was installed. "They're spending time and money to undo the work of people that are trying to safeguard a community," Ginderske said.
When she learned of the removal, Ald. Maria Hadden (49th Ward) took to social media to tell residents to call the Park District and advocate for lakefront flotation devices as a way to stem drownings.
"Help us convince the Chicago Park District that Chicago residents deserve life rings and water safety signage at the lake," Hadden wrote. "We've been demanding life rings for a couple of years and they keep telling us their lawyers say they're concerned with liability. We're concerned with saving lives."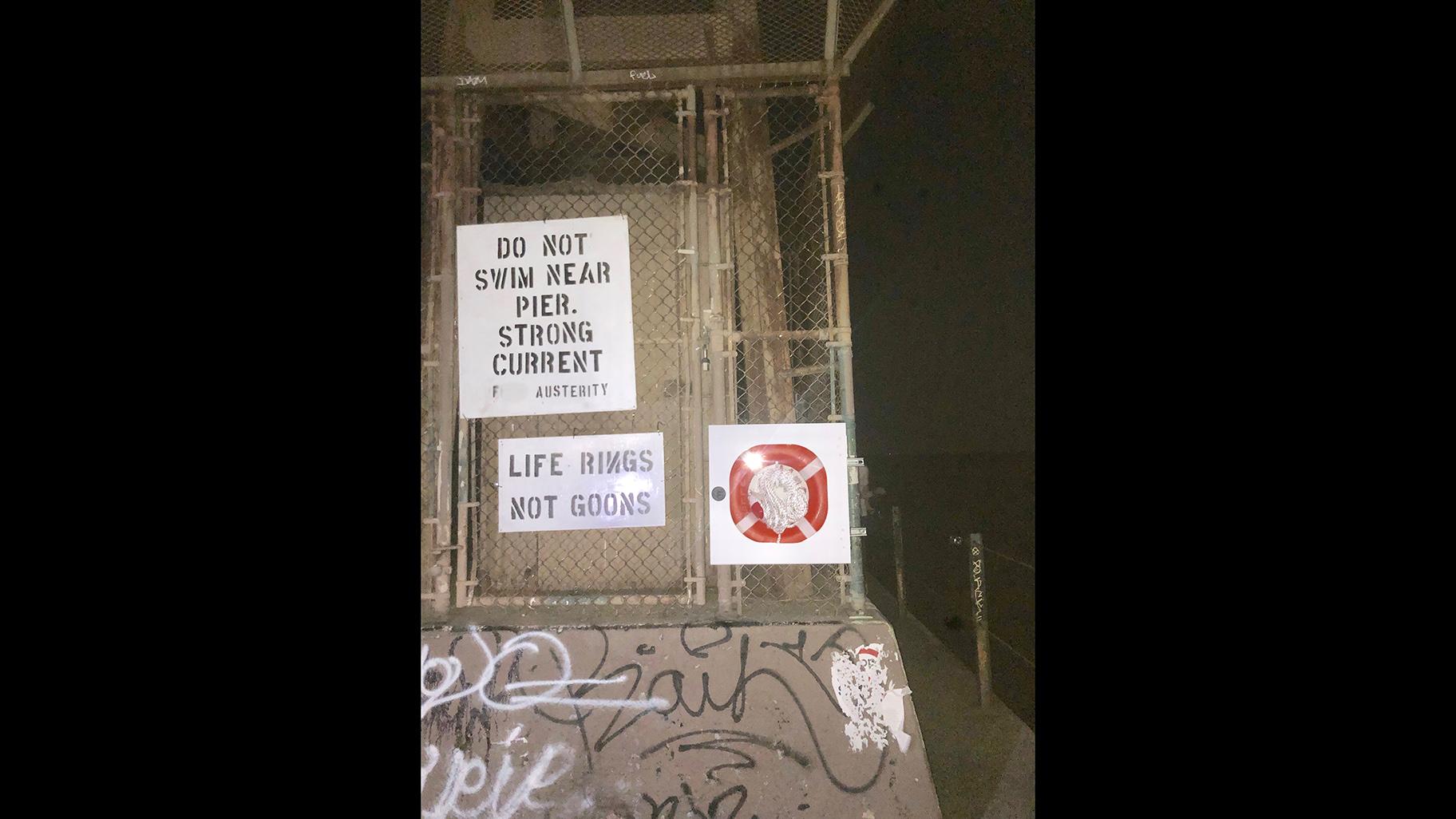 A photo edited by WTTW News to blur out a curse word shows a life ring installed on the lakefront by Rogers Park activist Jim Ginderske. Other residents put up anti-Park District signage, which was also removed. (Credit Jim Ginderske)
"The Chicago Park District removed the safety device installed at (Prinz) Beach because it was not authorized by the District," a spokesperson told WTTW News in a statement. "The Chicago Park District is currently exploring supplemental safety equipment for sanctioned swim locations. The Chicago Park District urges the public to enjoy our beaches safely by entering the water only when lifeguards are on duty and respecting the flag system that notifies beach goers of current water conditions."
In addition to liability concerns, the Park District has cited fears that adding rescue flotation devices along the lakefront will encourage people to swim where and when they aren't supposed to. 
But some water safety advocates say people are already doing just that. Or, they may fall into the water, they say. In addition, swimmers might not be able to understand signage in English. And they note that the Park District already maintains life preserver rings along Chicago's harbors.
Ginderske says he wasn't surprised the Park District removed the life preserver he installed, but "the fact that they didn't replace it with one of their own is just appalling."
"We're going to continue with escalating actions until the Park District leadership takes meaningful action and stops allowing people to die unnecessarily," Ginderske said.
---