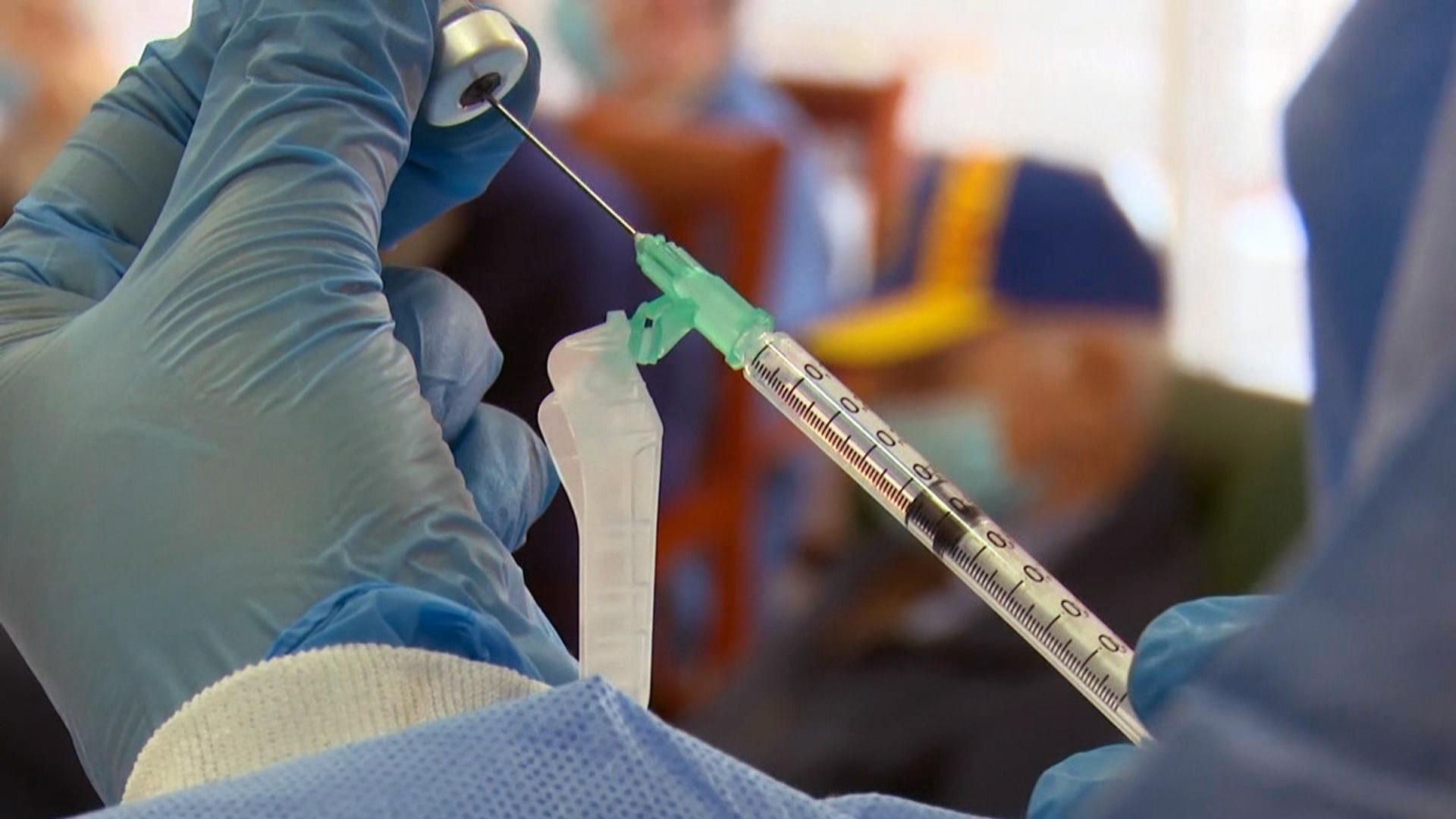 (WTTW News via CNN)
Last winter, Dennis Frederics spent several weeks in a Chicago hospital after becoming infected with COVID-19.
"I couldn't breathe. I kept feeling like I was going to pass out," said Frederics, who has chronic obstructive pulmonary disease. "I'd get lightheaded and was losing focus."
Frederics has since recovered, but the experience was a driving force in his decision to get vaccinated.
"When the opportunity presented itself, I jumped on it," he said. "I didn't want to go through that again."
Frederics is a resident at The Boulevard of Chicago, an organization in East Garfield Park that provides services to people experiencing homelessness — including COVID-19 vaccinations. 
Initially, many homeless people were eager to roll up their sleeves when the vaccine became available to them in late January, according to advocates.
"People really wanted the vaccine. They were incredibly grateful. They don't have anything, and they never thought they'd be seen," said Mary Tornabene, a nurse practitioner and project manager at Heartland Alliance Health, which provides services to shelters throughout the city and has held more than 100 pop-up vaccination events. To date, Heartland has administered more than 7,500 vaccines in Chicago.
But as in other populations, demand for the vaccine has waned.
"It was easy at first because we were reaching people who know and trust Heartland," said Melissa Salgado Bellin, nurse manager at Heartland's Englewood health center. But she and others soon learned that people who were not familiar with Heartland didn't have the same level of trust toward the organization.
That trust is vital, says Tornabene. And not just when it comes to the people administering vaccine doses. People who are homeless have concerns about the vaccine itself — just as many others do.
"There's a lot of fear and uncertainty," said Sanja Rickette Stinson, founding CEO of Matthew House. "And there's a lot of myths."
Combatting those myths and misinformation is a tall order, according to Connections for the Homeless Executive Director Betty Bogg.
"The amount of disinformation available to people around the COVID vaccine far exceeds the usual anti-vax-based noise, and our staff and participants are just as susceptible to it," Bogg said. "I cannot tell someone who is full of misinformation how wrong they are and then expect them to change their mind."
Rather than argue, staff try to listen without judgment and focus on building relationships, Bogg said. "There will be folks who never change their mind, and there will be folks who change their mind," she said.
Sometimes the virus itself gives people a nudge.
Following a recent COVID-19 outbreak at The Boulevard, a half-dozen residents signed up to get vaccinated, according to Sabina Wong, the PCC Clinic coordinator at The Boulevard.
To encourage vaccination, service providers regularly offer shots to clients on site or help them find available doses.
"We drive people to get a vaccine," said Bogg. "We take them there. We try to be very opportunistic about it. When you're ready, you're ready, and we need to be ready when you're ready."
Gift cards and other incentives also can be helpful, but some people will remain hesitant to get vaccinated. And that's OK, advocates say.
"You have to understand where they're coming from," said Salgado Bellin. "Every time someone comes into the clinic, I ask if they've been vaccinated."
Regularly checking in with people about their vaccination status creates more opportunities to provide resources and address concerns, according to Wong.
Those conversations also let staff members share their own vaccination experiences.
"We've had those that were hesitant, and after they learned more and see I didn't fall dead … they changed their mind," said Rickette Stinson of Matthew House.
But Bogg says there are limits to those conversations.
"As a privileged white woman, I can only take these conversations so far. It's helpful and impactful to have people in your own community telling you about their experiences rather than me telling you about my experience," she said.
Frederics and other residents at The Boulevard share their vaccine stories in the hope they will inspire others to roll up their sleeves.
"The best thing for us to do is to vaccinate ourselves and make it a safer environment for everybody else," Frederics said. "I'm pretty sure the people who got COVID didn't think they'd be the person who could catch it and they wouldn't be the person would die until it was at the point where it was too late."
Frederics said the flu-like symptoms he experienced after getting vaccinated were a small price to pay compared to COVID-19.
"Man up. Woman up. And take your shot," he said.
Contact Kristen Thometz: @kristenthometz | (773) 509-5452 |  [email protected]
---