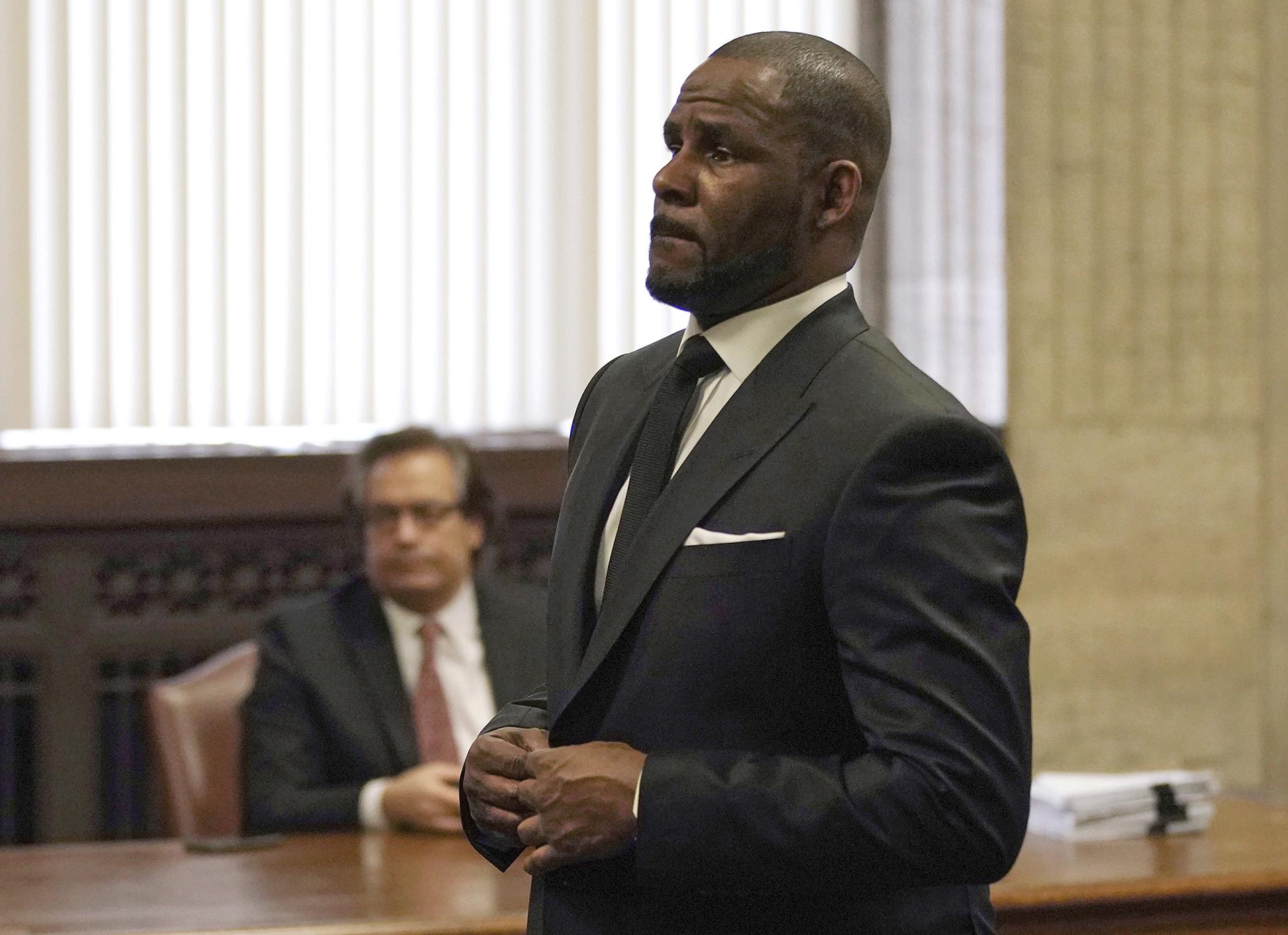 R. Kelly appears for a hearing at the Leighton Criminal Court Building on Friday, March 22, 2019 in Chicago. (E. Jason Wambsgans / Chicago Tribune via AP, Pool)
Two months ahead of his upcoming racketeering trial in New York, R&B star R. Kelly is seeking to part ways with the two Chicago-based attorneys who have been handling his many criminal cases.
Kelly during a status hearing Wednesday told U.S. District Court Judge Ann Donnelly that he "absolutely" wants to remove attorneys Steve Greenberg and Michael Leonard from his defense team before he heads to trial later this summer.
His statement comes days after Greenberg and Leonard filed a letter to Donnelly expressing their intent to withdraw from the case.
"While we realize that this request comes close to trial — and although we are ready to proceed to trial as scheduled in August — our reasons for withdrawal are significant and it is impossible, in our belief, for us to be able to continue to properly represent Mr. Kelly under the current circumstances," Greenberg wrote.
Donnelly did not make a ruling on that request Wednesday, and instead asked the attorneys to submit a formal motion to be removed from the case.
That letter did not disclose why Greenberg and Leonard decided to leave the case. During Wednesday's hearing, Greenberg said he and Leonard had stopped hearing back from other members of Kelly's defense team, Thomas Farinella and Nicole Blank Becker, regarding trial strategy.
When they tried to speak with Kelly himself, the singer refused to meet with them, Greenberg said.
Farinella added that Kelly had actually fired Greenberg and Leonard prior to their request to withdraw. Asked by Donnelly if he did indeed want Greenberg and Leonard off his case, Kelly said "Absolutely, yes ma'am, your honor."
Greenberg tweeted on Tuesday that he and his associate "refused to try a case with lawyers who don't have the appropriate level of experience and skill because that is not in the clients best interest." 
"It is a shame that lawyers can't suppress their own egos or self interest and do or act in the clients best interest," he continued.
Greenberg published additional tweets Monday evening saying: "Sometimes you can't save someone from themselves, no matter how hard you try," and "Sometimes people just won't listen and there is nothing you can do."
Greenberg has served as the head of Kelly's defense team since the singer was arrested on multiple aggravated sexual abuse charges in Cook County in February 2019. Since then, the embattled singer has been been hit with federal child pornography charges in Chicago and racketeering charges in New York.
Kelly remains housed at the Metropolitan Correctional Center in Chicago, though he may soon be moved to New York for his trial there, which is set to begin in August.
Contact Matt Masterson: @ByMattMasterson | [email protected] | (773) 509-5431
---