A new free virtual performance series is being described as "the sound of Chicago."
Meet Greg Ward and Jumaane Taylor. The saxophonist and tap dancer are artists with the Hyde Park Jazz Fest. 
They're also performers in the Chicago Takes 10 showcase. 
"It's a conversation we're having," Ward said. "A dialogue up here using some familiar jazz and compositional forms to really express ourselves." 
"We're delivering some of the raw elements of jazz music even playing it in this acoustic way," Taylor said.  
This biweekly series features a multitude of Chicago artists, with no two performances the same. 
"What we're seeing in this series of 10 shows is the tremendous cultural diversity the city has throughout our neighborhoods," said Elizabeth Walder of the Walder Foundation. "We're really hearing the sound of Chicago."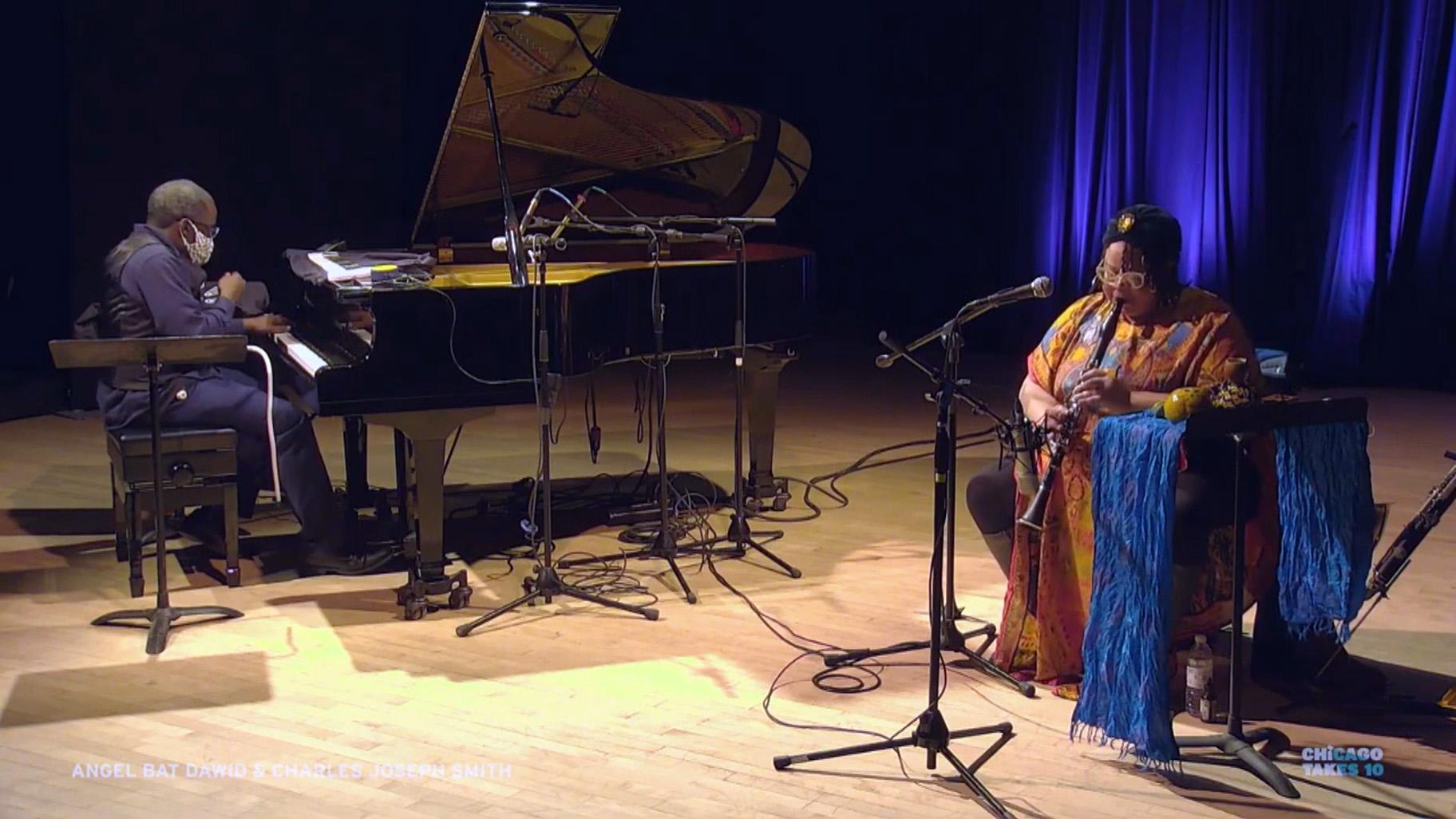 Artists Charles Joseph Smith and Angel Bat Dawid are featured as part of the "Chicago Takes 10" series. (Courtesy Chicago Takes 10)
Livestreamed from Constellation Performing Arts, each 60- to 90-minute show features performances from one of 10 art groups funded by the Walder Foundation. It's through this monetary support that they're able to assist both the organization and the artists. 
"Technology is allowing us to reach more people potentially," Ward said. "It's not something that's going away, it'll just keep getting better and better." 
While this isn't the first virtual performance series to showcase what the city's art world has to offer, Chicago Takes 10 emcee Sandra Delgado says she couldn't think of a better way to motivate artists when they need it most. 
"It's amazing to see these artists who really have been creating this whole time," Delgado said. "Whether or not there's an audience there. And now that there's an audience there, they get to share this. So I guess the takeaway is just don't stop. Keep dreaming."
You can catch Ward and Taylor at 6 p.m. Thursday alongside a number of other artists with the Hyde Park Jazz Fest. Visit www.chicagotakes10.org to join the livestream and get details on past and future shows, featuring artists from groups like the National Museum of Mexican Art and See Chicago Dance.
Follow Angel Idowu on Twitter: @angelidowu3
Angel Idowu is the JCS Fund of the DuPage Foundation Arts Correspondent.
---