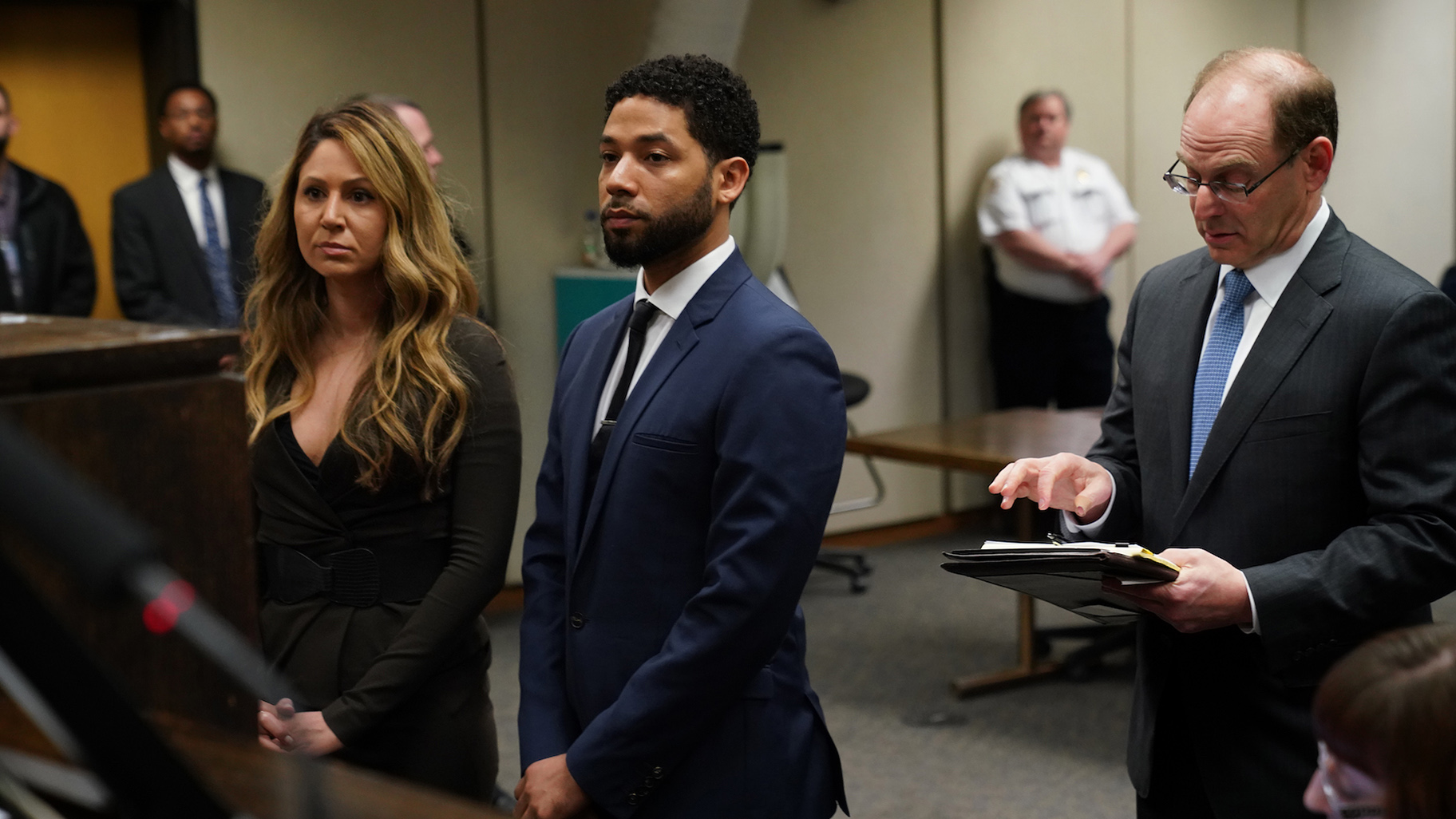 Jussie Smollett appears at a hearing for judge assignment with his attorney Tina Glandian, left, at the Leighton Criminal Court Building on Thursday, March 14, 2019. (E. Jason Wambsgans / Pool / Chicago Tribune)
A Cook County judge has scheduled a hearing this summer to determine if an attorney that actor Jussie Smollett has hired will be allowed to represent him in his criminal case following allegations of a possible conflict of interest involving that attorney and the two brothers Smollett allegedly hired to carry out a hoax attack.
Judge James Linn on Monday set a hearing date of July 14, at which point he'll hear evidence about whether attorney Nenye Uche spoke or consulted with Olabinjo and Abimbola Osundairo about the case before felony charges were first filed against Smollett in 2019.
Attorney Gloria Rodriguez, who currently represents the Osundairo brothers, has claimed that her clients consulted with Uche shortly after the alleged hoax attack on Smollett, and may have discussed privileged information that would preclude Uche from now representing Smollett.
Uche has repeatedly denied that claim. He previously said he only spoke to the Osundairos' mother and a family friend, and only told them he was unable to represent the brothers because they had already retained Rodriguez.
Smollett was first arrested more than two years ago after he claimed to Chicago police he'd been attacked near his Streeterville apartment in the early hours of Jan. 29, 2019 by two men who yelled racist and homophobic slurs at him. But after investigating that allegation over the course of weeks, Chicago police detectives determined Smollett had orchestrated the incident himself and had paid the Osundairo brothers to stage the "attack."
Cook County prosecutors eventually dropped disorderly conduct charges against Smollett weeks later in a widely scrutinized move.
The handling of the charges by the Cook County State's Attorney's Office eventually led to the appointment of a special prosecutor who filed renewed criminal charges against Smollett in 2020.
During a hearing last week, Linn said the focus of the upcoming evidentiary hearing would be extremely limited. The only matter up for discussion is whether any conversations did occur between Uche and the Osundairo brothers, and whether they discussed anything that would make it inappropriate for Uche to represent Smollett.
Contact Matt Masterson: @ByMattMasterson | (773) 509-5431 | [email protected]
---