There's a sense of normalcy inside the COVID-19 unit at Advocate Lutheran General Hospital in Park Ridge. But one year ago, providers feared the worst.
"We, as a country, were not prepared," says Dr. Robert Citronberg, chief of infectious disease and prevention at Advocate Aurora Health. Doctors were hamstrung, he says, as an onslaught of cases came their way with little known about the virus.
"We didn't know how to properly ventilate them, we didn't know what medications might work or not work. So really we were going in blind," Citronberg said.
He says that initial wave of COVID-19 led to a high rate of death, with many patients dying alone, bewildered about what was happening to them.
"I saw a few patients who said exactly the same thing — 'I no idea how bad this was. I should have taken it more seriously' — and that was right before they got put on a ventilator or before they died," he said.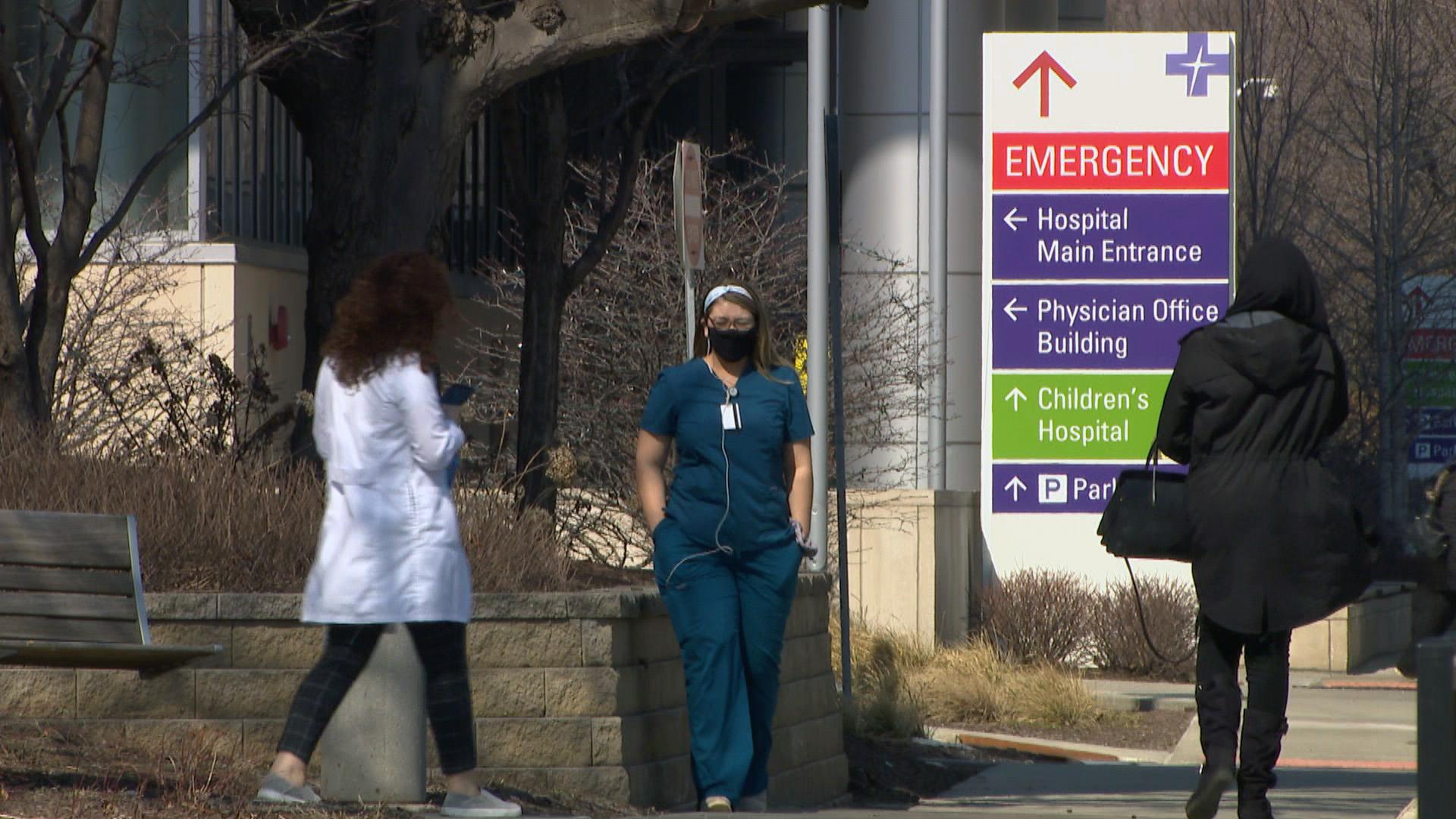 (WTTW News)
"It was very emotional to see patients do so well, and then all of a sudden decline the next minute," said Sweta Ghandi, clinical manager of Lutheran General's COVID-19 unit. She said the frenetic pace and constant death took its toll on health care workers, with some leaving their jobs. 
"We were seeing a lot of patients that were transitioning to their hospice or ending their life, and they just couldn't handle that anymore," she said.
"This was very stressful, very fast," said Jim Skogsbergh, the CEO of Advocate Aurora Health. The stress was compounded, he said, by a rapidly diminishing supply of gloves, masks and other personal protective equipment.
"We scoured the globe — not just the country but the globe — for personal protective equipment," he said. 
To combat some of the fear and uncertainty, Skogsbergh took on the unlikely role of TV host and moderator. He started a biweekly program with "Chicago Tonight"-style interviews to spread information to the health care system's 75,000 employees.
"Let's use this medium, this venue, to communicate and be transparent about what's going on, to be clear about where we're going and how we're going to get there, and to answer all the questions that people naturally have during a time of such stress and strife and strain," Skogsbergh said.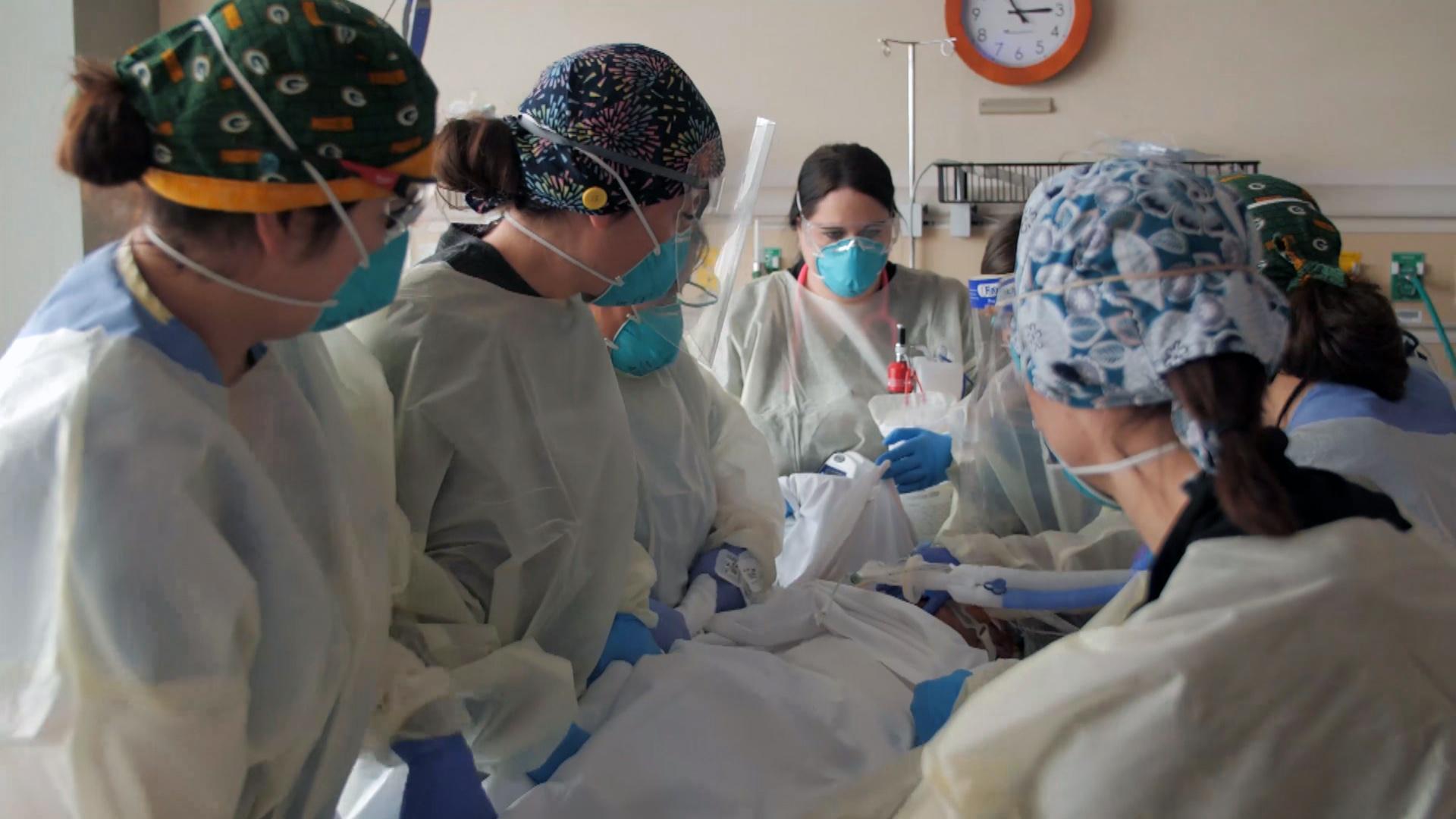 (Courtesy of Advocate Aurora Health)
He says it has been key to keeping the organization together, although Advocate's sheer size — with hospitals across Illinois and Wisconsin — worked to its advantage, allowing for the transfer of equipment and staff from one place to another during the peak of the pandemic.
By late summer, the number of inpatients dropped to around 200 per day. But when the second wave hit in October, cases again skyrocketed. 
This time, Gandhi says her staff was prepared to save more lives with proven treatments, including turning patients who were struggling to breathe onto their stomachs. 
The hospital's next hurdle was convincing non-coronavirus patients to come back for routine care and elective surgeries. The diminishment of those services along with the high cost of COVID-19 nearly wiped out the system's finances.
"2020 was, financially, a disaster," Skogsbergh said. "An unmitigated disaster."
But the system has recovered, Skogsbergh says, thanks to federal relief and a recent uptick in non-coronavirus business.
(WTTW News)
To get a sense of how quickly things have changed: There were nearly 1,200 COVID-19 inpatients throughout this health system during the latest peak in late November. That number today is 170.
Hospital officials say they believe the worst is over, with most of the staff vaccinated. But they say they've learned how quickly things can turn bad. 
"We have made so much progress, but this is not time to let up our guard," Citronberg said.
"There will be a next thing. We're ready for whatever comes our way," Skogsbergh said.
---
More on this story
Advocate Aurora says it treated nearly 3 million patients throughout Illinois and Wisconsin last year.
Note: An earlier version of this story misspelled Jim Skogsbergh's name. We have corrected the story.
Follow Paris Schutz on Twitter: @paschutz
---