For most Chicagoans, the city's street grid is an everyday convenience. But for Jose Martinez, who was born blind, it's a critical part of maintaining his autonomy.
"Chicago is what made me the person I am. This city is what made me independent," Martinez says. "It's very accessible here. The streets are organized in such a pattern that, you know, it's very easy to learn. And I mean, I learned that I can teach it to another blind person. I feel that confident."
Navigating the city was just one of the many skills Martinez says he's learned at The Chicago Lighthouse. In addition to offering vision care, rehabilitation, job training and education for people living with vision impairment, The Chicago Lighthouse also employs them in a variety of capacities.
"We employ 800 individuals, 30% of whom are mission-related employees, people who are blind, visually impaired disabled veterans," says CEO Janet Szlyk.
Martinez is among that number – he works at the Lighthouse as part of a team that tests websites for accessibility. The consulting service, called Digital Accessible Experience, is a new enterprise for the organization.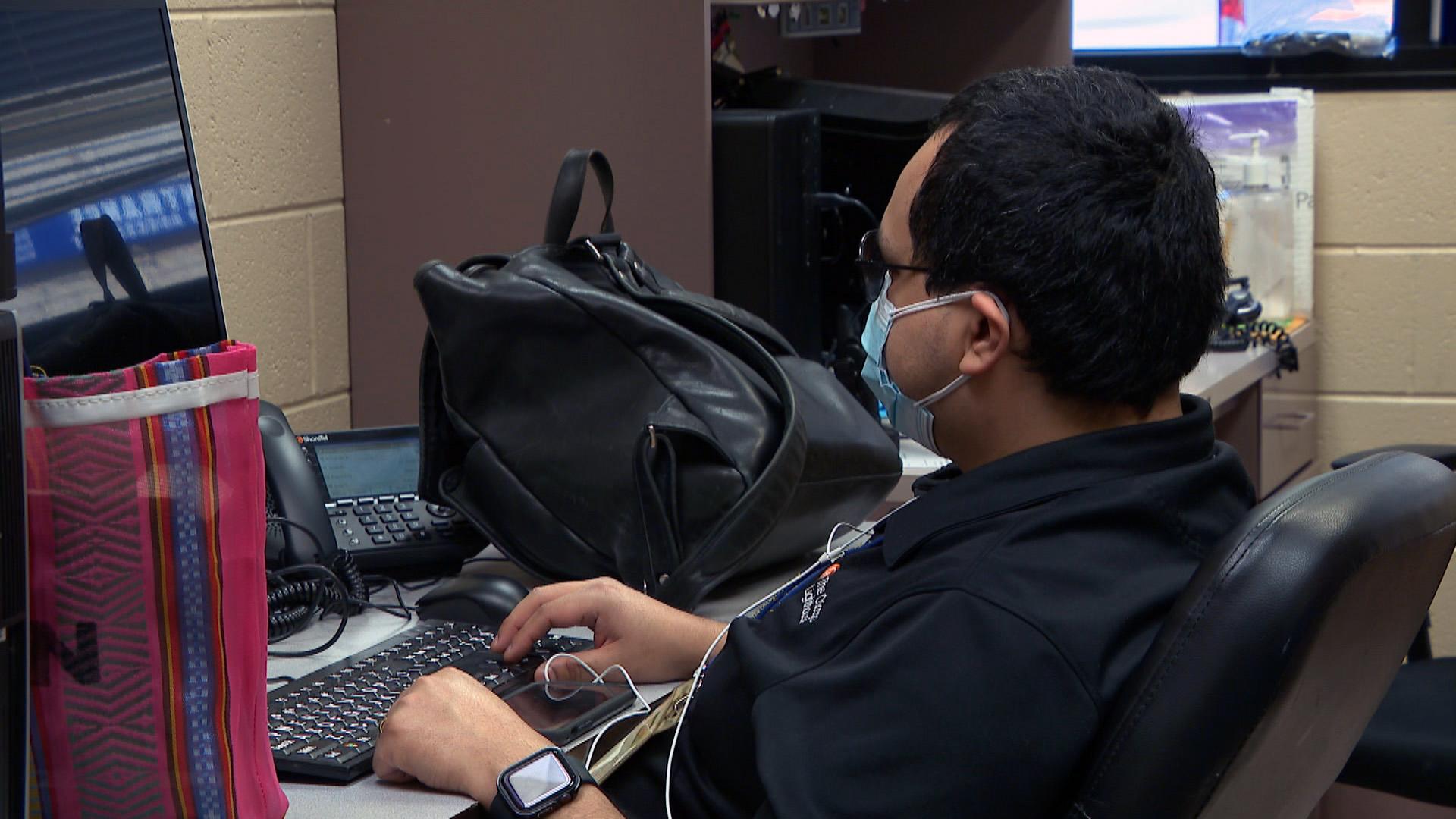 Jose Martinez (WTTW News)
"The last time I checked, there were 20 million people with visual impairments in the U.S.," said Martinez. "As businesses you want to make sure to reach largest market possible, you want to make sure to reach all the various clients that could then bring you more business."
Szlyk says the 114-year-old nonprofit was able to navigate itself through the pandemic by pivoting many employees to remote work, including those who work as agents for call centers the Lighthouse manages for other organizations like the Illinois Tollway and UI Health.
"Everything is cloud-based, and so we were able to continue that enterprise. People continue to receive paychecks, and we were able to keep our community working," she said.
Call center supervisor Marcus Johnson says for his team, the move to working from home was bittersweet.
"Because even though they're not able to be in the office surrounded, you know, with a lot of people, they are able to work at home and their own comfort zone. They don't have to worry about, you know, holding anything in with their disability," Johnson said. "If I'm in the office and I'm surrounded … with my peers that are fully sighted, sometimes I wouldn't look as close as I needed to. If you're at home in your comfort zone, you're doing everything you need to do without a care in the world."
Johnson says other organizations can follow the lead of the Lighthouse in employing people with impaired vision, a practice he believes benefits everyone.
"Because they're at home, they're not able to work, it kind of feels like that they don't have a voice. So we're missing out on a lot of people's voices and ideas because some things are inaccessible," he said.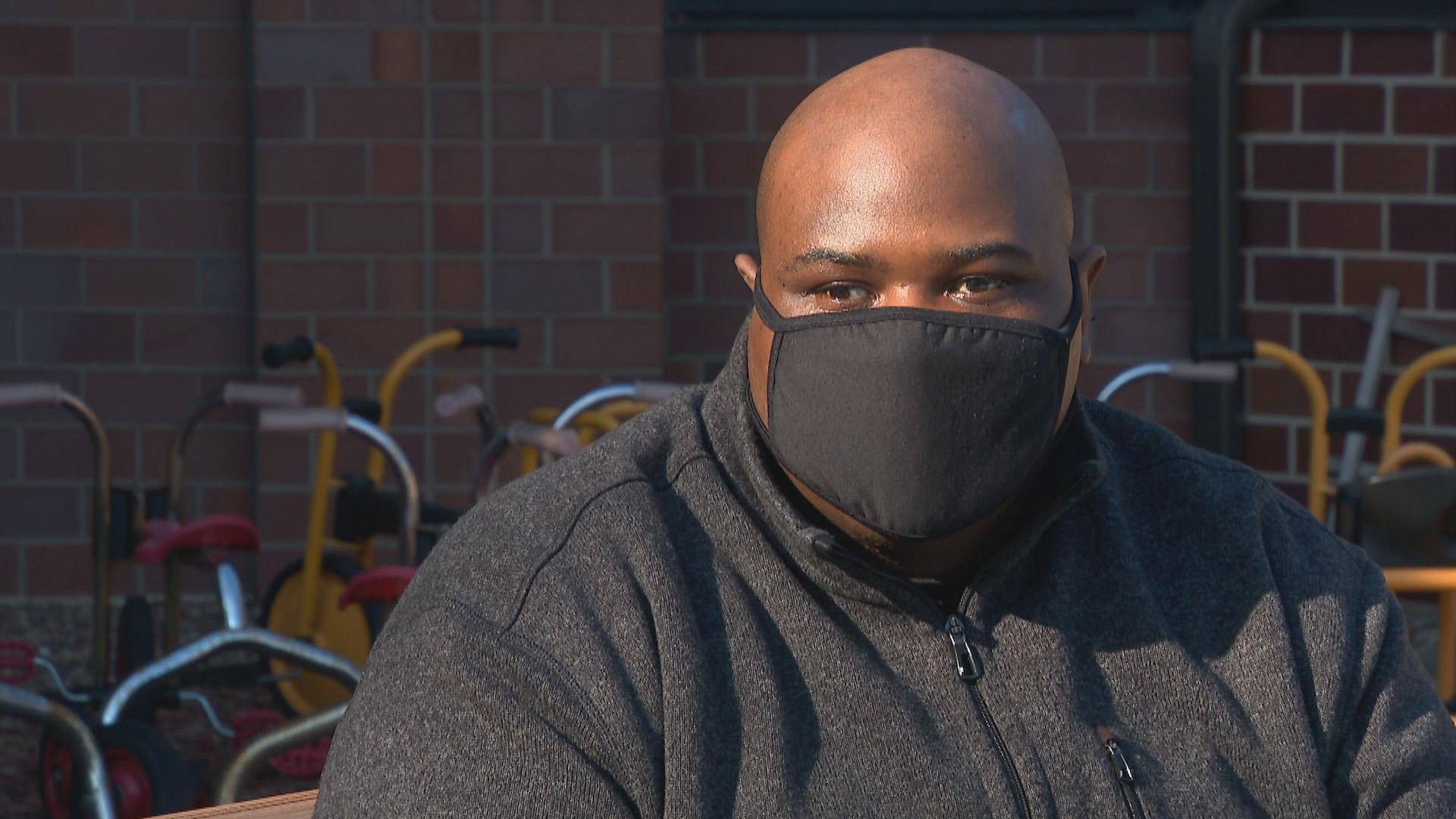 Marcus Johnson (WTTW News)
Las Vegas-based chef Regina Mitchell, who began losing her sight in her 50s due to a chronic illness, says distance-learning classes offered by the Winnetka-based Hadley Institute for the Blind and Visually Impaired helped her to develop adaptive skills so she could stay active in her community.
"Society is not really accepting or used to a blind person moving about," she said. "It's almost as if, what are you doing? Why are you out here? You're struggling. Why don't you just go home?"
Today, Mitchell runs her own cooking classes for other visually impaired people.
"It is now someone on the other end telling you how to do it descriptively because I'm blind too," she said.
Hadley CEO Julie Tye says cases like Mitchell's are expected to be increasingly common.
"We say the silver tsunami is upon us that with 10,000 people turning 65 every day," Tye said. "The incidents of age-related eye disease is going to cause about a doubling of the number of people in this country with visual impairment by the year 2050."
Though the Hadley Institute has been a distance-learning organization since it began offering Braille lessons by mail in 1920, Tye says investing in technology has allowed it to broaden its scope to online workshops, podcasts and webinars that are available free of charge to anyone worldwide.
"We have about 500 workshops online that give you very practical tips – how to cut safely, how to organize your closet, how to dine out comfortably," Tye said. "So very practical help to encourage people to continue to live their lives."
It's help that Mitchell urges people who are learning to live with vision loss to accept so that they, too, can help others.
"You will be a model to help the next person on their journey because someone's going to need you," she said. "And that's what I like to feel that the reason I am in this position is — so I can help the next person. You can be a light as well."
---