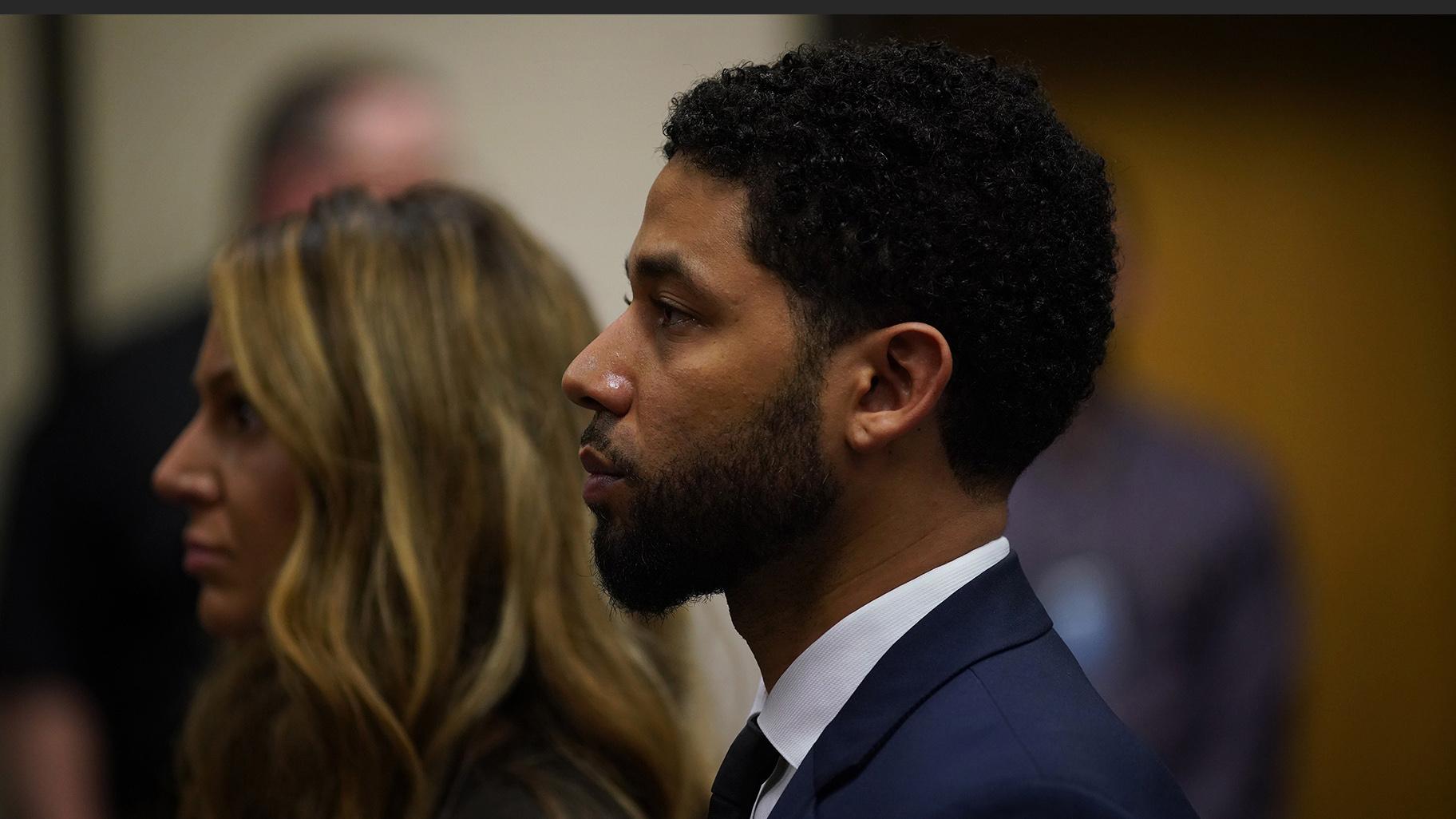 Jussie Smollett pleads not guilty at Leighton Criminal Court Building, Thursday, March 14, 2019. (E. Jason Wambsgans / Pool / Chicago Tribune)
Did a local attorney speak with the two brothers allegedly hired by Jussie Smollett to carry out a hoax hate crime against him two years ago, and did they speak about that incident? The answer to those questions could determine who represents the former "Empire" star at his criminal trial.
A Cook County judge is planning to hold an evidentiary hearing to determine whether Nenye Uche, the Chicago attorney Smollett wants to hire to represent him, spoke to Olabinjo and Abimbola Osundairo about the case before felony charges were first filed against the actor back in 2019.
Gloria Rodriguez, the attorney who represents the Osundairo brothers, has claimed her clients did in fact speak about the case with Uche in 2019, and that any information shared — while privileged — could be used to damage them as witnesses at trial. She wants Cook County Judge James Linn to bar Uche and his co-counsel from representing Smollett.
Special prosecutor Dan Webb joined Rodriguez's motion, saying he believes it is "well founded."
"For him to cross-examine that witness and take a position that's adverse to the Osundairo brothers creates a conflict of interest," Webb said during a hearing Tuesday. "I believe the law is very clear that under these circumstances you cannot be put in that position where someone that you had these confidential communications with, you now are going to cross-examine to their disadvantage and argue their lack of credibility."
Linn will meet with Rodriguez in private later this week so she can tell him what privileged information she believes Uche may have gotten from the brothers.
Uche strenuously denied meeting with or ever speaking with the Osundairos, saying he only spoke to their mother and a family friend, and only told them he was unable to represent the brothers because they had already retained Rodriguez.
Uche couldn't be sure if the brothers were ever with their mother during any of these calls, but he said he was unclear what privileged information the Osundairos even believe they gave to him.
Because of the conflict between Uche's statements and those from the brothers — which are included in sworn affidavits — Linn said he'll have to hold an in-person evidentiary hearing to suss out the facts. That has been scheduled for March 19.
It has been more than two years since Smollett allegedly falsely claimed to police that he'd been attacked near his Streeterville apartment by two men who yelled racist and homophobic slurs at him. Chicago police detectives eventually determined Smollett had orchestrated the incident himself, claiming he paid the Osundairo brothers to help stage a fake attack.
The Cook County State's Attorney's Office dismissed those initial charges weeks later, but Webb and his team were appointed to reinvestigate the case and brought renewed felony disorderly conduct charges against Smollett early last year.
Smollett has pleaded not guilty and has maintained his innocence.
A collection of activist groups are also now calling on Webb to drop the criminal charges, saying the ongoing prosecution is a "waste of finite resources."
The letter, which was signed by members of the National Black Justice Coalition, National LGBTQ Task Force, Black AIDS Institute and a handful of other organizations, says the case "fits an unfortunate pattern of anti-Black, anti-queer bias."
"While we do not condone the filing of any false claim, particularly of a hate crime, Mr. Smollett's ongoing prosecution raises serious concerns in the civil rights community," the groups state in the letter. "The damage done to Mr. Smollett is not just reputational. Over the past two years, he has suffered considerable hardship, with the loss of contracts, endorsements, and other professional opportunities; having to vacate his home; and continuous death threats against his family members. Here, the person most harmed—the victim of a hate crime—is the defendant."
Contact Matt Masterson: @ByMattMasterson | [email protected] | (773) 509-5431
---