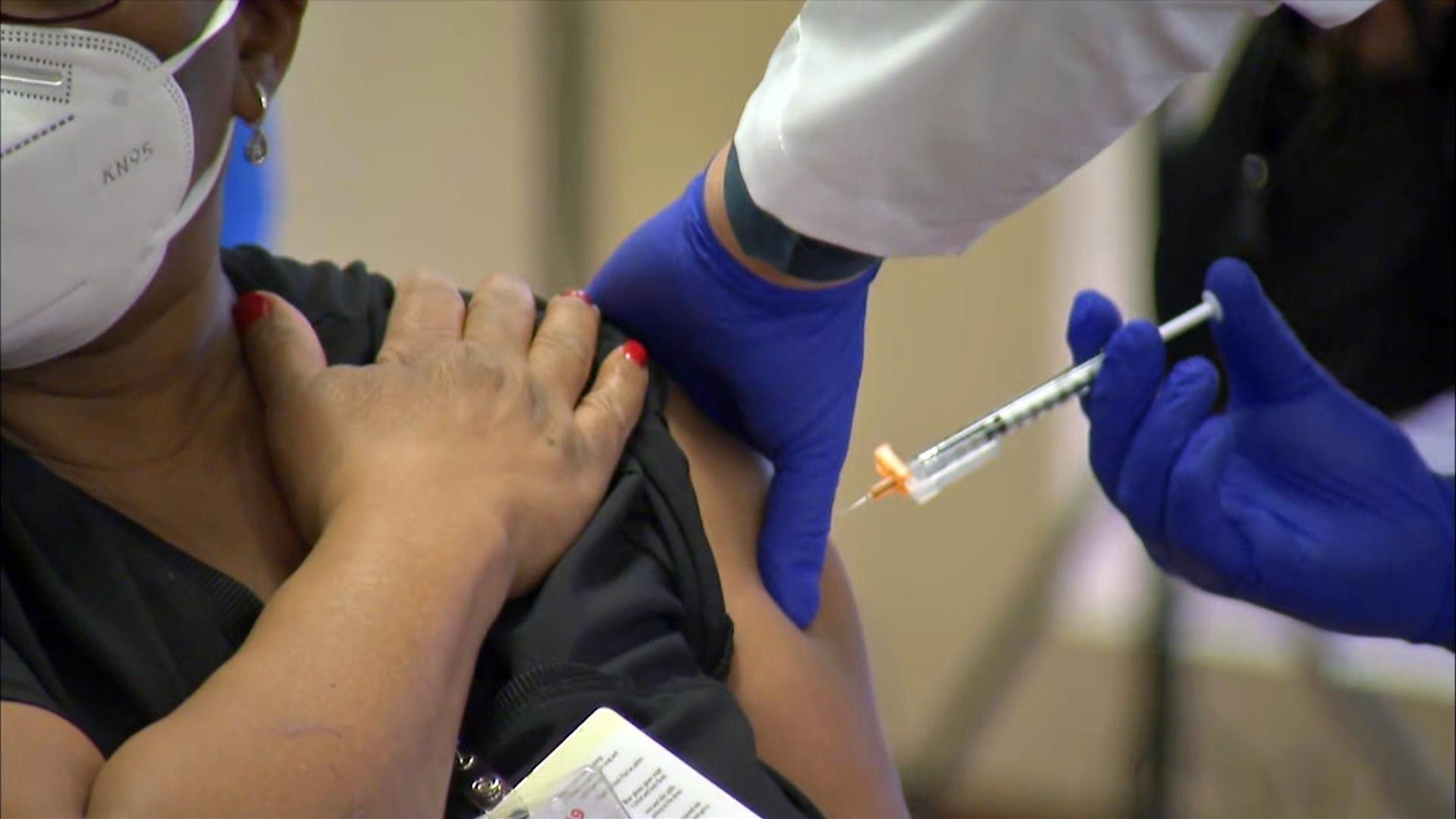 The second doses of the Pfizer vaccine in Chicago were administered at Norwegian American Hospital on Tuesday, Jan. 5, 2021. (WTTW News)
Only two people who work or live at skilled nursing facilities in Chicago who were fully inoculated against COVID-19 have contracted the virus, showing that the vaccine is very effective, Chicago's top doctor told aldermen on Wednesday.
Residents and staff at Chicago's skilled nursing facilities were among the first to be eligible for the vaccine when it arrived in Chicago in mid-December, and since then between 800 and 900 people have been diagnosed with COVID-19, Dr. Allison Arwady, the commissioner of the Chicago Department of Public Health, told aldermen during a hearing before the City Council's Health and Human Relations Committee.
Two-thirds of those diagnosed with COVID-19 declined to be vaccinated, Arwady said. The rest of those who contracted the virus had received just the first shot in the two-dose regimen and had not been fully protected.
Two people who were fully vaccinated also tested positive for COVID-19, but did not suffer severe symptoms, Arwady said.
"So the vaccine has been performing just like it did in the trials," Arwady said.
Ald. Michelle Smith (43rd Ward) pressed Arwady on what the city can do to combat vaccine hesitancy and stop COVID-19 from spreading among the city's most vulnerable populations, including those who live in long-term care facilities.
The city is being "held hostage by people who refuse to use the vaccine," Smith said.
However, Arwady said the biggest concern is not those who refuse the vaccine — but increasing supply to meet demand.
Even though Chicago will have enough vaccine to administer more than 12,000 shots per day — up from more than 8,000 shots per day — once the newly authorized Johnson & Johnson vaccine arrives in Chicago, that is half of what Chicago needs, Arwady said.
The city has the ability to administer four to five times that amount of vaccine, Arwady said.
That limited supply is why Arwady told aldermen the city could not yet expand its program to get vaccine doses to residents of more neighborhoods hardest hit by the pandemic which are home to a majority of Black and Latino residents.
That effort has resulted in Chicago doing "head and shoulders better than any other big city" in the push to vaccinate Black and Latino residents, Arwady said.
Most of the city's allocation of the Johnson & Johnson vaccine will be used to vaccinate home-bound seniors and those who work in manufacturing, Arwady said.
The city is also focused on vaccinating residents of Chicago Housing Authority buildings, which is scheduled to be completed by March 22, Arwady said.
But the shortage of vaccine is likely to end within the next two months, Arwady said.
"By late spring, we are going to be in a place where I think there will be plenty of vaccine," Arwady said. "That shift is going to happen pretty quickly."
Contact Heather Cherone: @HeatherCherone | (773) 569-1863 | [email protected]
---