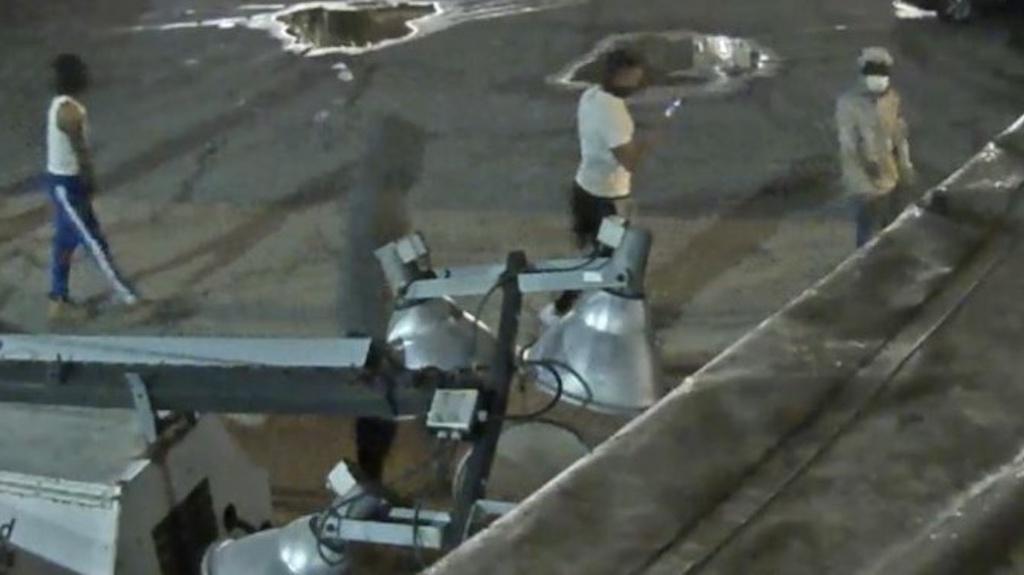 James Massey, who authorities say can be seen here wearing blue pants, was charged Tuesday with inciting an Aug. 10, 2020 riot. (U.S. Attorney's Office)
A Chicago man allegedly sent social media messages to dozens of individuals in an attempt to organize looting during a night of unrest in the downtown area last summer.
James Massey, 22, was arrested Tuesday and charged with one count of using a facility of interstate commerce to incite a riot, according to a criminal complaint filed in U.S. District Court in Chicago.
According to that complaint, Massey posted multiple videos and messages on Facebook on Aug. 9, 2020 calling for people to travel to downtown Chicago and engage in property damage and looting. During the early morning hours of Aug. 10, several people damaged and looted retail stores, leading Mayor Lori Lightfoot to restrict downtown access the following day.
Hundreds of people engaged in looting that morning, the complaint states. Two people were shot, 13 police officers were injured and more than 25 people were arrested in connection with these incidents.
Massey — using a Facebook account under the name of "Steve Nash" — allegedly recorded a video on Facebook Live sometime before Aug. 10, which was accompanied by text stating: "ATTENTION ATTENTION LOTTING (sic) START AT 12 am tonight ... WE WILL NOT BE F------ UP THE SOUTH SIDE EAST SIDE OR WEST SIDE DOWNTOWN AREA AND UP NORTH AREA ONLY BRING YA TOOLS SKI MASK AND GLOVES #LETSGOOOOO."
Investigators in November interviewed an anonymous person identified in the complaint only as Individual B, who said they were friends with the "Steve Nash" account and saw the Facebook Live video. That person said the person in the video was calling on people to go downtown and loot, according to the complaint.
The complaint states Massey also sent Facebook messages to approximately 40 individuals, directing them to gather at 6300 S. Racine Ave., before moving downtown. Prosecutors said another individual sent a message to others in that group stating: "We like 13 cars deep."
One location allegedly discussed in these messages was a marijuana dispensary in the 900 block of West Weed Street. The complaint states that at around 1 a.m. on Aug. 10, several individuals broke into that dispensary by smashing a window with tools they had retrieved from the trunk of Massey's vehicle.
"Numerous boxes" were taken from the store, while Massey acted as lookout, the complaint states.
Massey and others also allegedly broke into a store in the 800 block of North Michigan Avenue and stole several coats. They also broke into and looted a convenience store in the South Loop neighborhood as well as a cellphone store in the West Loop, according to the complaint.
Hours after the looting stopped, another Facebook user contacted Massey to tell him his Facebook Live video was being shared widely across social media. Massey allegedly responded: "Lmaoo (I don't care)....F--k dem….Freedom of speech."
But by the next day, Massey was allegedly telling people to delete their messages from the Facebook group, adding that he planned to stop using Facebook "for a while."
Massey made his initial court appearance Tuesday afternoon and was ordered released on bond with electronic monitoring and a curfew. He is due back in court for a preliminary hearing March 18. If convicted, Massey faces up to five years in prison.
Contact Matt Masterson: @ByMattMasterson | [email protected] | (773) 509-5431
---