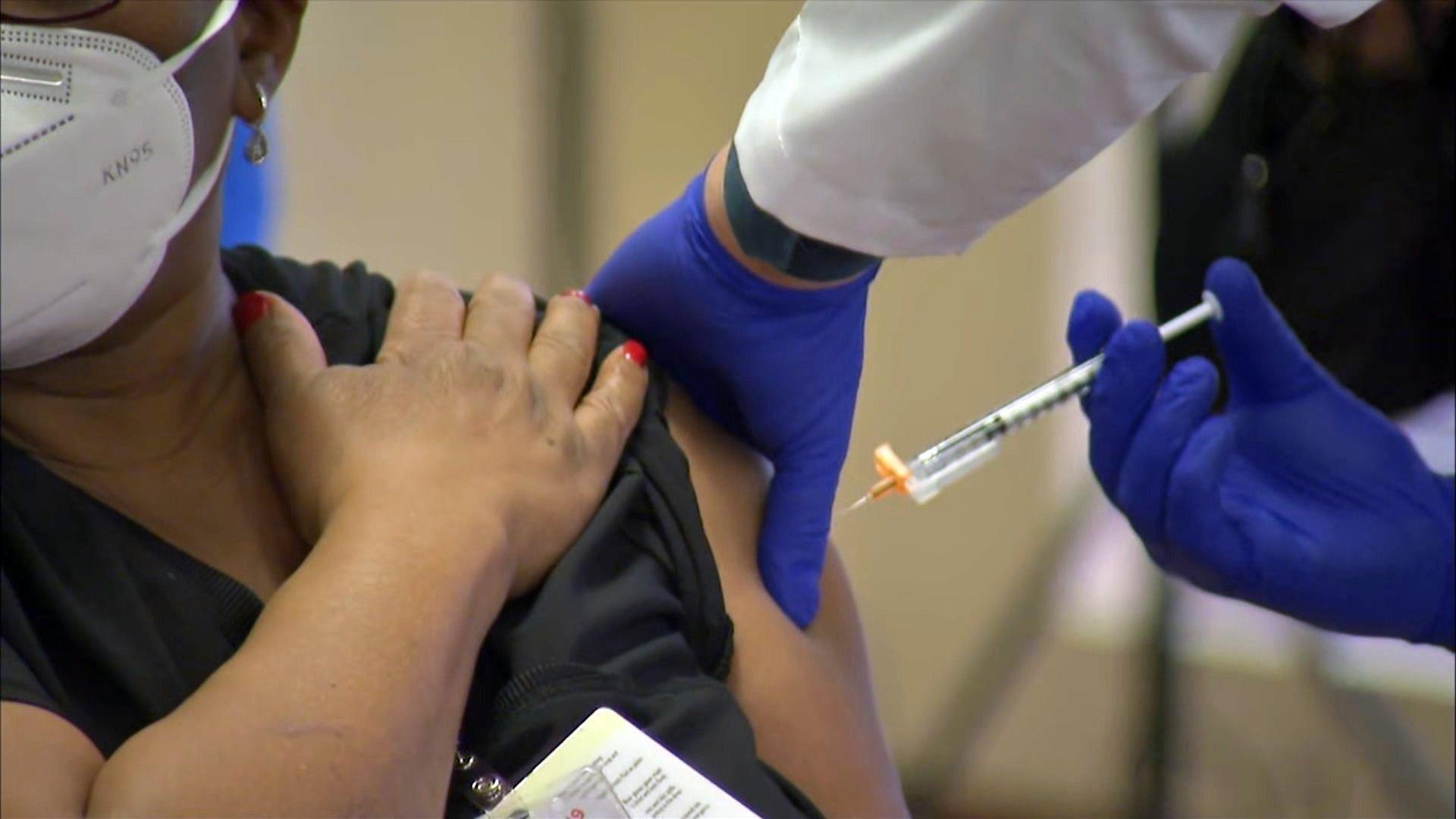 The second doses of the Pfizer vaccine in Chicago were administered at Norwegian American Hospital on Tuesday, Jan. 5, 2021. (WTTW News)
On Tuesday morning, the Cathedral of Grace St. John AME Church hosted a coronavirus vaccination clinic for Black suburban residents as part of a larger effort to vaccinate communities disproportionately impacted by the virus.
"We have to get vaccines to Black and Brown people in an equitable manner," Aurora Mayor Richard Irvin said. "We're here today because that's not happening."
As of Feb. 26, 88,000 vaccines had been administered in Kane County, with Blacks accounting for 2.8% of vaccinations, according to Black Vax Aurora, a coalition of Black churches, organizations, community advocates and elected officials that organized Tuesday's clinic. In DuPage County, Blacks received only 2.3% of 190,000 vaccinations given as of Feb. 26.
To close the vaccination gap, Black Vax Aurora hosted a clinic for more than 700 Black residents living in Kane, DuPage, Will and Kendall counties who are eligible under the state's vaccination plan, which is currently in phase 1B+.  
"The demand (for the vaccine) is there, but we also know that the mistrust and hesitancy is also there for the Black community and to some extent it may be justified," Irvin said. "One thing that will make our community comfortable is seeing others that look like (them) and speak about the facts of the vaccine and take one ourselves."
Black Vax Aurora plans to host similar vaccination efforts for Latinos and people with disabilities on March 19 and March 25, respectively, according to Irvin.
"This is just the beginning," he said. "We'll be working with the state for mobile vaccination clinics (to go) into the most vulnerable and underserved communities."
Gov. J.B. Pritzker praised Black Vax Aurora's efforts and called it a "model" for reaching communities that have been hit hardest by the pandemic.
"We have to be intentional about our effort to vaccinate Black and Brown communities and communities that have been left out and left behind far too long," Pritzker said. "Even if everyone who wants to be vaccinated today were to receive it, (that) would not be enough for us to reach herd immunity. So it's important that we get the message out to those who are vaccine hesitant. Vaccines are safe and provide protection."
While getting vaccinated is a choice, Pritzker says he wants to make sure people are making informed decisions.
The governor said he has "put a call out to local health departments to expand outreach, especially to those most vulnerable," and to those who may face technology or transportation issues, or who have been misinformed about the vaccines.
While the state expects to receive 100,000 doses daily by mid-month, Pritzker acknowledged the challenges people face in trying to secure a coveted vaccination appointment.
"Getting an appointment still takes a frustrating amount of effort because we have not received enough vaccine from the federal government," he said. "Older residents need help making their appointments. … Please help them out."
Contact Kristen Thometz: @kristenthometz | (773) 509-5452 |  [email protected]
---