Video: Michael Madigan's handpicked successor is out. Our Spotlight Politics team of Amanda Vinicky, Heather Cherone and Paris Schutz digs into that story and more in this week's roundtable. (Produced by Alex Silets)
---
Former Illinois House Speaker Michael Madigan on Sunday elevated a loyal ward employee to fill his former seat representing the 22nd District in the Illinois House.
Tuesday night, Madigan was calling for newly installed Rep. Edward Guerra Kodatt to resign.
The about-face is due to unspecified "alleged questionable conduct."
A joint statement from Madigan and 13th Ward Ald. Marty Quinn is short, and goes into no further detail. 
"After learning of alleged questionable conduct by Mr. Kodatt, it was suggested that he resign as state representative for the 22nd District. We are committed to a zero-tolerance policy in the workplace," according to the statement.
A spokesman for House Speaker Emanuel "Chris" Welch confirmed the House clerk received Kodatt's resignation Wednesday morning.
Kodatt, who turned 26 on Saturday, grew up in the Southwest Side neighborhoods of West Lawn and Garfield Ridge, and said his mom, dad and stepfather each had long careers as police officers.
He told Democratic leaders on Sunday that he's engaged to his high school sweetheart, is working toward an online master's degree in business, and wanted to serve as state representative to ensure that Southwest Side residents have the opportunity for good jobs, to live in a safe neighborhood and that children can get the "best education."
In his speech seeking the appointment, Kodatt said he'd long known he wanted to dedicate his life to public service.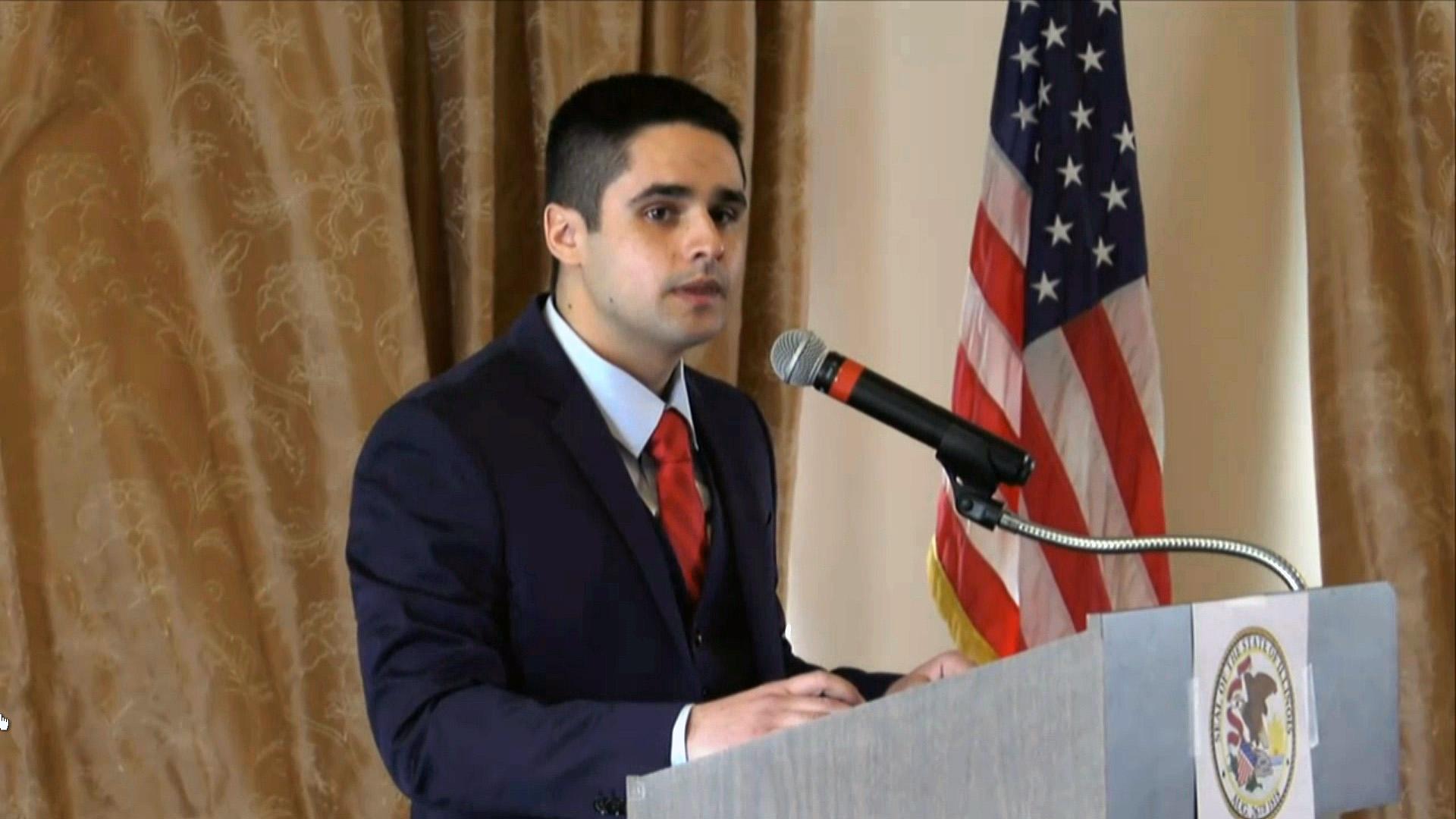 Edward Guerra Kodatt (WTTW News)
With 48% of the weighted vote, Madigan helped to propel Kodatt over 10 others seeking the job.
Madigan has a reputation for being calculating and shrewd, and it's expected he would have done a thorough vetting before throwing his weight behind Kodatt. To have new and unsavory information surface is the latest embarrassment to Madigan's political operation.
On Wednesday, Madigan issued a statement announcing a meeting Thursday morning to select a new representative in the wake of Kodatt's resignation.
"After a fair and robust process on Sunday, we are prepared to proceed with selecting a replacement for the 22nd District Illinois House seat from the pool of candidates who already presented to the selection committee," Madigan said in the statement. "I believe the most equitable way to proceed is to nominate the candidate who received the second-highest vote count. It is my intention to nominate Angelica Guerrero Cuellar." 
After 50 years as the 22nd District's state representative – during which he also served as House speaker for the majority of that time – Madigan resigned from the General Assembly last Thursday.
On Monday, he let go of the reigns as chair of the Democratic Party of Illinois, setting off a clamor for the powerful position between party heavyweights: U.S. Sen. Dick Durbin wants U.S. Rep. Robin Kelly for the role; Gov. J.B. Pritzker and Sen. Tammy Duck back Chicago Ald. Michelle Harris; and U.S. Rep. Jesus "Chuy" Garcia is behind state Sen. Cristina Castro of Elgin.
Madigan has long been recognized as Illinois' most powerful politician, but his position took a hit in 2018 when former political aide Alaina Hampton filed a lawsuit accusing Madigan of not taking seriously sexual harassment on the part of political wingman Kevin Quinn, brother of Ald. Marty Quinn. In late 2019, Hampton and the four committees under Madigan's control reached a settlement in which Hampton received a $275,000 payout.
More tumult came in July 2020, when Commonwealth Edison admitted to nearly a decade of bribery intended to influence and reward Madigan and those close to him.
Madigan has continually insisted he has done nothing wrong nor illegal, and that the scheme was done without his knowledge.
But uneasiness with Madigan's leadership prompted 19 Democrats to publicly say they would not support him for another term as speaker of the House, leading Madigan to step away from the race; Rep. Emanuel "Chris" Welch ultimately won the speaker's gavel.
Kodatt has so far not issued a public statement.
On Sunday, he was asked about his willingness to work with the Democrats who did not back his selection.
"I won't hold anything against anyone; never have in my whole life. I want to do this job because I want to make sure everyone has equal representation and I don't think anything that happens in the past matters it's all about moving forward to the future," he said.
Follow Amanda Vinicky on Twitter: @AmandaVinicky
---