Illness and the end of life have been part of Jorge Maldonado's life for a long time. A chaplain at Gottlieb Memorial Hospital in Melrose Park since 2008, Maldonado's experience being part of his grandfather's process of dying helped put him on the path he still walks.
"As a teenager … (I) was thinking of going into the army, or something more profitable," Maldonado recalled with a smile. "But then when my grandfather was very sick, I remember going from the countryside where my parents lived to a small town to be with my grandfather. … I learned how to accept that someone dies, leaves this world to be part of God's presence. It was not sad for me, it was more like a reassurance of life."
Maldonado spent many years in seminary before deciding against becoming a priest. He also spent nearly two years as a missionary in Fiji.
"I learned how to be more in conversation with people about their own faith instead of their religion," Maldonado said. "Religion is almost an institution, but faith is your own personal beliefs."
Maldonado carried that lesson with him when he began training as a hospital chaplain in 2004. Another lesson: suffering isn't just physical.
"I try to go deep on that and find out (patients') own history of suffering, how they've been managing with that. There's a great amount of spiritual strength in everyone," Maldonado said. "I remember this lady who was close to her 80s … she said, 'I need to go home to take care of my mom!' Her mom was 103 years old. I thought, a lady like her … should be taken care (of), but she is taking care. She's still a caregiver!"
As a native Spanish speaker, Maldonado is able to provide comfort to patients and families who sometimes find it more difficult to connect with the hospital staff. "It's always appreciated when we can communicate (with) each other in our own language," he said.
In his early years as a chaplain, Maldonado says he was sometimes unsure whether he was finding the right words, especially in English. But he learned that sometimes his presence is more important than what he says.
"For some people, it's just to show them (someone) is there – it's not a doctor, it's not a nurse, but is going to be by their side – they smile and they appreciate that," Maldonado said.
Being by a patient's side to hold their hand, or gathering with a family to pray or to talk, was all upended last spring because of COVID-19.
"We encourage them spiritually and emotionally through the phone," Maldonado said. "Nurses use also the iPad. They can go inside and do FaceTime phone calls."
One other way Gottlieb Hospital provides comfort to patients: a program to give out plush, handmade blankets that patients and their families get to keep. Maldonado says he thinks of each knot on the blanket as a prayer.
While the work of a chaplain is adaptable, the work environment has been tough. "A lot of anxiety (and) sad times, very sad," Maldonado said. "Even some staff members express their anger, not being able to help the patients to recover. … I'm 52 years old, but I've never seen anything with this high of stress."
Earlier this year, Maldonado tested positive for the virus that he and his colleagues had been battling for months.
"I was a little bit scared at first … 'What is going to happen?' was in my mind," Maldonado said. "It was a struggle, but I think at the end I became stronger in knowing that I share that (experience) with patients who have gone through the same process, and staff as well."
Maldonado credits his wife and his colleagues for helping him get through the illness. He's also been careful to take care of his mental health so he can continue the work that means so much to him.
One patient stands out in Maldonado's mind: a man in his 40s who came in last summer. He expected to get well. He didn't, and he left behind a wife and a baby.
"His wife said that her baby was the most beautiful gift ever given to her by her husband," Maldonado said. "That story stayed with me. It is a lot about hope, resiliency, and (seeing) life continues. Even though there was a traumatic end here, the baby is life, and new life for her."
Despite the toll of illness and death over the past year, Maldonado still finds hope, like from his father in southern Chile, a former vaccine skeptic who said he recently got his first dose for the good of his community.
"People like him … really do care for others, and that's what we need these days: to take care of ourselves, take care of the loved ones we live with, and the whole community," he said.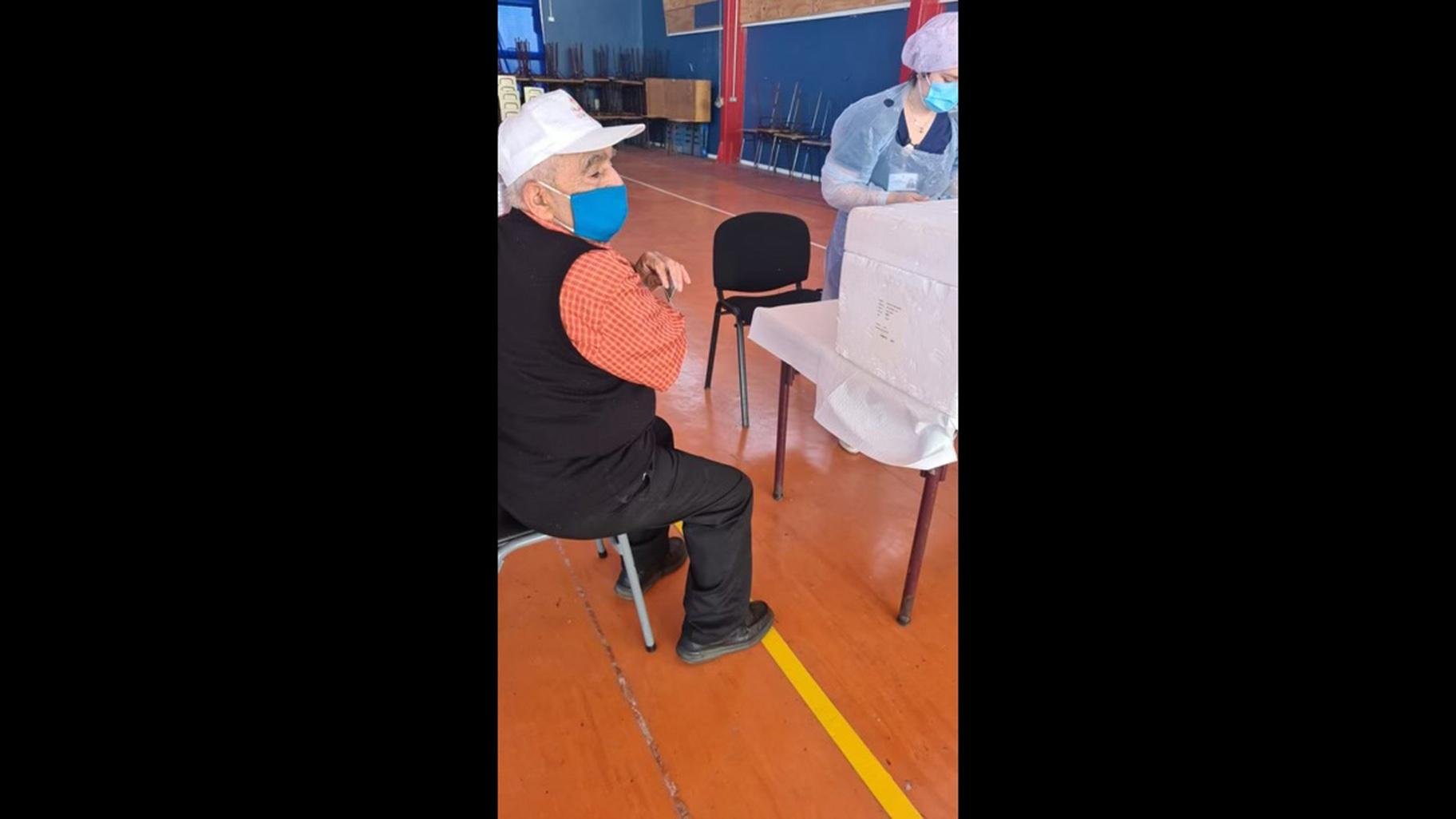 Jorge Maldonado's father. (Courtesy of Jorge Maldonado)