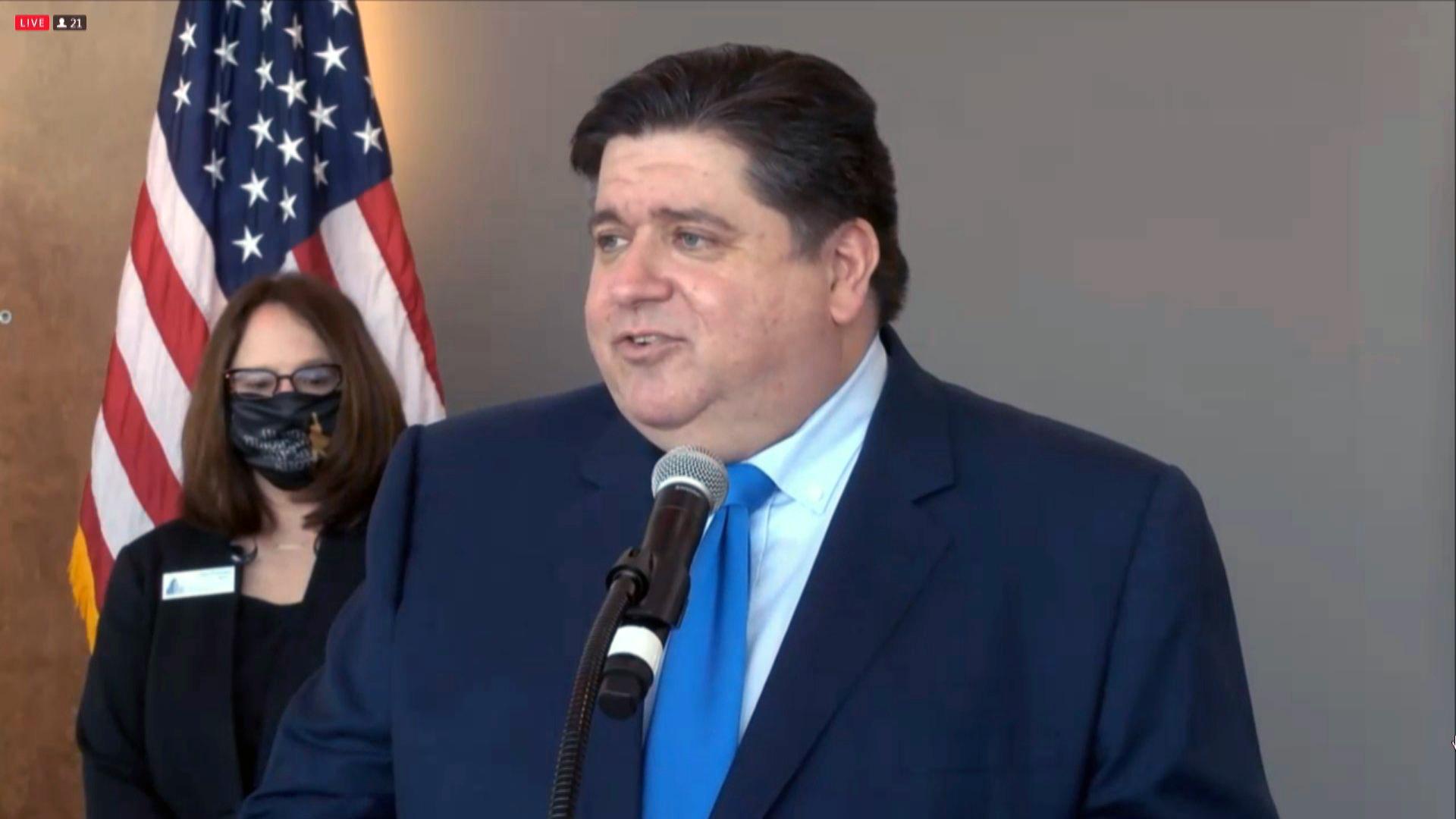 Gov. J.B. Pritzker speaks at a news conference in Champaign on Wednesday, Feb. 3, 2021. (WTTW News)
Illinois legislators are eligible to get the coronavirus vaccine as part of phase 1B, Gov. J.B. Pritzker announced Wednesday.
"Many legislators asked if they could be vaccinated because there is so much work that needs to be done," Pritzker said during a news conference in Champaign. "When they went to Springfield a few weeks ago for the lame duck session, there were a number of members who contracted COVID-19 — or their staff."
Illinois House Speaker Emanuel "Chris" Welch praised the announcement.
"I commend the Governor's decision to allow state legislators to get the COVID-19 vaccine in the 1-B class," Welch said in a tweet. "The issues and challenges facing the General Assembly are enormous, so this is a welcomed step in the interest of government functionality and safety."
Lawmakers met briefly in January but scrapped their upcoming session days due to concerns about COVID-19. The state Senate plans to meet Feb. 9 in Springfield and have virtual committee hearings, while the House plans to meet Feb. 10 to pass rules governing their procedures.
More than 3.2 million Illinois residents qualify for vaccination under phase 1B, including teachers, first responders, public transit workers and grocery store workers. Legislators were not initially included in phase 1B of the state's plan, but government workers, including legislators, are considered essential workers, according to the Centers for Disease Control and Prevention. 
"We need the state of Illinois and legislators to function," Pritzker said. "We had seven or so months without any legislation going through. There was no meeting of the General Assembly from May to the lame duck session."
While the governor is eligible to be vaccinated, he's not rushing to roll up his sleeve.
"I'm waiting my turn. I think it's important for many of us to set an example in the state," he said.
On Wednesday, state health officials announced 3,314 new confirmed and probable cases of COVID-19 and 69 additional deaths. Since the start of the pandemic last year, there have been 1,134,231 cases and 19,375 deaths in Illinois.
The seven-day statewide positivity rate for cases as a percentage of total tests is 3.5%, according to IDPH — a week ago, it was 4.5%.
Test positivity across the state — the number of positive tests as a percentage of total tests — is 4.5%. That rate is higher in suburban Cook County (5.7%) and Chicago (5.5%), IDPH regional data shows.
As of Tuesday night, 2,469 people were hospitalized with COVID-19, and of those, 520 patients were in intensive care units and 270 were on ventilators, according to IDPH.
On Wednesday, DuPage and Kane counties (known as Region 8), and Lake and McHenry counties (known as Region 9) moved into phase 4, according to state health officials.
Contact Kristen Thometz: @kristenthometz | (773) 509-5452 |  [email protected]
---