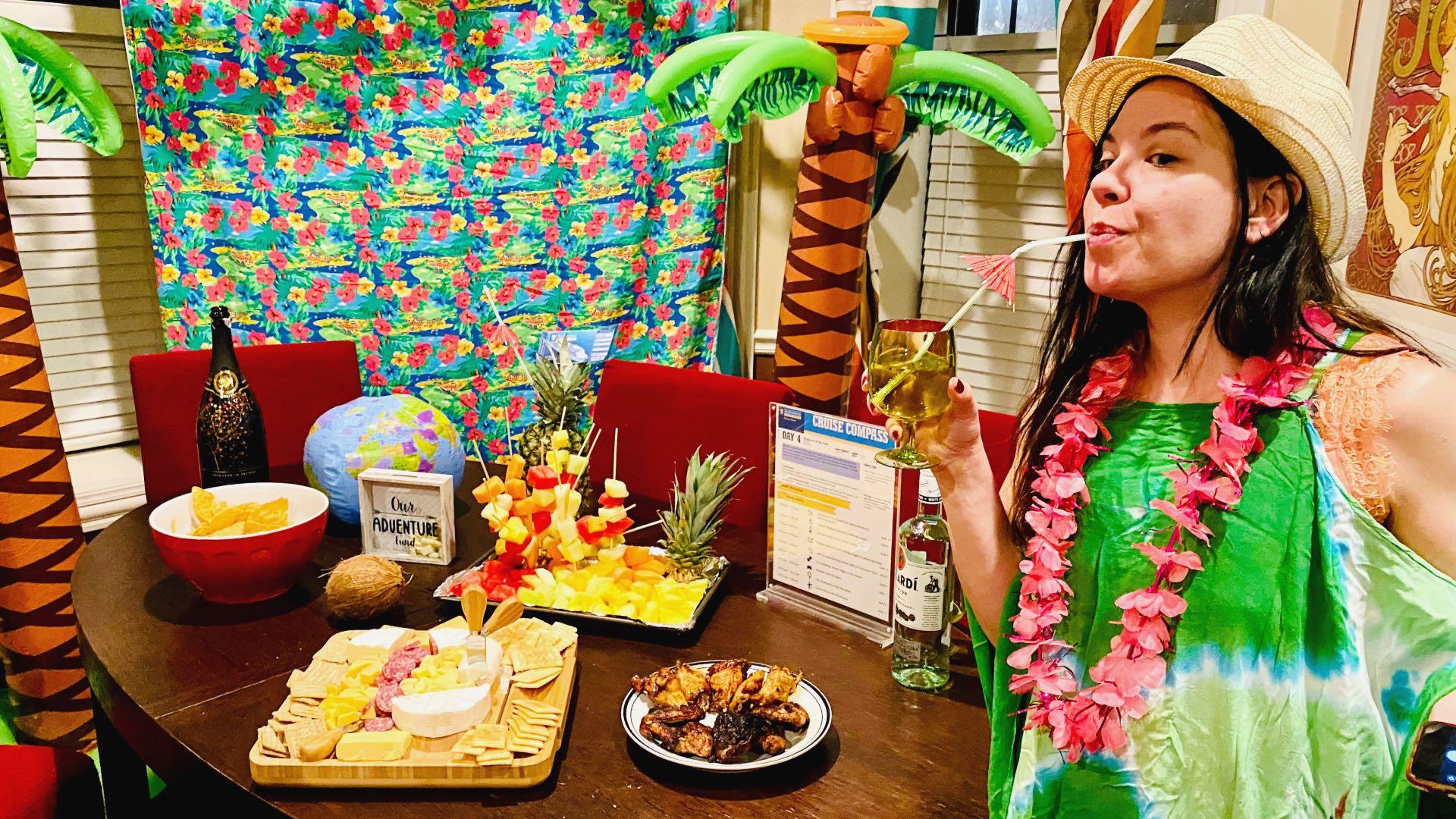 "Cruise night" is just one of the weekly themes Heather Payne and her family have come up with to occupy themselves during pandemic restrictions. (Courtesy of Heather Payne)
Back in March 2020, a lot of people faced their first weekend of coronavirus lockdown with no idea of how they would fill the hours. No carpool, no errands, no movie theaters, no live concerts, no clubs, no restaurant date nights.
"All dressed up with nowhere to go" was the phrase that sprung to mind, recalls Ravenswood resident Heather Payne.
So that's what she, her husband, their two young daughters and the couple upstairs decided to do: They got dressed up on Saturday night and stayed home, all the while pretending to attend a faux gala. They pulled together decorations, food and drinks, and the theme night was such a hit, they decided to do another one. And another. And another.
Nearly a year later, Payne's family and their neighbors (who share a three-flat and have "bubbled" together) are still entertaining themselves with weekly theme night gatherings. They've pulled off almost 30 so far, she said, ranging from "indoor campout" and "Wisconsin supper club" to "New York deli" and "Hamilton."
In a year when so many plans were canceled and nothing could be counted on, theme nights became a constant for the blended household. 
"It's given us something to look forward to every week, something to focus on," said Payne. "Theme nights kept us going."
In addition to the mental health boost the theme nights have provided, they've also solved a dilemma that will sound familiar to many families.
Payne and her husband, Matt Hoy, have been working from home throughout the pandemic — she's in food-service sales, he creates standardized tests — and early on she became concerned about the amount of time everyone in the house was spending on screens.
Pre-pandemic, they were an active group, she said, but suddenly she saw her girls (Sydney, 9, and Kyla, 7) turning into TV zombies.
"The TV was all the kids cared about. I had to get them excited about something that wasn't TV," Payne said.
The theme nights have given everyone a creative outlet, from coming up with ideas for the weekly motifs to getting into character on the appointed evening. Payne said she'll always treasure memories like the sight of her girls dressed up in poodle skirts and roller skates, playing 1950s car-hop diner waitresses. 
"I'll never get this time with my kids again," Payne said of the experience. "I hope they remember everything." 
Themes are drawn blindly from an idea "hopper" and a plan of attack starts to come together at weekly brainstorm sessions, held on Thursdays.
Hoy handles food, the neighbors are in charge of cocktails, and Payne has taken on the role of creative director, devising some fairly elaborate setups. The weirder the concept the better, she said.
A crowd favorite, she said, was "airplane" week. For that theme, Payne lined up "passenger" chairs in rows, printed out "boarding passes," created a "Sky Mall" mockup, dressed up like a flight attendant and improvised a beverage cart to wheel down the "aisle." The neighbors brought their neck pillows for added authenticity and everyone watched episodes of the TV show "Wings."
Everything she uses to create a mood is either repurposed from around the house or sourced through a pair of neighborhood "Freebox" Facebook pages, where people are known to give away everything from furniture to half-eaten cheesecakes. 
"My husband said, 'We're not investing in theme night,'" Payne said. "We are not allowed to buy anything."
That meant she had to go without a roulette wheel to realize her vision for "casino night" and there was no clipboard to complete her ensemble as a cruise director for, you guessed it, "cruise night." But the thrill of scoring a find from Freebox can't be beat, Payne said.
"It really is a great community," she said. "I feel like I know people based on what they claim."
One of her best gets was for the "baseball opening day" theme night, when she put out an "in search of" call on Freebox for the mini plastic ball caps that stadiums use to serve nachos and ice cream. 
"I had four people contact me," Payne said. "People get excited. They start digging around. I had people give me pennants and posters."
More recently, a "country and western" theme turned up slim pickings on Freebox, until someone came through with a deer's head. "That was the piece de resistance," Payne said. 
Yet it was only with the country-and-western request that Payne actually revealed to neighbors what she was doing with all the Freebox items.
"I started getting self-conscious that people would wonder, 'Who is this hoarder?'" Payne said.
She had, until that point, been wary of incurring blowback over her particular choice of quarantine coping mechanism, and she also worried about being shamed for having incorporated people outside her immediate family into her COVID-19 pod. (All have thus far remained free of the virus.) But the response she received when she finally revealed her purpose was overwhelmingly positive, said Payne.
Her hope is to inspire others, not necessarily to start their own theme nights, but to find something that brings them a measure of happiness or fulfillment in the midst of a discombobulating global pandemic.
After watching a "best of theme night" photo montage she put together for New Year's Day, her family agreed that theme nights had been the one good thing to come out of 2020. So they're keeping them going.
After taking a break for the holidays, the gatherings are back in 2021 for the foreseeable future, Payne said. "Wedding reception" night is up next in the rotation, and the hopper is loaded with roughly 30 more ideas, which, given the pace of vaccination rollout, might all be needed.
"If we didn't have this," Payne said of theme nights, "I would have lost my mind a long time ago." 
Contact Patty Wetli: @pattywetli | (773) 509-5623 |  [email protected]