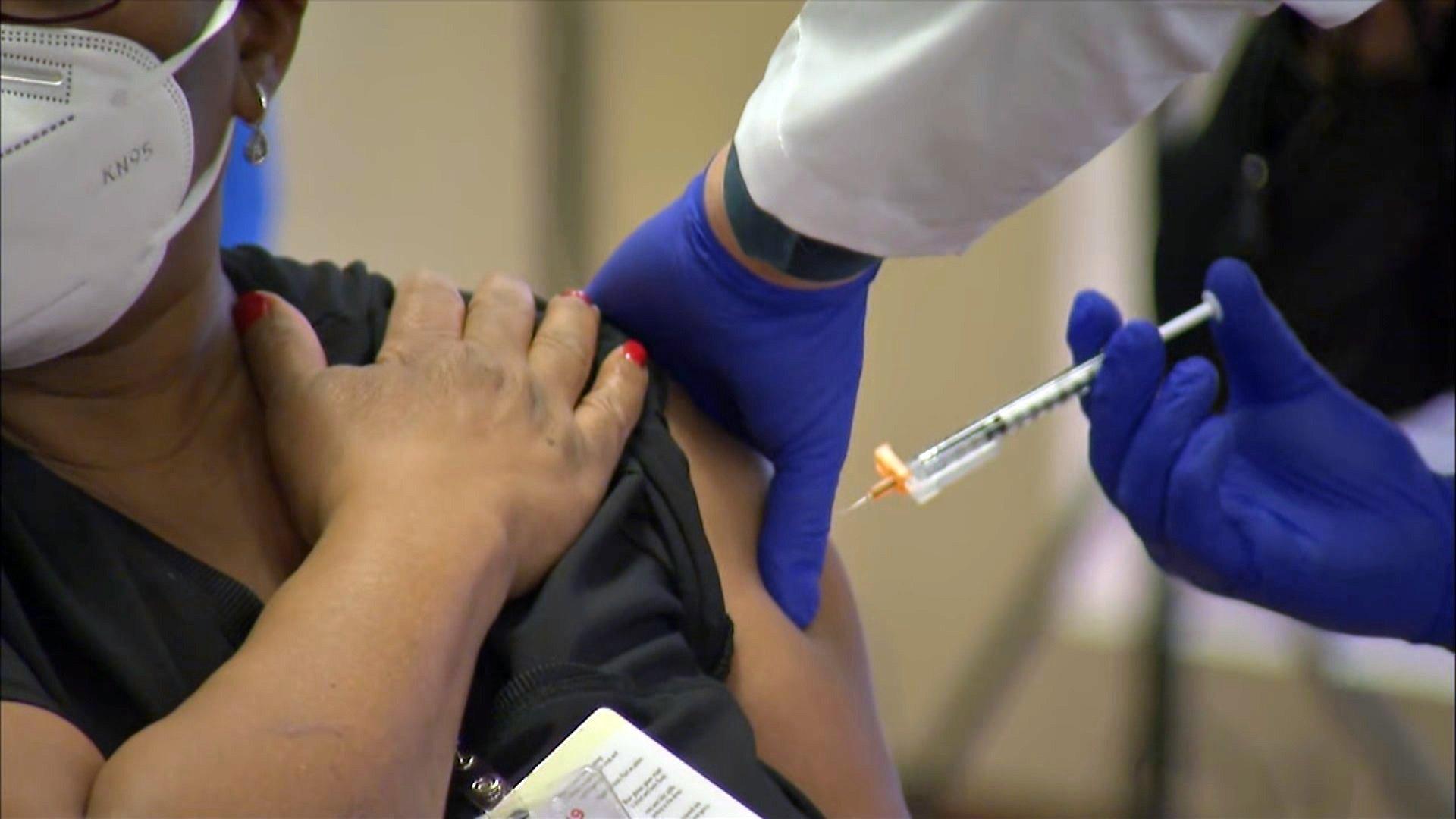 The second doses of the Pfizer vaccine in Chicago were administered at Norwegian American Hospital on Tuesday, Jan. 5, 2021. (WTTW News)
Next week, Illinois will begin the next phase of its coronavirus vaccination effort, extending doses to residents ages 65 and older as well as essential front-line workers.
Suburban Cook County officials on Monday urged residents to get the vaccine once it becomes available to them.
"Every day is a matter of life and death for our residents, especially in our communities of color which have been disproportionately impacted by the pandemic," said Cook County Board President Toni Preckwinkle.
Speaking at a vaccination event on Martin Luther King Jr. Day, Preckwinkle said it's important to honor King's life and legacy and to reflect on issues of justice and equity in the country. Cook County is "committed to respond to the pandemic each day through an equitable lens," she said, adding that officials will work to build trust with residents and address their concerns about getting the vaccine.
"The Pfizer and Moderna vaccines have been proven to be safe and effective, and our best chances to return to some sense of normalcy. … I urge you to get the vaccine," Preckwinkle said. "I know I'll be doing so when my turn comes, which I think is next week."
According to the Illinois Department of Public Health, 90,919 vaccine doses have been administered in suburban Cook County. Of the county's nearly 2.5 million residents, 21,702 have been fully vaccinated, according to IDPH data.
"This is the biggest single project we have undertaken in our lifetime in Cook County and represents an opportunity to earn the trust of every resident," said Dr. Rachel Rubin, co-lead of the Cook County Department of Public Health. "We hold the dreams of Dr. King close not just today, but as we move through the process of equitable distribution of over 2 million vaccines."
With more people eligible to receive the vaccine in the state's next phase of the rollout, the county plans to open a few large-capacity vaccination sites and has expanded its community-based network of vaccination sites to 78, according to Rubin.
In suburban Cook County, more than 370,000 residents ages 65 and over will be eligible for the vaccine in the next phase of the rollout, according to Rubin. Some of them may have already been vaccinated if they reside in long-term care facilities, she noted.
"What's important is to be a little bit patient. We are rolling out several mass vaccination sites where we can do a lot of people in a single day and working with partners" that can do vaccinations, she said. "But of course, we are also limited by the amount of vaccine that we're getting, and we, on a day-to-day basis, don't know how much vaccine to expect and we get deliveries about once a week."
This week, Cook County will be ramping up an online registration system, according to Rubin. "It's not necessarily to sign up for an appointment yet, but it's to get information pushed out to you about when you are eligible and vaccination slots are available."
In addition to the website, officials will be setting up a phone number for people to call for vaccination information and eventually to sign up for appointments.
The Illinois Department of Public Health reported 3,385 new confirmed and probable cases of COVID-19 on Monday and 50 additional deaths. Since the first infection was reported in Illinois nearly a year ago, there have been 1,072,214 cases and 18,258 deaths across the state.
As of Sunday night, 3,345 people were hospitalized with COVID-19, and of those, 705 patients were in the ICU and 392 patients were on ventilators, according to state health officials.
The preliminary seven-day statewide positivity for cases is 5.9%, — down from 7.6% a week ago, according to IDPH data.
The preliminary seven-day statewide test positivity is 7%, according to state health officials. That number is higher in both suburban Cook County and Chicago, which both have a test positivity rate of 8.6%, according to IDPH regional data.
Contact Kristen Thometz: @kristenthometz | (773) 509-5452 |  [email protected]
---