Illinois State Rep. Michael Madigan has held the additional title of House speaker for all but two years (during a blip of Republican reign) since 1983.
The appellation is no longer apt.
On the 50th anniversary of his becoming a state representative, Madigan lost the gavel to Rep. Emanuel "Chris" Welch – making the representative from suburban Hillside the first Black House speaker in state history.
His elevation comes after last-minute machinations. He came up five votes shy of the required 60 during a private, Democratic caucus vote on Wednesday morning.
But Welch and the other contender for the job, Rep. Jay Hoffman, D-Swansea, worked out a deal such that legislators, including Rep. Mike Zalewski, D-Chicago, predicted that Welch could receive unanimous support from Democrats.
"We'll stand united as we go into probably one of the most complex election cycles in the history of the state," Zalewski said. "(Welch) relied on his interpersonal relationships to make the case that he's ready to lead, and it was a persuasive case."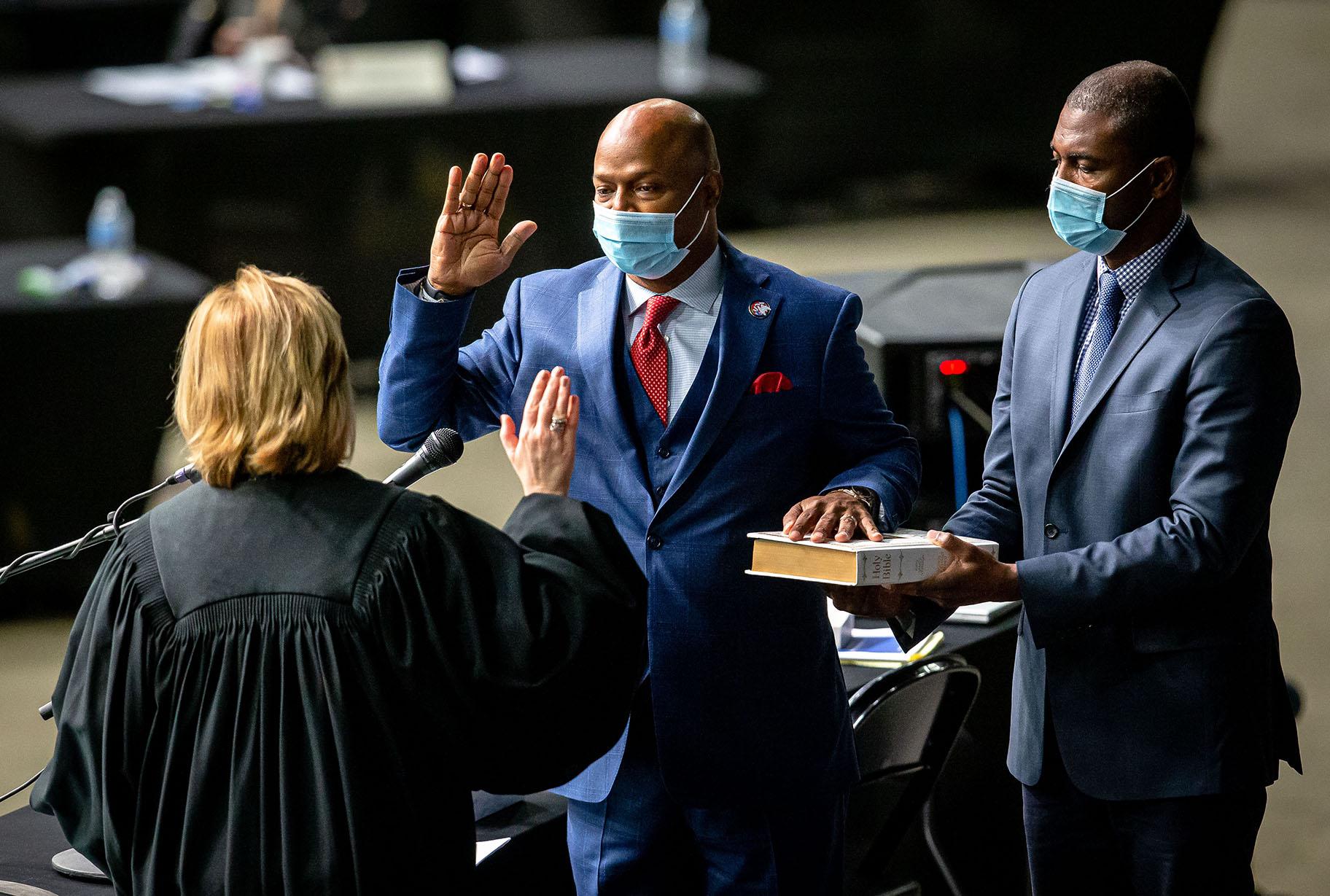 Illinois State Rep. Emanuel "Chris" Welch, D-Hillside, takes the Oath of Office to become the Illinois Speaker of the House for the 102nd General Assembly for the Illinois House of Representatives at the Bank of Springfield Center, Wednesday, Jan. 13, 2021, in Springfield, Ill. (Justin L. Fowler / The State Journal-Register / Pool)
Welch, an attorney who is a partner at Ancel, Glink, Diamond, Bush, DiCianni & Krafthefer PC, has been a state legislator since 2013 and chairs the influential House executive committee.
He emerged as the top contender for the speaker's position late Monday night, when his fellow Black legislators lifted their endorsement of Madigan and put their weight of 22 behind Welch.
Welch spent the following hours building a coalition to secure the 60 votes that no other representative could get (Madigan included), even as late-breaking news of problems with women in his past stirred up questions about progressive women abandoning principles of the #MeToo movement.
A group of women's organizations, including Illinois Democratic Women, Illinois NOW, Chicago NOW, She Votes Illinois, Resistor Sisterhood and Vote Mama, released a statement that did not directly reference those troubles, and instead focused on the planned inclusion of women being on the next House speaker's leadership team.
"While we had hoped that the House Democrats would support a woman for the Speaker of the House of Representatives, we recognize it is their choice to select someone who has the respect and trust of their caucus," the statement reads. "We look forward to working with a leader who is a champion for the issues that are most important to us."
It would previously have been unfathomable to imagine Madigan, who built the speaker's job into the potent position it is now, losing his grip on power in the statehouse.
But frustrations with the levers he has used to maintain that power reached a climax over the summer, when he was repeatedly cited as "Public Official A" in court documents in which electric utility Commonwealth Edison admitted to a long-term bribery scheme targeted at Madigan.
Madigan has repeatedly issued statements denying any involvement in the scheme or any wrongdoing.
But within the ensuing months, a block of 19 Democratic legislators publicly avowed they would not support him as speaker in 2021.
Welch was not among them. He's been described as a Madigan loyalist, particularly by Republicans frustrated that he used his role last year as chairman of a special investigative committee probing Madigan's conduct to squelch the GOP's bid to subpoena Madigan.
Welch comes in with his own baggage; according to a report from the Chicago Tribune, an ex-girlfriend told police in 2002 that Welch slammed her head into a counter; she did not press charges. The paper also reports that in 2010 Welch, then president of the Proviso Township School Board, was the subject of a lawsuit when another woman said she was fired from her job with the school district after she broke up with Welch.
"Records show settlement talks had started in the wrongful termination case when a motion was filed to dismiss the matter," the Tribune reported Tuesday night.
A spokesperson for Welch responded to the report with a statement which ignored the Proviso Township issue but referenced the 2002 incident as a "verbal argument" that took place "nearly two decades ago."
"I will be honest that I have reconciled with the individual since that night. In fact, after our dispute we sought out the authorities ourselves. Their family lives in my district and are proud supporters of my public service and work. However, I must convey my dismay over the lack of decency displayed by the GOP politicians and their urge to use this report against me. At no other occasion have these events been brought up and I firmly believe my Republican colleagues are threatened by the potential growth of my profile," reads the statement, which was forwarded to WTTW News. "I understand that the circumstances around this incident are troubling and I will, to the best of my ability, answer questions while respecting the other individual's privacy."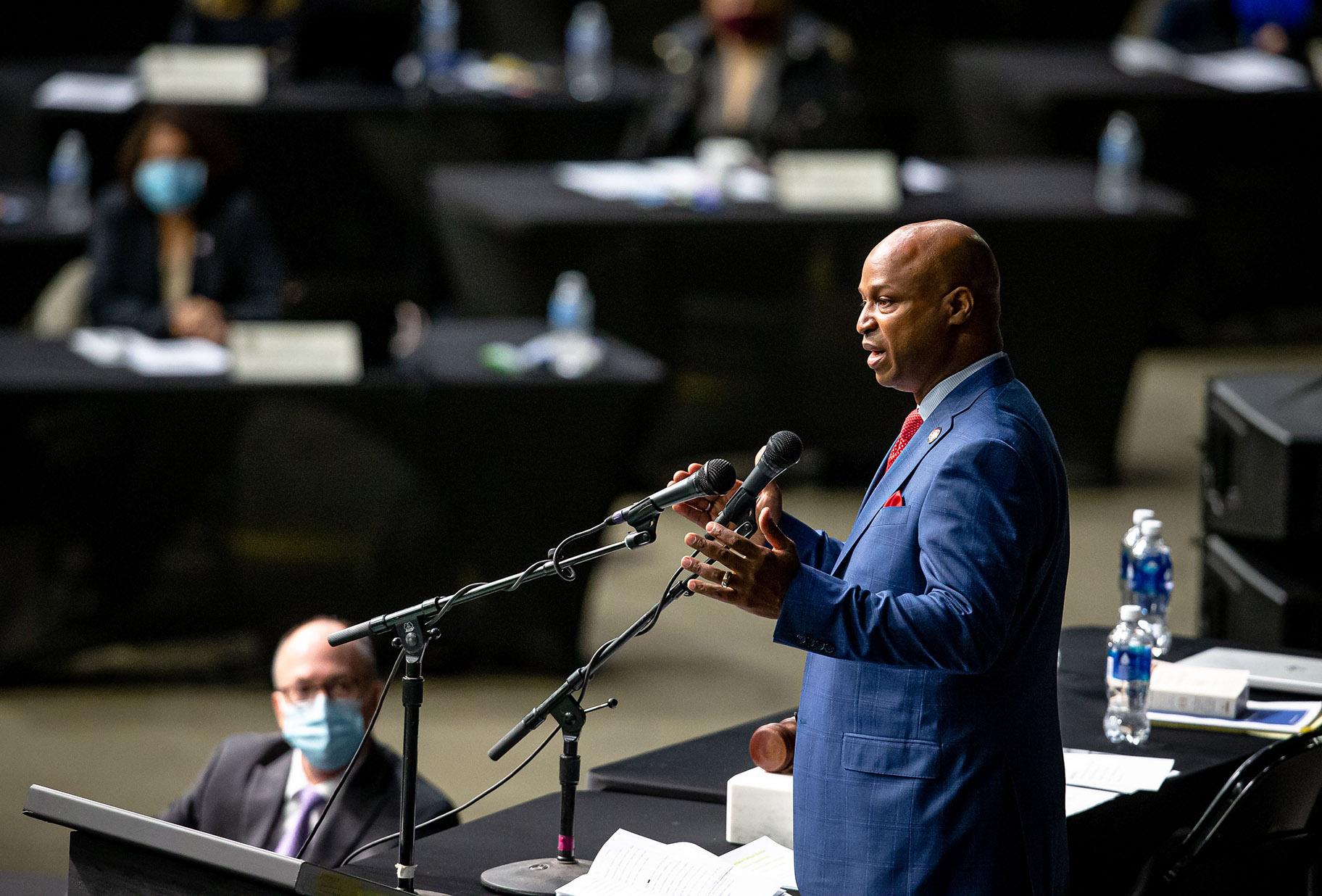 Illinois Speaker of the House Emanuel "Chris" Welch, D-Hillside, delivers his remarks after taking the Oath of Office for the 102nd General Assembly for the Illinois House of Representatives at the Bank of Springfield Center, Wednesday, Jan. 13, 2021, in Springfield, Ill. (Justin L. Fowler / The State Journal-Register / Pool)
Female legislators on Tuesday night talked with Welch about the incidents and enough apparently came away assured; some say that Welch has been a steadfast advocate for women's issues. 
Three women who were among the 19 legislators who had openly defected from Madigan had tried to win the speaker's role.
State Rep. Stephanie Kifowit, a Marine Corps veteran, declared her candidacy in October.
"Being named 'Public Official A' on FBI documents really compromises the integrity of the Office of the Speaker of the House and undermines the public trust," Kifowit told WTTW News at the time. "I just don't believe that the standard of leadership should be what's confined with the laws."
Last week, Rep. Kathleen Willis of Addison and northwest side Rep. Ann Williams also entered the race.
In closed-door test votes, Williams temporarily emerged as the top candidate – enough that Willis backed out and threw her support to Williams, who promised a more collaborative House.
But Williams, a progressive, wasn't ever able to reach the support from a requisite 60 members.
"I am proud of what we accomplished and the steps we took to begin a new chapter in the Illinois House. We made history," Williams said in a statement Tuesday night to announce she was dropping out. "I am confident we will reach a decision together and get to work for the people of Illinois. I will continue to push for strong and independent women to lead – not just in the Illinois House, but at all levels of government."
Like Welch, Hoffman entered the fray after Madigan's announcement Monday that he was suspending (but not withdrawing from) his campaign for speaker.
Video: Amanda Vinicky discusses the day's events with Illinois Senate Republican Leader Dan McConchie.
Madigan remains chair of the Democratic Party of Illinois, a role he's coupled with his supervision of the decennial redistricting process to help propel Democrats to a supermajority status in the Illinois House. Democrats also control the state Senate, Supreme Court and all constitutional offices.
During his historic tenure, Madigan played a role in Illinois' abolition of the death penalty and the legalization of same-sex marriage. He found compromise with the nine governors he's served with, though he fiercely battled former Gov. Rod Blagojevich and is credited with fending off Republican Gov. Bruce Rauner's attempts to diminish unions – labor unions have repaid him with loyalty and campaign contributions, even after the ComEd scandal surfaced.
Madigan hasn't spoke to the media for months, and offered no public comment since his brief statement on Monday announcing the suspension of his campaign.
Welch would be the first Black Illinois House speaker. Two Black men have served as leader of the state Senate: Cecil Partee became Senate president 1975, followed by Emil Jones Jr. in 2003.
Follow Amanda Vinicky on Twitter: @AmandaVinicky
---