With longtime Illinois House Speaker Michael Madigan pausing his campaign for another term as speaker, Democratic members of the Illinois House are scrambling as the other contenders for the job attempt to secure the necessary votes ahead of a Wednesday afternoon vote.
Rep. Emanuel "Chris" Welch, of Hillside, who is Black, has emerged as a formidable competitor, winning support from the Illinois Legislative Black Caucus late Monday night.
He joins Northwest Side state Rep. Ann Williams and Rep. Stephanie Kifowit, of Oswego, both of whom are among a group of 19 Democrats who propelled Madigan's troubles when they publicly avowed they would not support him again.
Rep. Jay Hoffman, who has long represented the Metro East region of the state and has strong ties to traditional Democratic constituencies like labor and trial lawyers, is also in the mix.
Black legislators had last month endorsed Madigan but pivoted to Welch following the South Side Irishman's surprise statement Monday that he was "suspending" his campaign for a 19th term as speaker but not withdrawing from the race.
Illinois State Rep. Emanuel "Chris" Welch, D-Hillside, left, talks with Illinois State Rep. Deb Conroy, D-Elmhurst, right, during the lame-duck session for the Illinois House of Representatives held at the Bank of Springfield Center, Tuesday, January 12, 2021, in Springfield. (Justin L. Fowler / The State Journal-Register / Pool)
"We want to thank Speaker Madigan for his dedication to public service and leadership. We believe that in order to unite our state and party, we need to nominate a leader who will bridge the divide and seek solutions for our urgent issues. Rep. Chris Welch has worked his entire life to advocate for his district and for communities across the state. We are confident he will succeed in leading our party and prioritizing our communities," reads a statement from the Illinois Legislative Black Caucus, as tweeted by Rep. Kam Buckner, D-Chicago.
Welch said he is honored to have his Black Caucus colleagues put his name in for consideration.
"This historic moment in Illinois and across the country calls for new representation and unity of democratic beliefs," Welch said in a statement. "I want to thank Speaker Madigan for his leadership — it has been a challenging year for us all but I am grateful for his commitment to serving the public."
The Black Caucus' ranks elevate Welch in the race for the powerful job of Illinois House speaker, and comes as the Caucus is united in pushing for reform following the killing of George Floyd and focus on repairing racial inequities.
But it's not a lock.
Welch led a special investigative panel formed to probe whether Madigan's role as the subject of a bribery scheme by Commonwealth Edison made Madigan unfit to hold public office. Under Welch's leadership, Democrats on the panel protected Madigan from having to testify.
Critics say it's an indication that Welch would be a Madigan puppet.
"Madigan 2.0," tweeted Alaina Hampton, a political strategist who used to work for Madigan's political army but later sued Madigan's political committees, alleging retaliation after she came forward with sexual harassment allegations against a Madigan aide.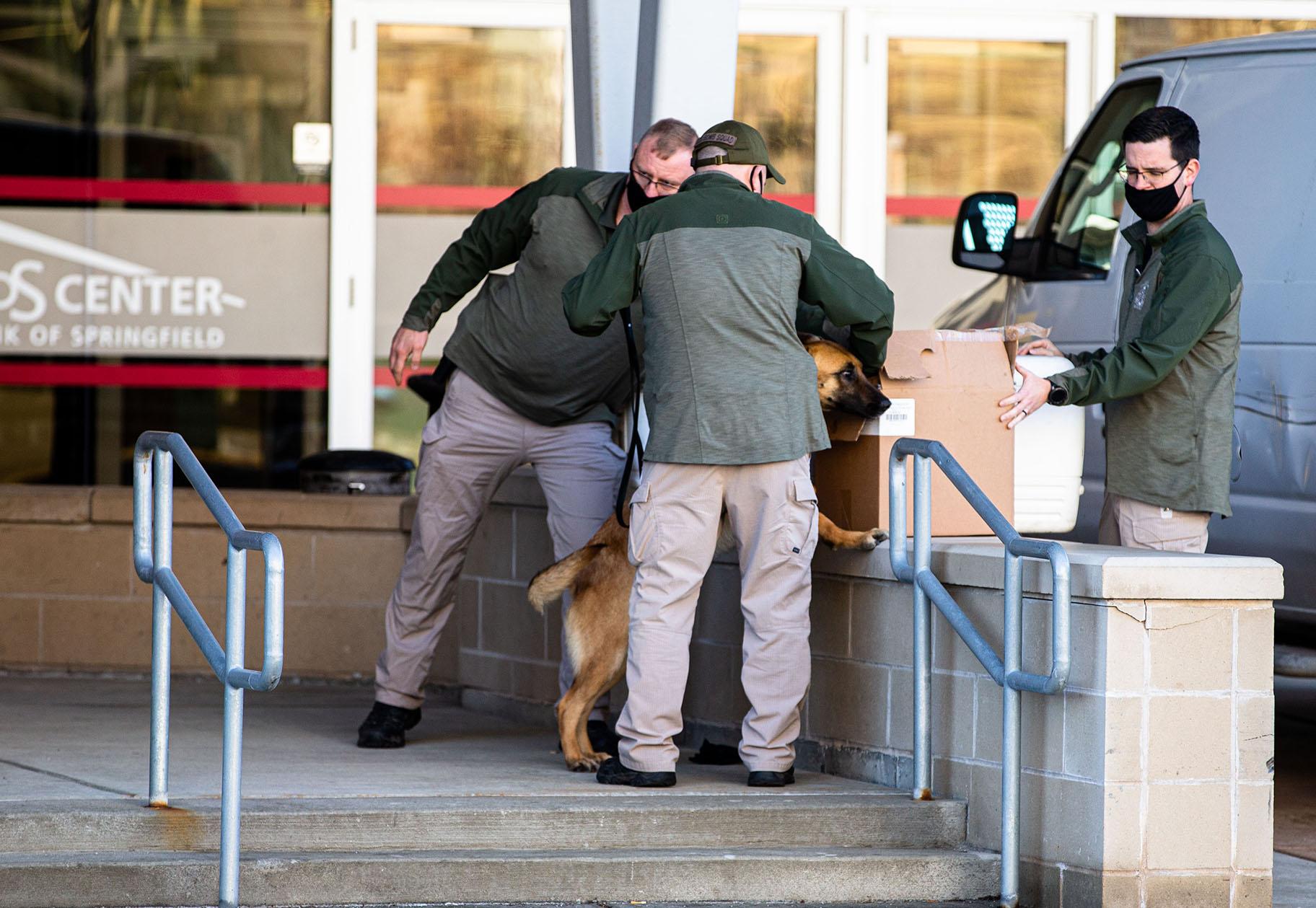 The Illinois State Police use a dog to check containers being delivered to the Bank of Springfield Center during the lame-duck session for the Illinois House of Representatives, Tuesday, January 12, 2021, in Springfield. (Justin L. Fowler / The State Journal-Register / Pool)
One moderate Democratic legislator from the suburbs said he's backing Welch with the belief that Welch will be able to unite the caucus and that he can assemble a campaign apparatus worthy of the strong one Madigan built; the lawmaker said he doubts Williams could do so given that her progressive, reliably Democratic district.
Women hold the majority of seats within the House Democratic caucus, and groups including Indivisible Illinois, Chicago Now, Women's March Chicago and She Votes Illinois are advocating that the state make history by choosing a woman to win the speaker's gavel.
"While we appreciate the leadership the current Speaker has provided, we believe it is time for a change, and choosing a strong female leader is the change that is needed," the groups said in a statement. "We've also watched with some concern arguments that are being made that Speaker Madigan is the only one running who can hold the caucus together, pass important legislation, and help re‐elect his members. This suggests that the female candidates that have announced do not share these same qualities. We do not believe that to be true. Further, we find that sexist school of thought to be one that has permeated the legislature in Springfield for decades. Changing that culture is another reason why it is important that a woman should be chosen to lead."
Follow Amanda Vinicky on Twitter: @AmandaVinicky
---