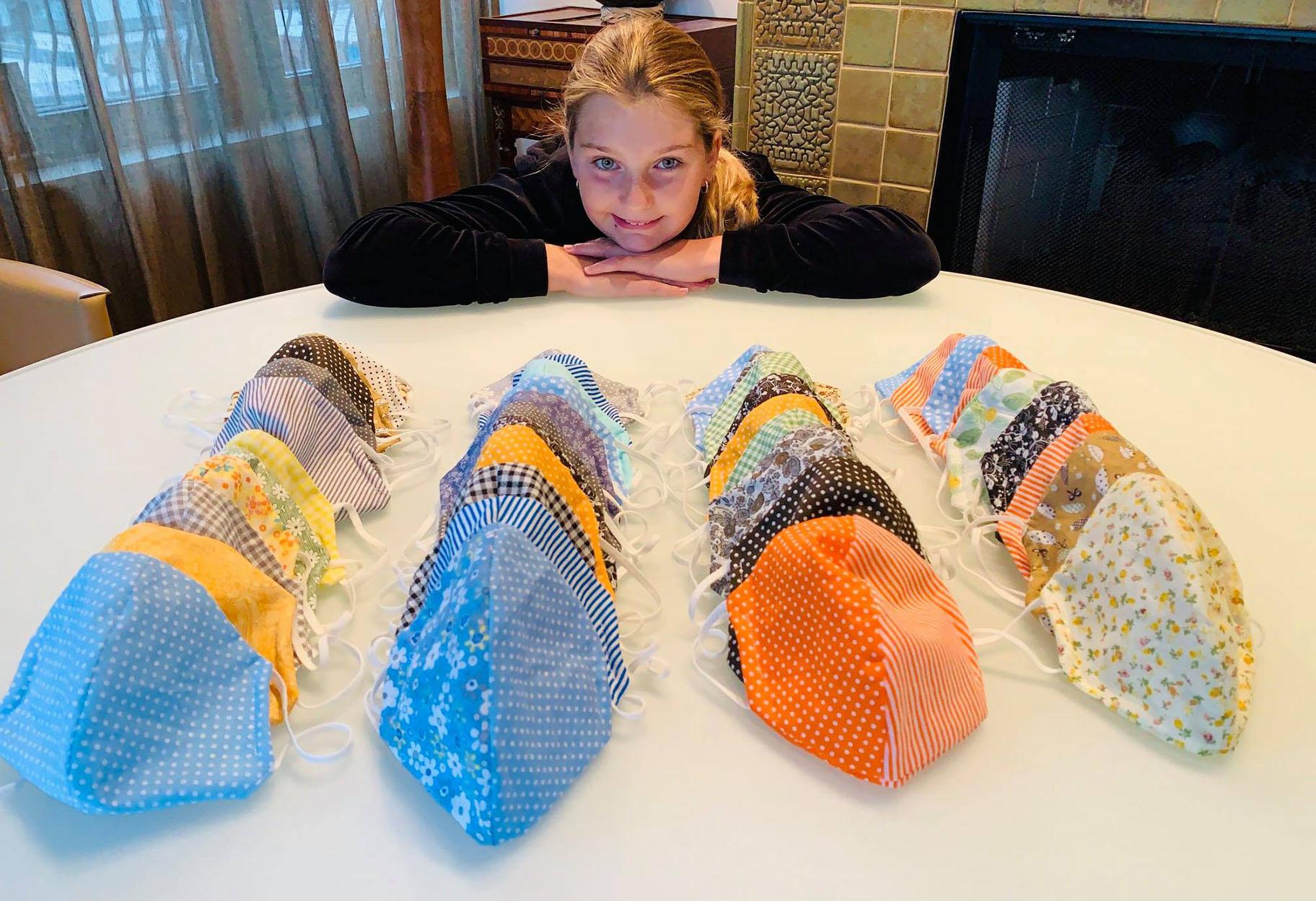 Alexia Brockmann, 12, has made hundreds of masks during the pandemic. (Photo: Kerry Fitzpatrick)
Every year around the holidays, the Milton family of suburban Hinsdale makes a trip to downtown Chicago, not to shop or take in the holiday lights, but to deliver care packages to people experiencing homelessness. 
But this year, as the coronavirus pandemic has devastated people's livelihoods and caused hundreds of layoffs, evictions and job shortages, the family wanted to expand its efforts.
On Saturday, the Miltons joined 20 other people — friends, children and family members among them — to distribute 120 care packages to people experiencing homelessness in Pilsen, Little Village, the South Loop and downtown as part of a wider initiative from new nonprofit The heARTS Project, which was founded by Monita Eng-Milton and Kerry Fitzpatrick.
The project aims to bring art and care packages to underserved communities and has completed a few give-back initiatives around the South and West sides since its inception in November.
Saturday's giveaway was by far the group's biggest endeavor, bringing together donations of food, essential hygiene items and handmade masks made by Fitzpatrick's daughter, all packed into reflective drawstring backpacks.
The heARTS Project, which aims to bring art and care packages to underserved communities, delivered 120 care packages to those living on the streets Saturday, Dec. 19, 2020. (Photo: Monita Eng-Milton)
"There's a lot of people that need help," Eng-Milton said. "I think it's an eye-opener for the kids and hopefully they feel good about giving back and being part of [the giveaway]."
Each care package contains fruit, snacks, granola bars, as well as a toothbrush, soap, water, warm socks, blankets, band-aids and more. To spread some holiday cheer, each package also contains a handmade holiday card with an inspirational message, Eng-Milton said. 
In her eight years of helping those living on the street, the mother of two said this year the assistance is extra important. She says delivering the bags offers something special to her and her family, too: the personal interaction that you can't get when donating through a shelter.
"I like the fact that we are walking through the city and seeing the people in need," she said. "These are people that usually don't go to these shelters anyway."
Eng-Milton is aware that handouts aren't always appreciated, so she takes care to be positive and sensitive to people's self-esteem and dignity. That means being discreet, honoring boundaries and not judging people who decline the help.
In some cases, people simply don't need the care packages, she said, and ask volunteers to give them to others.
The Fitzpatrick family, who lives in River North, has helped people experiencing homelessness during the pandemic by handing out meals, snacks and even buying cat food for pet owners. Kerry Fitzpatrick said this year she has seen an increase in the number of people living on the streets in her neighborhood, which propelled her to partner with Eng-Milton. 
It's also a way of making her children aware of the inequality that can exist right outside their home, she said.
"As a mom of two girls, it's very important to me that my kids develop a service mindset," Fitzpatrick said. "One of the motivations in starting a nonprofit was to give them an opportunity to play a key role and make a significant contribution to various service projects."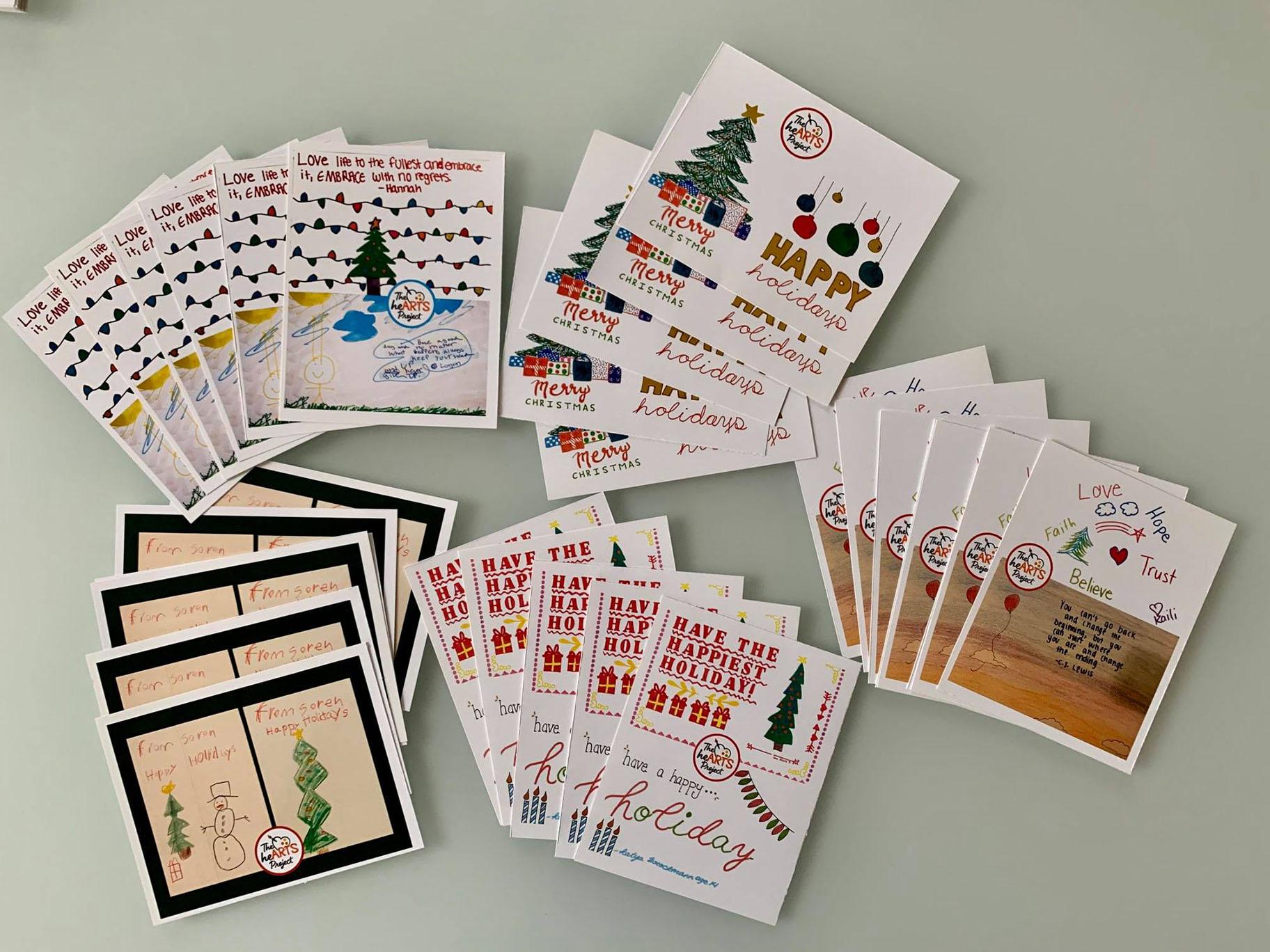 Children made dozens of holiday cards for the care packages. (Photo: Monita Eng-Milton)
Fitzpatrick said she wants to keep The heARTS Project going in 2021 by donating hot meals and winter clothes to those experiencing homelessness. The nonprofit is working on more partnerships with organizations that help families transition from homeless shelters to permanent housing, as well as projects with nursing homes and senior citizens.  
"While [Saturday's] event was great and we got a lot of people together distributing bags, I don't want it to be just a one-time thing," she said. "We are trying to do what we can all throughout the year."
Her 12-year-old daughter Alexia Brockmann has made hundreds of masks during the pandemic, some of which are sold at local businesses and have been donated to social justice organizations. More than 100 were also included in the care packages distributed Saturday.
She said she has enjoyed using her sewing skills while helping out the community.
"I see homelessness here in the city every day and I think it's important that all of us help where we can, even kids," Brockmann said. "I love to sew and I thought that making face masks was the perfect way for me to give back and help those in need."
Ariel Parrella-Aureli is a freelance contributor to WTTW News: @ArielParrella
---