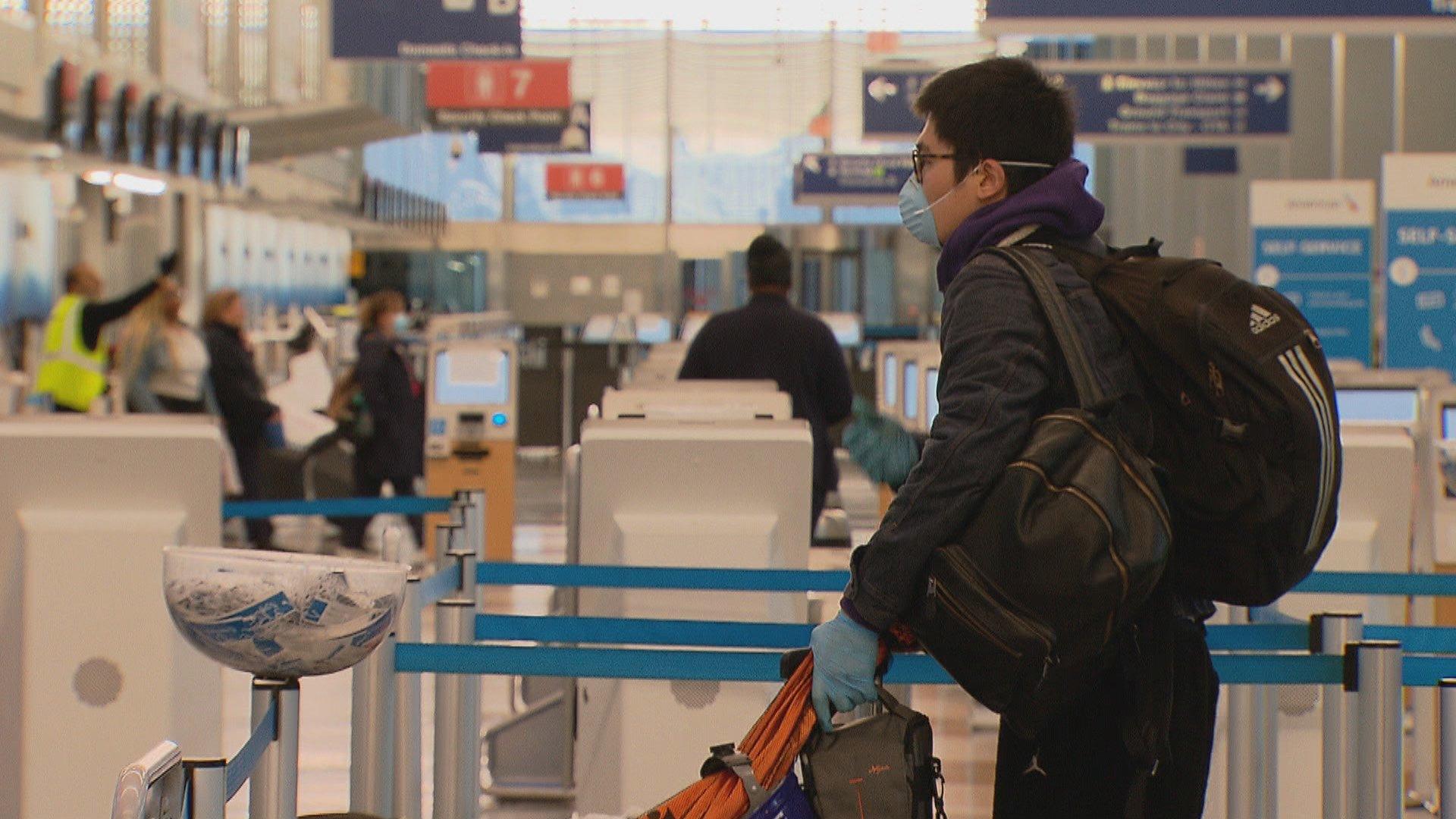 A passenger at O'Hare International Airport on Wednesday, April 29, 2020. (WTTW News)
As health officials brace for a surge in COVID-19 after the Thanksgiving holiday, Illinois health officials reported 7,574 new confirmed and probable cases of the virus across the state, and 66 additional deaths.
The pandemic in Illinois reached another sobering mark on Friday, after health officials reported 12,029 total deaths linked to the pandemic and 705,063 infections. In the past nine days, more than 1,000 people have died after being diagnosed with COVID-19 and more than 100,000 people sickened, according to the Illinois Department of Public Health.
In Cook County, four women in their 90s were among the 26 residents reported dead on Friday.
Under Tier 3 of Illinois' plan to reduce a surge in coronavirus infections, indoor gatherings in people's homes have been limited to members of the same household.
The seven-day statewide positivity rate for cases as a percentage of total tests dropped slightly since Thursday to 10.1%, according to IDPH. However, just 77,130 tests were reported — a significant drop caused by the Thanksgiving holiday.
The preliminary seven-day statewide test positivity is 12.2%. In Chicago, the seven-day test positivity rate is 12.4%, and in suburban Cook County it is 13.3% according to IDPH regional data.
As of Thursday night, 5,829 people in Illinois were reported to be in the hospital with COVID-19, according to IDPH. Of those, 1,215 patients were in intensive care units and 698 patients with COVID-19 were on ventilators, IDPH reports.
Contact Heather Cherone: @HeatherCherone | (773) 569-1863 | [email protected]
---