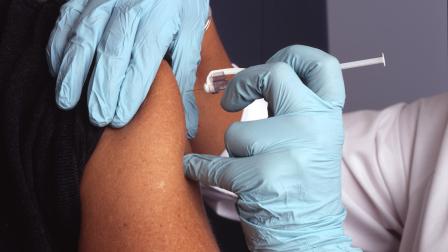 (Photo by National Cancer Institute on Unsplash) Two experimental vaccines appear to be extremely effective, and the pharmaceutical companies are expected to seek emergency use authorization soon.
Once a vaccine is available, the next challenge is distribution.
A group of over 35 organizations is working to make that distribution in Chicago equitable. The coalition, with members from a variety of sectors in the city, make up the Vaccine Corps Partnership.
Three members of the partnership joined "Chicago Tonight" to discuss it.
"The equitable distribution of a vaccine is definitely necessary because there are populations that have consistently been left at the peripheries with various social determinants of health," said Miguel Blancarte Jr., member of the health and policy committee of Illinois Unidos. "They're individuals from communities that have high positivity rates .. .some of these have high positivity rates such as 30%, and we really need to ensure that they are being provided with access to this vaccine because they are susceptible not only to picking up the virus itself but also really to disseminating it to other community members and the rest of the city."
This is why it's critical that community stakeholders help co-design the plan, Blancarte said. The coalition brings together health institutions, public and private partnerships, and community organizations.
"We are bringing community members to the table and the group collectively is building up a workforce that can help educate, disseminate and help the community navigate to the critical vaccines," said Rachel Reichlin, senior program officer and public health nurse at Michael Reese Health Trust.
While the dissemination of the vaccine is up to the city, county and state, the partnership is working closely with health departments to begin mobilizing resources, she said.
The partnerships' work is two-fold: helping to coordinate the distribution of the vaccine, and educating Chicagoans about it, particularly those most affected by the virus. It plans to spread information about the coronavirus and vaccines through leaders already trusted within communities.
"It's also about trickling that information from the community itself up to this task force to really inform how the distribution should look and what are some of the concerns we should alleviate," said Blancarte, who is also the director of community engagement and partnerships at CORE, an organization facilitating COVID-19 testing in communities most affected.
The coalition is building its work from a framework set forth by the National Academies of Sciences, Engineering, and Medicine for an equitable vaccine distribution. Beginning with first responders and health care workers, then people with comorbidities and serious risk of getting sick, said Hugh Musick, associate director of the Population Health Sciences program at the University of Illinois at Chicago. He's also co-director of the Institute for Healthcare Delivery at UIC.
Following them is outreach to teachers and staff, frontline workers and people at moderate risk with comorbidities, he said.
"In particular you see some of the comorbidities among some of these communities that have been hardest hit and that's why we are seeing higher rates of hospitalization and higher mortality," Musick said. "There is this correlation between poverty and higher incidence of hypertension, higher rates of diabetes and other sorts of chronic conditions."
While the timeline is contingent upon when vaccines become available, the time to begin outreach is now, he said.
"The most important thing is to begin to prime communities and I believe we need to move right now," Musick said. "We need to find trusted community partners like Illinois Unidos and other community-based organizations and faith based organizations to start the conversation with community members and understand what their hesitancy is. This should be going on right now with the hope that vaccines will become available sometime in the spring and the summer."
---