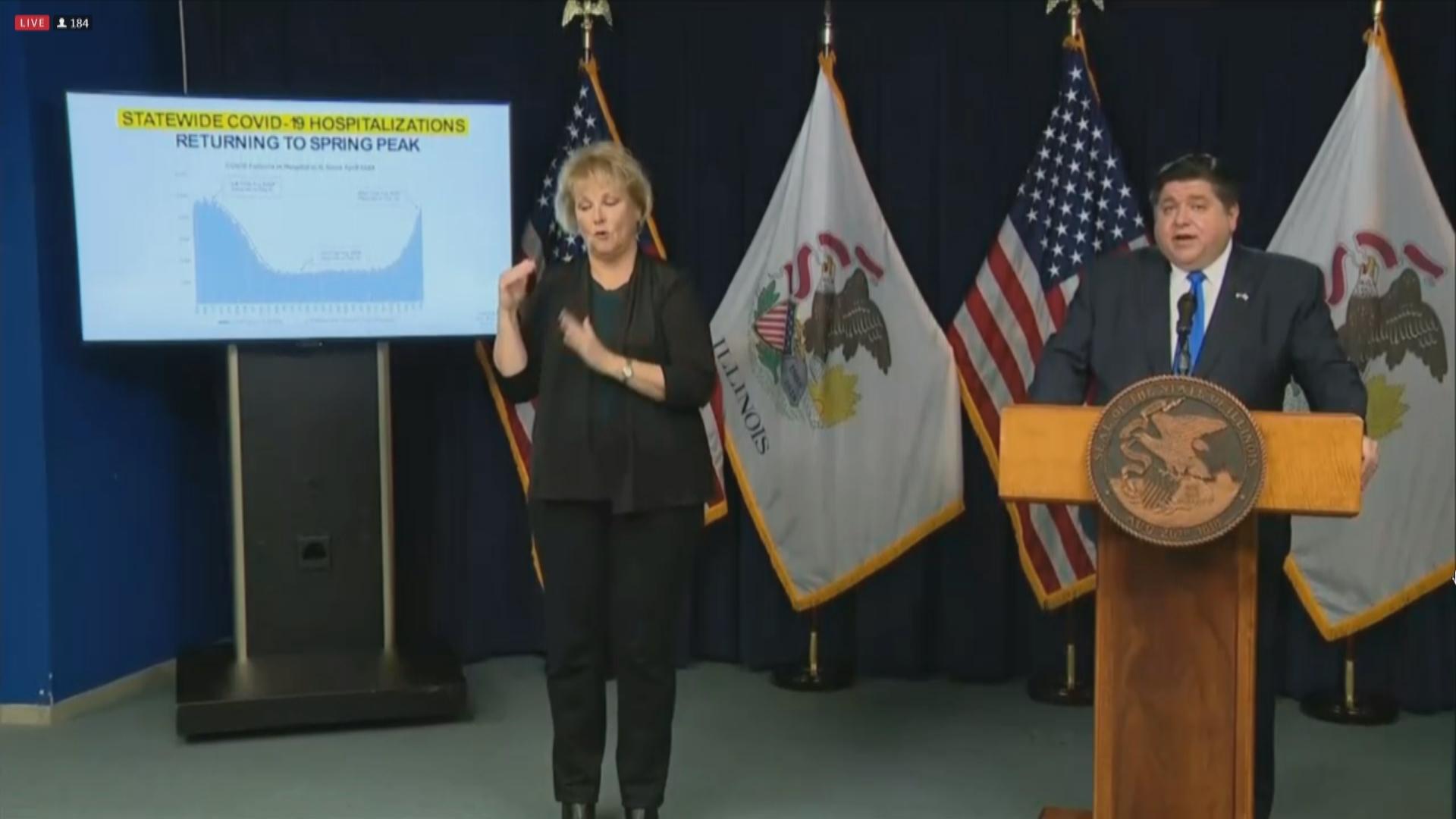 Gov. J.B. Pritzker delivers his daily press briefing on the coronavirus on Tuesday, Nov. 10, 2020. (WTTW News)
As the number of COVID-19 cases rises statewide, so too does the number of people hospitalized with the virus.
"Across the state, the majority of our regions are seeing far higher rates of hospitalizations for COVID-19 than they ever did last spring," Gov. J.B. Pritzker said Tuesday afternoon during his daily briefing on the pandemic. "Outside of Cook and the collar counties, much of Illinois' communities are experiencing the worst surge that they've seen yet."
On May 5, at the height of the first surge of the virus in Illinois, the state reported a seven-day rolling average of 4,822 patients hospitalized with COVID-19. Roughly six months later, that average was 4,207 patients, officials reported Tuesday.
"We're now just hundreds short of our worst COVID hospitalization numbers last spring after adding more than 2,000 to that number and that average since Oct. 1," Pritzker said.
Region 6, which includes Champaign in east-central Illinois, is seeing the largest increase in hospitalizations since its spring peak, with the seven-day rolling average three and a half times higher now than it was in the spring, according to state data.
Of the state's 11 regions, only suburban Cook County and Chicago "remain a far distance behind (their) worst hospital peaks in the spring by about half," Pritzker said Tuesday. "But we're seeing concerning trends in suburban Cook."
As of Monday night, 4,742 people in Illinois were hospitalized with COVID-19, and of those, 911 were in intensive care units and 399 on ventilators, according to the Illinois Department of Public Health.
Pritzker says he's been in touch with hospital leaders and health care workers throughout the state, and there are no immediate plans to reopen COVID-19 field hospitals, including the one set up at McCormick Place in the spring. "If need to do it, we'll do it again," Pritzker said. "But we're not there."
The governor implored residents to wear face masks and avoid gatherings to curb the spread of the virus. "Nine months is a long time, but we can't let our guard down," he said.
State officials on Tuesday reported a record 12,623 new cases of COVID-19 — both confirmed and probable cases — and 79 virus-related deaths in a 24-hour period.
Three residents of the Illinois Veterans' Home LaSalle 20 residents of Cook County were among the deaths reported Tuesday, including a man and a woman in their 40s, and three people — two men and one woman — in their 90s, according to IDPH data.
There have been 511,183 cases and 10,289 deaths statewide since the pandemic hit Illinois, according to health officials.
The preliminary seven-day statewide positivity rate for cases is 12%, according to officials. Test positivity across the state — the number of positive tests as a percentage of total tests — 13.1%. That rate is slightly lower in Cook County (12.9%) and Chicago (12.8%), IDPH regional data shows.
In the past 24 hours, labs processed 101,955 specimens, with more than 8.5 million completed statewide to date, according to IDPH.
Contact Kristen Thometz: @kristenthometz | (773) 509-5452 |  [email protected]
---