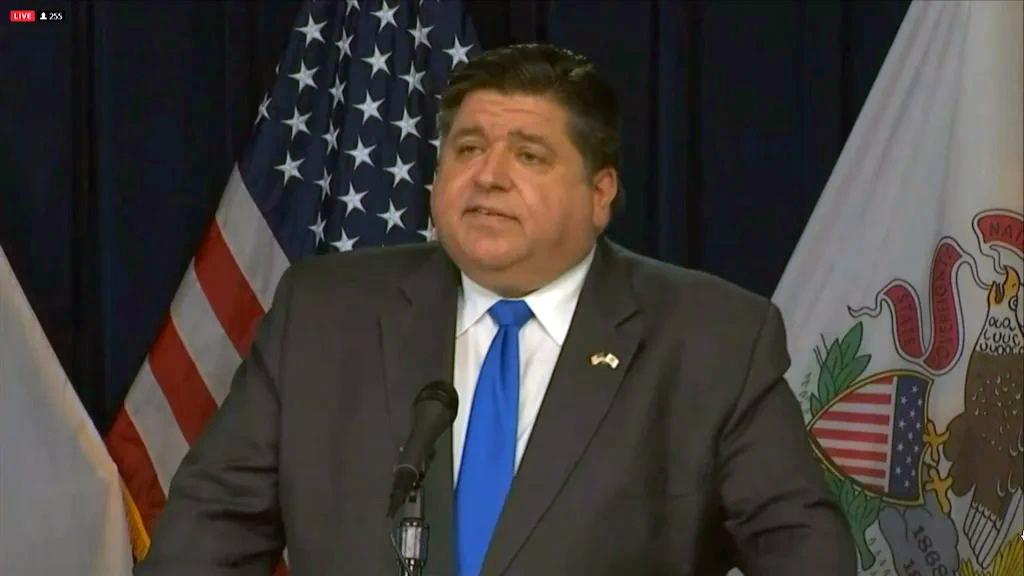 Gov. J.B. Pritzker speaks at his daily COVID-19 briefing on Oct. 30, 2020. (WTTW News)
Illinois bar and restaurant owners continue pushing back against state-ordered restrictions on indoor dining, while Gov. J.B. Pritzker says those measures are necessary to beat back rising COVID-19 cases and deaths.
Illinois Restaurant Association President and CEO Sam Toia said Friday his organization would back operators around the state who had filed lawsuits challenging Pritzker's restrictions in regions where COVID-19 is spiking.
Toia said the IRA has drafted amicus briefs in support of these pending suits.
"Restaurants are already in debt, they can't pay their bills and they are nowhere near breaking even for the year," he said. "It's estimated 86% of the restaurants will not make a profit in 2020 … These are impossible circumstances and there seems to be no end in sight"
Toia cited estimates that claim 1 in 5 Illinois restaurants will shut down if these enhanced mitigations continue – costing the state 120,000 jobs.
While acknowledging business owners statewide are hurting, Pritzker cited studies from the Centers for Disease Control and Prevention as well as the American Medical Association which he said show bars and restaurants are dangerous places for the spread of COVID-19.
"It's unfortunate," he said Friday. "Look, this disease is unrelenting, it doesn't care about what the location is and what we're trying to do here is to limit the cases, the hospitalizations and the deaths."
The Illinois Department of Public Health on Friday announced 6,943 new cases of COVID-19 – a record high, surpassing the previous high, 6,363, set just Thursday. In addition, 36 virus-related deaths were reported Friday. Statewide, there have been 402,401 cases and 9,711 deaths since the start of the pandemic.
The state also set a single-day testing record with 95,111 tests conducted in the 24-hours before Friday.
By early next week, 10 of the state's 11 regions will be operating under mitigation restrictions designed to curb the spread of COVID-19. Pritzker's administration announced Friday that mitigations will go into effect in region 6 (East-Central Illinois) beginning Monday, and the lone region that's currently not under mitigations (region 2) appears to be trending in the wrong direction.
Beginning Friday, Chicago bars and restaurants must close by 11 p.m. and all patrons must be seated at outdoor tables, according to the state's mitigation plan.
Toia, of the Illinois Restaurant Association, contends that private, uncontrolled gatherings – rather than bars and restaurants – are the leading cause of COVID-19 spread, and that shutting down those businesses will only increase the number of those gatherings.
Pritzker agreed that private gatherings can be dangerous, but he said bars and restaurants can act as "amplification points" for the disease with multiple different groups of people going in and out of the same places.
Pritzker's administration said Friday it has distributed more than $42 million in Business Interruption Grants to small businesses in regions currently under mitigations or where mitigations will soon take effect.
"We have got to bring down these numbers so we can restore the businesses, restore education," he said. "We can get there, I know we can."
---
Contact Matt Masterson: @ByMattMasterson | [email protected] | (773) 509-5431
---