A passenger at O'Hare International Airport on Wednesday, April 29, 2020. (WTTW News)
City officials added Florida to Chicago's COVID-19 quarantine order as confirmed cases of the coronavirus continue to surge in Chicago, Illinois and throughout the nation.
Michigan is on track to be added to the quarantine order next week, warned Dr. Allison Arwady, the commissioner of the Chicago Department of Public Health.
In all, the city's order warns residents against travel to 31 states and Puerto Rico.
An average of 797 Chicagoans have been diagnosed each day with the coronavirus during the past week, a 40% increase from the previous week, according to Chicago Department of Public Health data. The city's average test positivity rate is 7.4%, while an average of 15.8% of all people tested for COVID-19 have the virus, according to the data.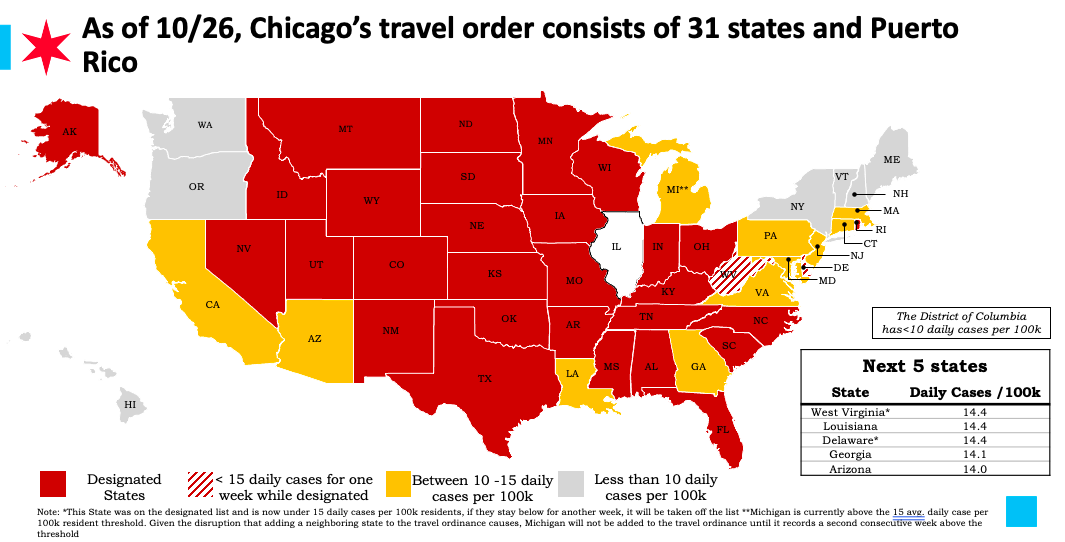 An updated map shows the states on Chicago's COVID-19 quarantine order. (Credit: City of Chicago)
Confirmed COVID-19 cases in Chicago are growing as fast as they did from March 19 to March 31, when Gov. J.B. Pritzker ordered Illinois residents to stay home and shut down nonessential businesses. Cases are doubling every nine days, she added.
"COVID is widespread here in Chicago," Arwady said.
That dramatic increase is happening in Chicago among all racial and ethnic groups, although Latino Chicagoans continue to face disproportionately high rates of infections, Arwady said. All age groups are also seeing a rising number of cases, she said.
Cases are also rising among all age groups, Arwady says.
The number of people hospitalized in Chicago with COVID-19 has grown 72% since Sept. 22, and the number of patients admitted to the intensive care unit has grown by 56% since Oct. 1, Arwady said.
The number of people admitted to Chicago hospitals has increased for a seventh day, meeting one of the trigger points that will cause state-imposed restrictions, including a ban on indoor dining and bar service.
"This is going to be a difficult winter for everybody," Arwady said. 
Chicago's single day test-positivity was 8.9% on Oct. 24, according to the Illinois Department of Public Health.
Seventeen cases of the coronavirus — one of the largest outbreaks in recent months, Arwady says — has been traced to a college men's soccer team and women's soccer team, who practiced together and held 19 social gatherings where students did not wear masks or maintain their social distance.
Other outbreaks have been traced to long-term care facilities, a conference at a church and a wedding, Arwady said.
Deaths linked to COVID-19 have yet to rise in Chicago, with two to three people dying every day from the virus, according to city data.
"I do expect that we're going to see some increases in deaths," Arwady said, adding that she hopes it won't be as bad as it was during March, April and May.
Violators of the quarantine order could face fines of $100 to $500 per day for a maximum fine of $7,000, according to Mayor Lori Lightfoot's office. However, city officials have said they're relying on an education campaign, rather than an enforcement effort. No one has been cited for violating the order.
Travel by essential workers and students commuting to class is exempt from the order, according to the mayor's office, as is travel to obtain medical care or exchange children subject to a shared custody order.
Contact Heather Cherone: @HeatherCherone | (773) 569-1863 | [email protected]
---