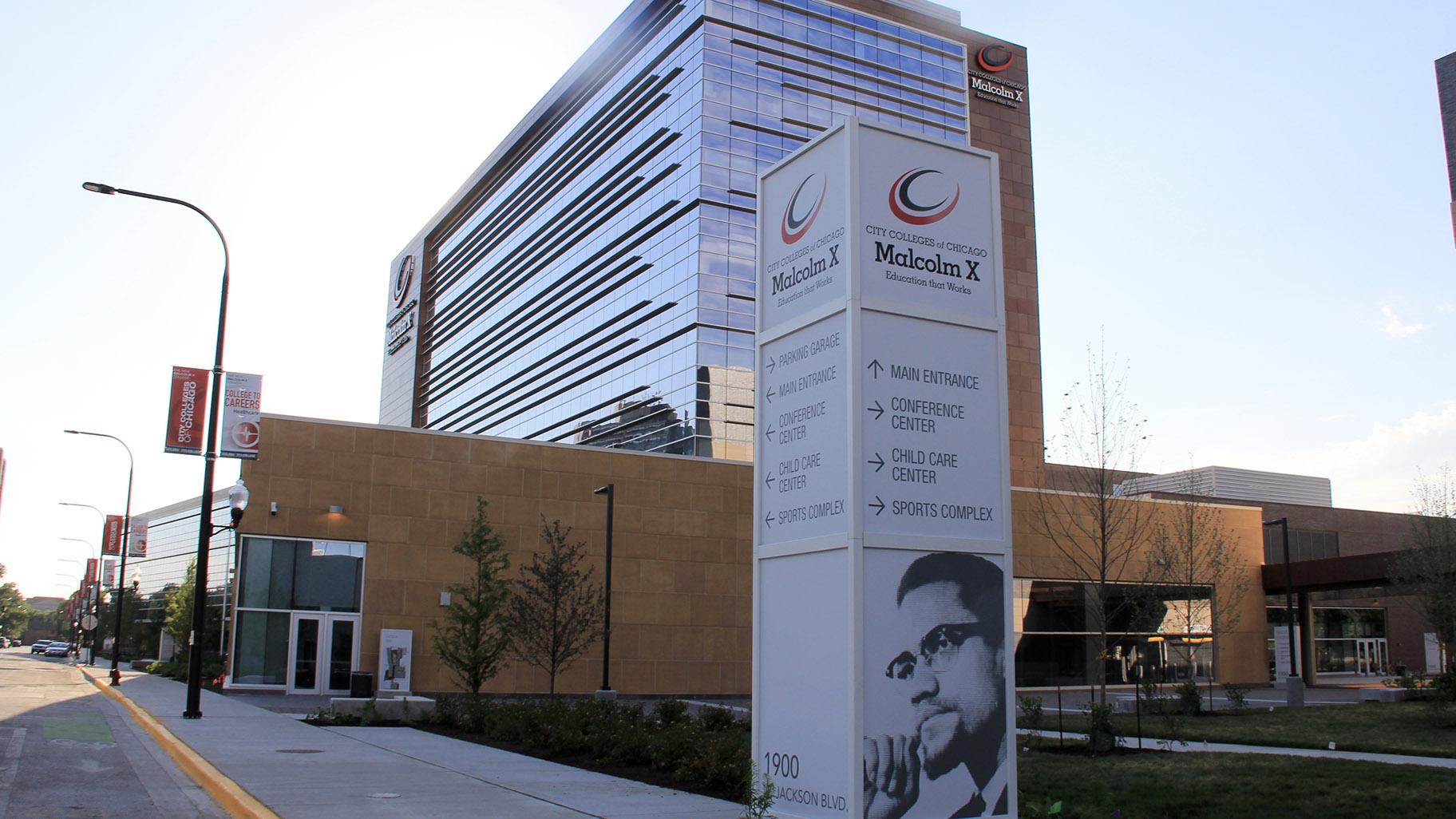 Malcolm X College (Daniel X. O'Neil / Flickr)
The 1,000-plus adjunct faculty members working in the City Colleges of Chicago are demanding a living wage, saying they currently earn about half the amount of full-time professors despite teaching up to 80% of a full-time load.
Chicago aldermen introduced a resolution during Wednesday's City Council meeting calling on the CCC administration to negotiate a fair collective bargaining agreement with its part-time staffers.
"We hold the same degrees and teach the same students, yet we earn less than half the salary of a full-time professor who is just starting their career," said Randy Miller, president of the City Colleges Contingent Labor Organizing Committee (CCCLOC), which represents the adjunct staff. "Instruction is instruction, whether you're an adjunct or a full-time professor. So why is there such an enormous pay gap?"
The resolution, introduced by Ald. Susan Sadlowski Garza (10th Ward), has 24 sponsors.
The CCCLOC represents more than 1,000 part-time faculty, librarians and vocational lecturers across the CCC's seven campuses and four satellite campuses.
According to the resolution, part-time faculty at CCC are paid $.51 on the dollar compared to a full-time professor, and earn an average of $13,604 per year, which is well below the federal poverty line.
Miller said CCCLOC members don't receive medical benefits and 25% of adjunct professors are currently using some form of public assistance.
"For many of us, financial ruin is simply one bad day away," he said.
The union's previous contract expired at the end of June. According to the CCCLOC, City Colleges administration have rejected proposals that would bring into alignment part-time faculty and librarian wages with average salaries earned by those at other Chicago-area community colleges.
The CCCLOC said it has proposed a gradual catch-up of adjunct faculty pay to the average adjunct salaries paid at other Chicago-area community colleges by fall 2022. But they claim that under CCC's proposal, adjuncts would still fall below 2020 average salaries in the year 2025.
"My English 101 students don't care if I teach one section or five," Beth Harris, who teaches freshman English at Harry S. Truman College, said Wednesday. "What they know is that I am teaching their section. If I did teach a full-time load of 15 credits a semester, 30 credits per year, at the rate I am paid, I would make about $28,000. That's less than half of what a full-time faculty (member) makes for teaching the same sections."
In an emailed statement Wednesday, a CCC spokeswoman said administration is currently "in the midst of negotiations with CCCLOC and will continue to negotiate in good faith."
"We are committed to achieving an agreement with CCCLOC that fairly rewards our part-time professors and instructors and responsibly uses taxpayer dollars," the statement reads.
Contact Matt Masterson: @ByMattMasterson | [email protected] | (773) 509-5431
---