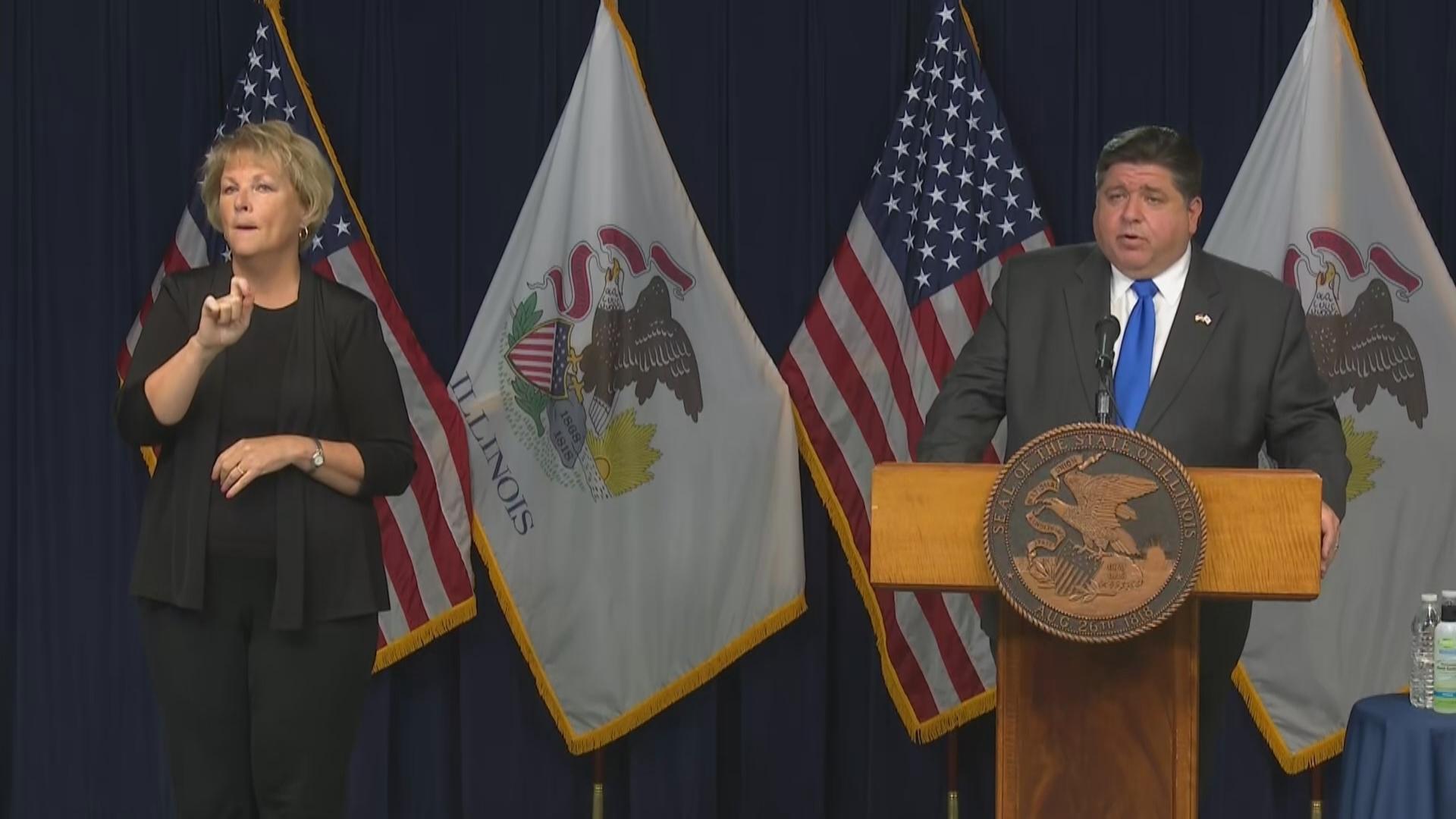 Gov. J.B. Pritzker gives an update on the coronavirus on Wednesday, Sept. 23, 2020. (WTTW News)
On Wednesday, Gov. J.B. Pritzker touted the state's success in testing for the coronavirus, saying the state has completed more than 5 million tests to date and averages more than 52,000 a day.
"At this point, (Illinois) by far is the best testing state in the Midwest and the best testing state between the two coasts," Pritzker said. "Why is this important? Because those accomplishments contribute mightily to monitor and squash the spread of the virus in our communities. Together, with targeted mitigations our testing leadership means that Illinois has had the lowest positivity rate among all of our neighboring states over the last few months."
In the last week alone, 8 of the 11 state's regions have seen declining positivity rates, he said. But positivity rates in Region 1, which includes Rockford, Dixon and Galena, are seeing positivity rates climb at a concerning rate toward the 8% threshold that would trigger additional restrictions, Pritzker said.
The current positivity rate for Region 1 is 7.5%, according to the governor. In Chicago, the positivity rate is 4.8%, according to state health data.
Pritzker encouraged Region 1 residents to wear masks, wash their hands, watch their distance and get a flu shot. He said it's not too late for that area to turn things around, pointing to Will and Kankakee counties which lowered their positivity rates after stricter mitigations were implemented to stop the spread of the coronavirus.
On Wednesday, state health officials reported 1,848 new COVID-19 cases and 22 virus-related deaths, bringing statewide totals to 279,114 cases and 8,508 deaths.
IDPH Director Dr. Ngozi Ezike said "we need not point fingers or vilify" people who test positive for COVID-19. Instead, she says, "we should thank them" for getting tested and staying home.
As of Tuesday night, 1,563 people were hospitalized with COVID-19, and of those, 351 were in intensive care units and 144 were on ventilators, according to IDPH.
The statewide positivity rate is 3.5% and while that rate has been holding steady, Pritzker says he's focused on bringing that number down.
"At one point this summer, we were down to 2.6% positivity rate, but what we've seen is there are certain types of activities that have caused more outbreaks and those have happened in certain regions more … and that has driven the entire state (positivity rate) up," he said.
While Pritzker said getting all kids back into schools is among his top priorities, he said he'd like to see the positivity rate below 2% first.
When asked about allowing youth to participate in sports this fall, Pritzker said many sports are being played, including baseball, softball, tennis, swimming and cross country. "I think it's important for people to recognize that the sports that aren't being played this fall have been moved to the spring," such as football, he said.
"I'm not the one who decided swimming gets to play (or) cross country meets run. I'm listening to the experts who say high-contact sports, like football need to wait (till) the spring," he said, adding the hope is by that time more treatments and a COVID-19 vaccine will be available.
The governor had stern words for those upset that his daughter is able to participate in equestrian sports. "Well, let me begin by saying that attacking my daughter for playing in a sport that is allowed, that the doctors have said that people can play this fall, is something that I think people need to recognize is inappropriate," Pritzker said. "Bringing family members into politics: inappropriate."
Contact Kristen Thometz: @kristenthometz | (773) 509-5452 |  [email protected]
---