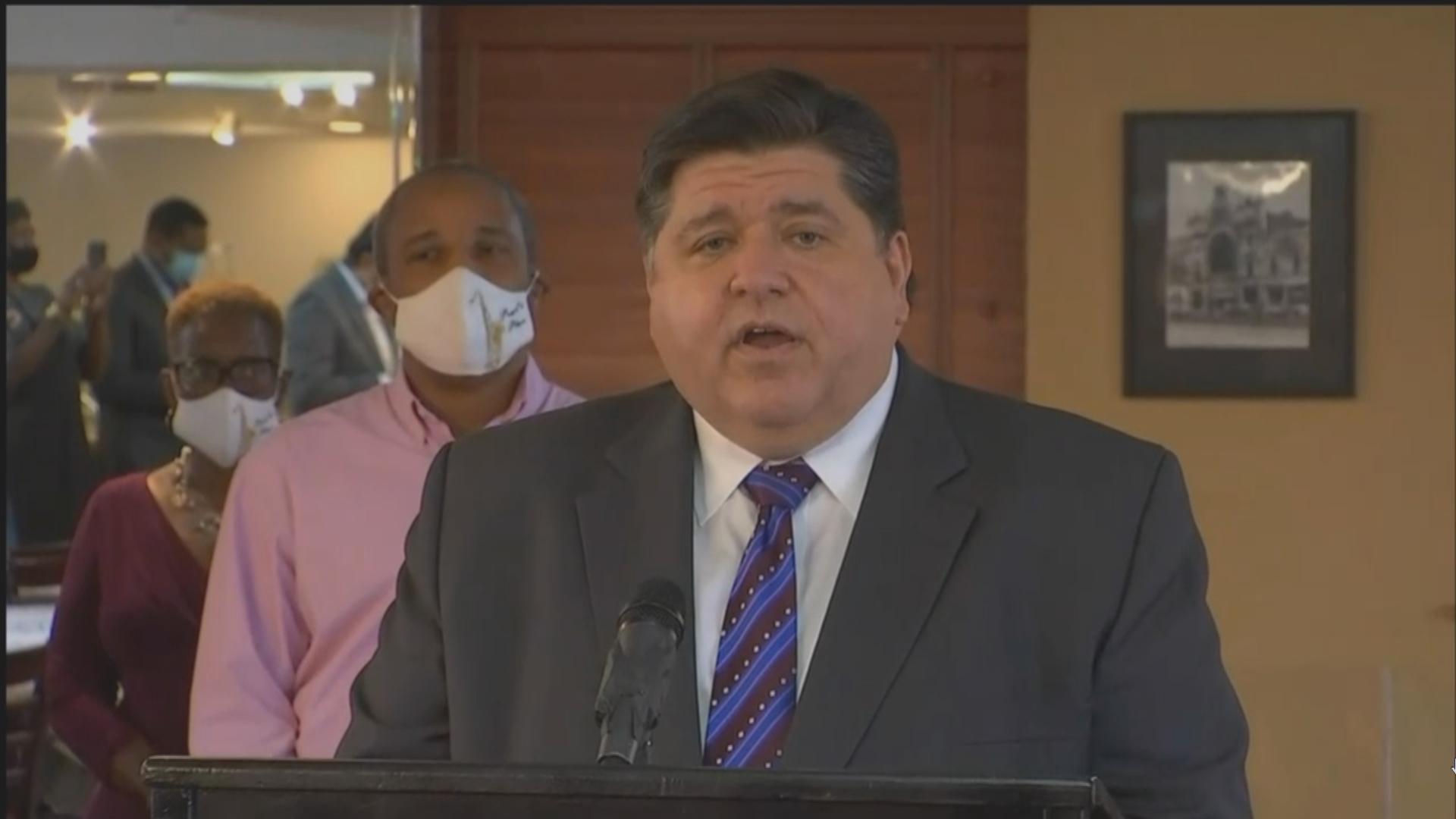 Gov. J.B. Pritzker talks about the need for the federal government to provide relief to state and local governments impacted by the coronavirus pandemic on Tuesday, Sept. 15, 2020. (WTTW News)
Gov. J.B. Pritzker on Tuesday warned of looming cuts to state government, including potential layoffs, without help from the federal government.
"While our work to revive jobs and fight the pandemic continues, we've also reached a critical juncture for our own state finances in this COVID-induced financial crisis," Pritzker said. "My administration has sent notice to all of our cabinet directors to prepare for the possibility of cuts of at least 5% for the current fiscal year, as well as to submit a potential fiscal year 2022 spending outline that would reflect a 10% reduction in appropriations."
Pritzker called the cuts a "nightmare scenario" for anyone in public service. "Because at the end of the day, this isn't just about local governments or state government in Illinois. This is about support for local and governments across the nation. This about support for our nation's economic recovery that only the federal government can provide – just like it did for the corporate sector already," he said.
"Without that support our nation's schools, hospitals, universities, law enforcement, health care workers and firefighters will pay the price, and it will be a heavy price," he added.
The governor said he couldn't provide an exact number of layoffs, but said it would be thousands. "Five percent is not a small number," he said, urging Congress and President Donald Trump to take action.
A fifth federal coronavirus relief bill that included aid for schools and funding for state and local governments failed to advance late last week. But on Tuesday, U.S. House Speaker Nancy Pelosi said the House will remain in session until lawmakers deliver that relief.
Pritzker declined to say when the cuts could be implemented if Congress doesn't pass another relief bill. But if a bill isn't passed by the end of September, "we have to start seriously looking at all these cuts and making sure that we're implementing the beginning of what it will take," he said.
The comments came at a press conference announcing $245 million in grants for businesses affected by the pandemic and civil unrest sparked by the death of George Floyd that led to property damage for some businesses.
The money for those grants will come from Coronavirus Aid Relief and Economic Security (CARES) Act funding, according to the governor. "Those dollars, which can only be used for COVID-19 relief, are being used indeed to support businesses that have been affected by COVID-19," he said. "The challenges small businesses are facing are immense. Many have not survived, many may not survive, and so what we're trying to do is to save as many as we can and support them in any way we can."  
Of the $245 million, $220 will be distributed in the next round of the Business Interruption Grant (BIG) program with more than half of the funds dedicated to areas disproportionately impacted by COVID-19 ($70 million) and "heavily distressed industries," such as movie theaters and performing art centers ($60 million), according to the governor's office.
Applications for the next round of BIG grants are slated to open Thursday and can be found online.
The Associated Press contributed.
Contact Kristen Thometz: @kristenthometz | (773) 509-5452 |  [email protected]
---